The Top 5 Best Power Washer Pumps
TheToolGeeks.com is a participant in the Amazon Services LLC Associates Program and other affiliate advertising programs.   We may earn from qualifying purchases.  (Learn More).
Power Washers have become a must-have power tool among homeowners and contractors over the last few years.  They are motorized machines that increase the water flow speed to spray high-pressure jets to clean various surfaces when a regular hose or manual scrubbing don't suffice.  They are also known as Pressure washers and these machines are used for cleaning the sides of houses and buildings, driveways, patios, decks, garage floors, and large transportation vehicles and any other task where a regular hose won't suffice..  
The main  types of Power Washers are categorized according to their:  1) Motor Type, either gasoline or electric;  2) Pressure (measured in PSI) and Power Range (measured in GPM), generally gasoline motors provide higher ranges of  2,500 to 4,000+ PSI  and  2.5 to 4 GPM,  while electric motors cover the lower ranges of 1,000 to 2,500 PSI and 1 to 2.5 GPM;  3) Water Temperature, either cold water (outdoor air temperature) or heated water;  4) Additional Reservoirs, for cleaning chemicals mixed in during the water pressurization such as detergents or solvents, and of course 5) Price and Usage, with the gasoline motors having a higher price tag but able to dissolve the difficult stains and go anywhere while electric ones are usually more affordable and used for the common homeowner tasks but require proximity to an electrical outlet or a specific extension cord type. 
A Power, or Pressure Washer consists of the following main parts:  1) Intake, to ingest water from an  outside source, 2) Motor, to power the water pump, 3) Pump, usually about 3 kinds, to increase the water pressure and move it from the intake to the spray line, 4) Spray Line, a high-pressure hose carry water to the spray nozzle, and 5) Spray Nozzle, also called a spray attachment, for directing and controlling the pressurized water towards the intended surface to clean. 
Besides the spray nozzles, the pump is one of the key parts of a Pressure Washer that can wear out while the rest of the machine is still working and usable.  To maintain a pressure washer pump, it  must be cleaned regularly, especially around the connectors. And the oil in a pressure washer pump should be replaced on a regular basis. Signs of a failing pump include ineffective water flow and water pressure that drops below a certain minimum level.   Once a pump starts failing, they should be replaced as soon as possible to ensure proper cleaning efforts.  If you are already familiar with pressure washer pumps or water pumps in general, you can check our list of the top five pressure washer pumps below, based upon our extensive experience with power tools and research.
Our List of the Top Five Pressure Washer Pumps
Products

Product Name
Details
Price




Fits Many Gas Pressure Washers
2800 PSI at 2.5 GPM
Vertical 7/8" Shaft

Buy On Amazon




Fits Many Gas Pressure Washers
2400 PSI at 2.2 GPM
Vertical & Horizontal 7/8" Shaft

Buy On Amazon


Impact Driver & Hammer Drill




Impact Driver & Hammer Drill

Fits Many Electric and Gas Pressure Washers
3000 PSI at 2.5 GPM
Horizontal 3/4" Shaft

Buy On Amazon




Fits Most Smaller Gas Pressure Washers
2800 PSI at 2.5 GPM
Vertical 7/8" Shaft

Currently Unavailable






Fits Higher Power Gas Pressure Washers
3100 PSI at 2.5 GPM
Vertical 7/8" Shaft

Buy On Amazon
Types of Pressure Washer Pumps
Power washer water pumps are specialized and matching up the right replacement water pump for your power washer will avoid you having to replace the entire washer machine while enabling continued usage.  All power washer water pumps are the Reciprocating kind of pump, which use pistons or plungers to add pressure, or energy, to the water.  And generally, there are three (3) categories of washer water pumps: 1) Wobble,  2) Axial and 3) Triplex.  
Wobble pumps are typically found on entry level and lower pressure washers and use a Wobble Plate connected to a driveshaft that pushes pistons with springs back and forth to create suction and put pressure on the water.  They are the most economical type of pump to initially buy but are difficult to repair due to their many moving parts.  Generally Wobble pumps will last between 200 to 450 hours before replacement.   
Axial pumps, also called Axial Cam pumps or Swash Plate pumps, are the most popular pumps on pressure washers and they use pistons, a driveshaft, and a Plate similar to Wobble pumps.  But they have the  key differences in that the Plate angles against the pistons, the pistons rotate  around the Plate, and the Plate rotates in the same direction of the driveshaft.  These differences result in increased pressure output, longer lifespan, and smaller size.  They also come in fixed vs. variable pump displacement types.  Typically, Axial pumps will power the mid to higher end for consumer pressure washers and will last between 450 to 850 hours before replacement.  While having a longer lifespan compared to Wobble pumps, Axial pumps are still difficult and costly to repair, and therefore replacement is recommended.  
Triplex pumps, also called Plunger pumps, use the motor to directly power the driveshaft and use connecting rods attached directly to the pistons to produce the water pressure.  They are found on the high-end consumer and professional/industrial power washers.  Since they have design similarities in design to car engines, they can be easily repaired and they have a much longer lifespan, usually of thousands of hours, before needing repair or replacement.  
Therefore, it is imperative that you choose the right pump for your washer.  To help you replace your pump and get back to cleaning, based upon our experience with power tools, we have chosen the top five Pressure Washer pumps available today. 
Our Reviews of the top five Pressure Washer Pumps
Homelite Himore 308653052 Universal 2800 PSI Pressure Washer Water Pump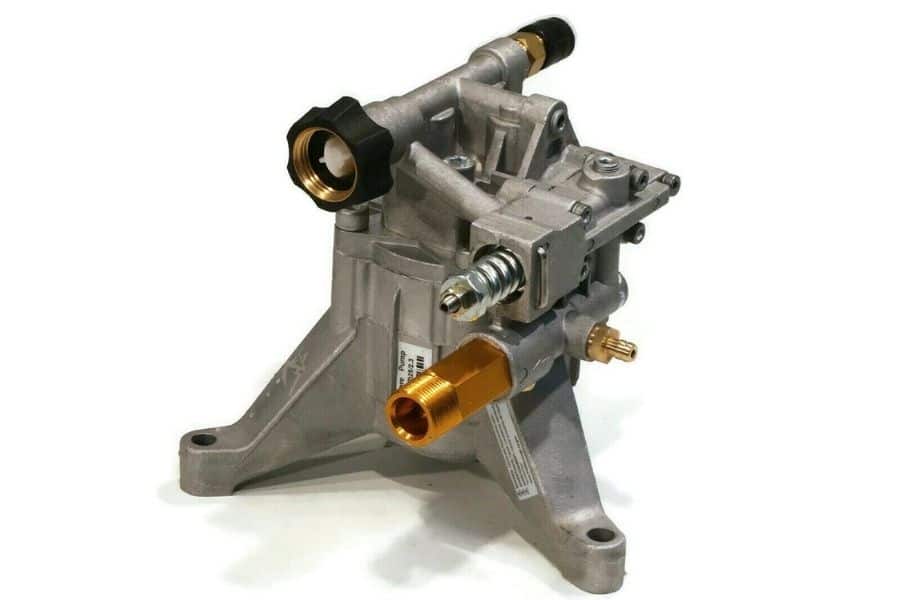 One of the most popular pressure washer pumps is Homelite's Himore 308653052  Universal 2800 model. It is the perfect replacement for older or damaged Axial type pumps.  
With a maximum pressure of 2800 psi, this Homelite pump can provide 2.5 GPM of water flow. And compared to it's 2700 model cousin, this pump model does include a thermal release valve.  But similar to other Homelite models, it does come with a downstream chemical injector for adding detergents or solvents.  The pump can handle water temperatures up to 140° F and connect to a regular garden hose. 
The Homelite Universal 2800 pump can be used with many of the popular Homelite, Husky, and Ryobi pressure washers along with washers using Honda and Briggs & Stratton engines.  And it can fit a ⅞" vertical crankshaft but not a ¾ " one.  Installation is quick and easy while requiring a few basic tools.
Pros
Delivers 2800 PSI at 2.5 GPM to cover most homeowner cleaning activities

Compatible with the majority of pressure washers from various manufacturers.

Installation is quick and easy 

Good value at an affordable price
Cons 
Incompatible with 3/4″ motor shafts
Annovi Reverberi RMW22G24 2400 PSI Triplex Pump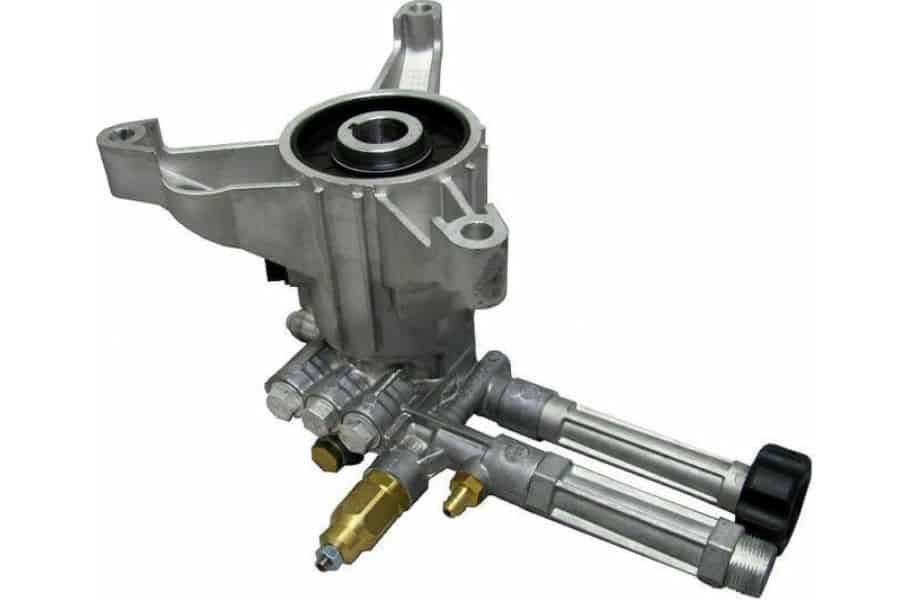 In the pressure washer business for more than 60 years, Annovi Reverberi has been a leader for a long time. Since its founding, this company has become a global leader in the development of high-quality, long-lasting piston and diaphragm pumps.
Although the Annovi Reverberi RMW22G24-EZ Triplex Pump is a higher priced option on the market, it provides excellent performance in comparison to the majority of its competitors in this price range. It is capable of producing 2400 PSI and 2.2 GPM of water flow while running at approximately 3400 revolutions per minute (RPM).  To maximize performance, the intake valves are located above the pistons of this pressure washer pump.  The pump body is constructed of Die-cast aluminum alloy,  measures  7 x 7 x 7 inches in size and weighs just 5 pounds. Steel and brass are used in the manufacturing of the pump's head for superior build quality.  It also has a pressure controller, a thermal release valve, and a chemical injector.      
The Annovi Reverberi RMW22G24-EZ Triplex Pump is a robust pressure washer replacement  pump that is compatible with higher-end power washers from a number of different manufacturers, including Generac,  DeVilbiss, and TroyBuilt.  It really depends upon the engine design and driveshaft.   You can use this pump with a vertical or horizontal gas  engine and the RMW22G24-EZ-SX-2 model has both fitting options.  In general, the pump fits washers with a 7/8-inch shaft and it mounts directly on the engine shaft by using a keyed hollow shaft connection system.  
The pump installs easily and being a Triplex type pump, it requires only basic maintenance, has an extremely long lifespan, and its parts can be replaced if they wear out.
Pros
Superior body and head construction

The pump is compatible with most OEM gasoline triplex-pump washers 

Multiple features such as the  easy-start valve,  thermal relief valve and downstream chemical injector.

Long lifespan and repairable
Cons 
Mid-range in terms of pressure and power 

User handbook lacks clear information
Homelite 309515003 Universal 3000 Pressure Washer Water Pump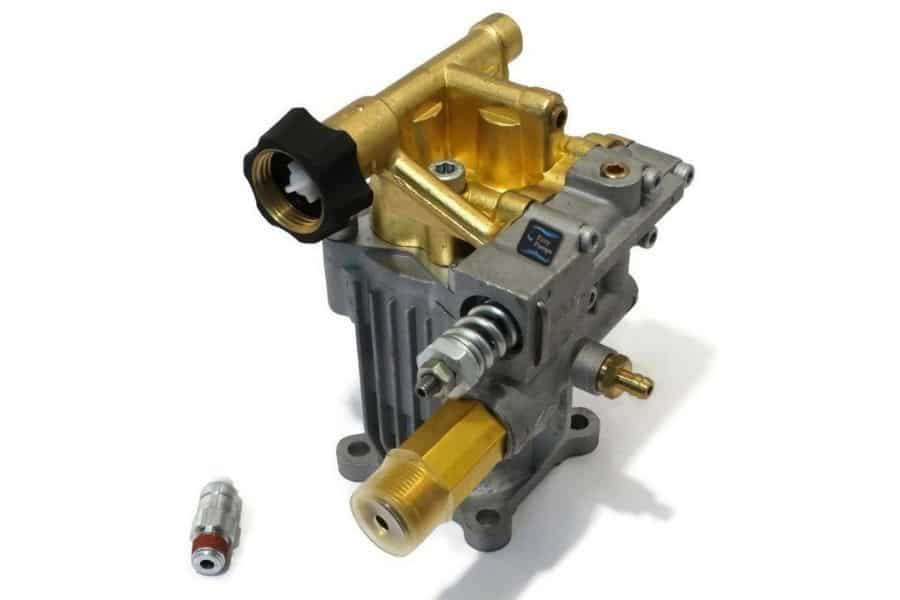 Homelite became a well-known name in the construction of electrical generators.  Adding  Pressure Washer pumps to its product lineup has  been the focus of this company's manufacture and distribution over the years.
The Homelite 309515003 Universal 3000 PSI Pressure Washer Pump is a newer replacement Axial type pump model from the company.  This pump's main advantage is that it fits both gasoline and electric motors by working with alternating current (AC) and direct current (DC) power sources.  
Besides it's multiple power source compatibility, this pump is also more powerful and capable of producing 3000 PSI and a maximum flow rate of 2.5 GPM.  And it fits ¾ " shafts on horizontal engines.   
In addition to being a dependable, high-quality replacement for Honda and Briggs & Stratton engines, the Universal 3000 PSI Pressure Washer Pump can be used with equipment from a variety of manufacturers including Generac, Husky, Ryobi, DeVilbiss, Craftsman, and of course Homelite.  Its size is 20 x 14.5 x 12.3 inches and it weighs slightly over 7 pounds.  As with other Homelite pumps, it comes pre-oiled and installation is easy. 
Pros
Delivers 3000 PSI at 2.5 GPM to cover difficult cleaning activities

Fits ¾ " horizontal shafts

Compatible with both AC and DC power sources

Installation is quick and easy 
Cons 
More expensive compared to similar pumps 

Does not fit ⅞" shafts
PEGGAS PWV(R)28/2.5HB Vertical Pump 7/8" Shaft 2600-2800 PSI Pressure Washer Pump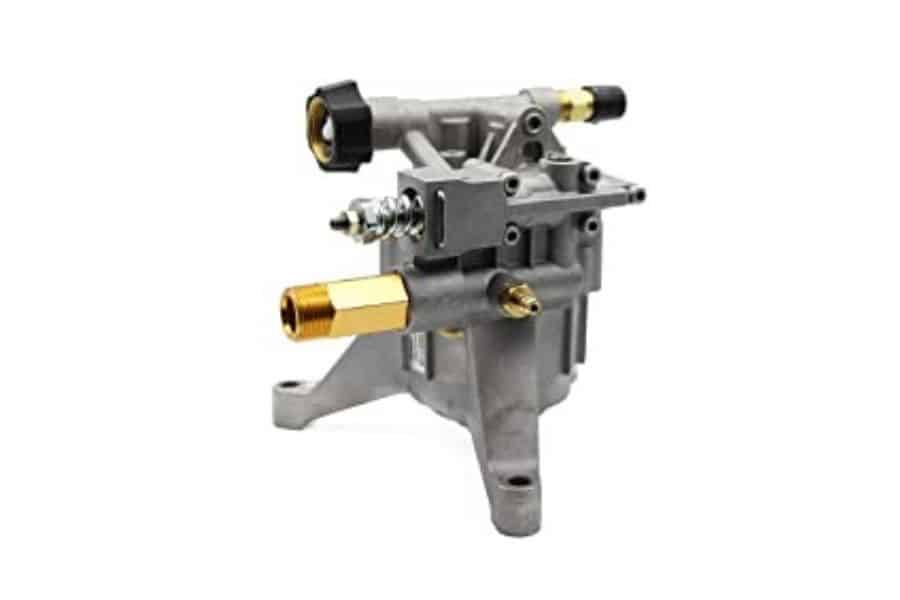 If you have a pressure washer pump that has ceased operating for any reason, you might consider purchasing this Axial type PEGGAS vertical pump.  The best quality of this pump is that it has a 7/8″ shaft and is compatible with most standard small-size pressure washers with a minimum engine 5HP.  And the hose connections are the standard M22 size.  
This pump has a pressure and power rating of 2600-2800 PSI and 2.5 GPM.  It comes with a built-In Unloader valve, a built-In Chemical Injector and a Thermal Relief valve   
 The PEGGAS PWV(R)28/2.5HB Vertical Pump will fit many washer models from Homelite,  Ryobi, BlackMax, Husky, Karcher, and Honda engines but make sure you save your old pump's mounting bolts just in case for the best replacement fit.  
Pros
Fits  ⅞" shaft vertical gas engines 

Provides up to 2800 PSI at 2.5 GPM

Compatible with many manufacturers models
Cons 
Installation requires the original pump's mounting bolts and keyway
OM Technologies 90026 3100 PSI Horizontal Axial Cam Pump Kit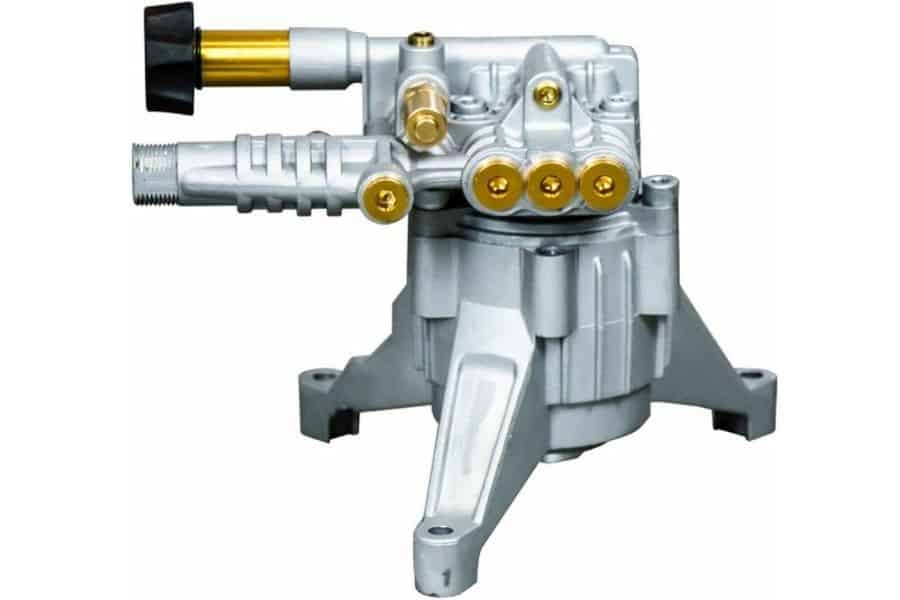 Simpson, a business and residential pressure washer manufacturer, uses OEM Technologies pumps to ensure high-quality products.  Per the product's title, this OEM Technologies 90026 pumpI is an  Axial Cam pump type capable of producing a maximum pressure rate of 3100 PSI and a maximum water flow rate of 2.5 GPM.  
With a shaft diameter of ⅞  inches, this kit is suitable for gas-powered pressure washers that feature a vertical motor.  With its new PowerBoost technology, vibration is significantly reduced.  The 90026 pump crankcase is constructed of fully anodized die-cast aluminum for corrosion resistance.  The kit includes mounting hardware, a siphon tube, and a shaft key.  
This pressure washer replacement pump is extremely simple to install, comes with a thorough operator's manual, and has an M22 outlet that simplifies the connection to the pressure hose and spray nozzle.  The pump comes pre-oiled and sealed for maintenance-free usage.  
Pros
Fits ⅞ " vertical engines.

Provides up to 3100  PSI at 2.5 GPM

Higher power at an affordable price.
Cons 
Final  Thoughts on Pressure Washer  Pumps
Replacing your pressure washer pump is an easy way to save money and continue using your washer for years to come without having to replace the entire machine.  Make sure to check that the PSI / GPM ratings and Shaft diameter are appropriate for your specific pressure washer engine.  If you have any doubts, call the part manufacturer to confirm.  The team at TheToolGeeks.com hopes that you have found this post useful and informative.  For easy comparison and purchasing, we've listed the reviewed pumps again in the below table.
Products

Product Name
Details
Price




Fits Many Gas Pressure Washers
2800 PSI at 2.5 GPM
Vertical 7/8" Shaft

Buy On Amazon




Fits Many Gas Pressure Washers
2400 PSI at 2.2 GPM
Vertical & Horizontal 7/8" Shaft

Buy On Amazon


Impact Driver & Hammer Drill




Impact Driver & Hammer Drill

Fits Many Electric and Gas Pressure Washers
3000 PSI at 2.5 GPM
Horizontal 3/4" Shaft

Buy On Amazon




Fits Most Smaller Gas Pressure Washers
2800 PSI at 2.5 GPM
Vertical 7/8" Shaft

Currently Unavailable






Fits Higher Power Gas Pressure Washers
3100 PSI at 2.5 GPM
Vertical 7/8" Shaft

Buy On Amazon
Amazon and the Amazon logo are trademarks of Amazon.com, Inc, or its affiliates.