Best Belt Grinder for Knife Making – Top 5 Tested + Reviewed
TheToolGeeks.com is a participant in the Amazon Services LLC Associates Program and other affiliate advertising programs.   We may earn from qualifying purchases.  (Learn More).
When choosing the best belt grinder for knife making, we must consider that it should be powerful and be able to sharpen the metal properly.
The problem comes when you have to find the best belt grinder, which will be ideal according to your needs. We are here for this purpose, to make it easy for you to choose the one that suits you. We have tested and enlisted the best belt grinders. 
In this article, we will talk about the grinder's specifications and what needs to be considered while choosing it.
---
Best Belt Grinders for Knife Making – Quick Features Table
| Products | Product Name | Details | Price |
| --- | --- | --- | --- |
| | | | Buy On Amazon |
| Versatile | | | Buy On Amazon |
| | | | Buy On Amazon |
| Dust Collector Port | | | Buy On Amazon |
| Mirror-Like Finishes | | | Buy On Amazon |
---
Best Belt Grinders for Knife Making
1.

Grizzly G1015 – B

est Knife Sander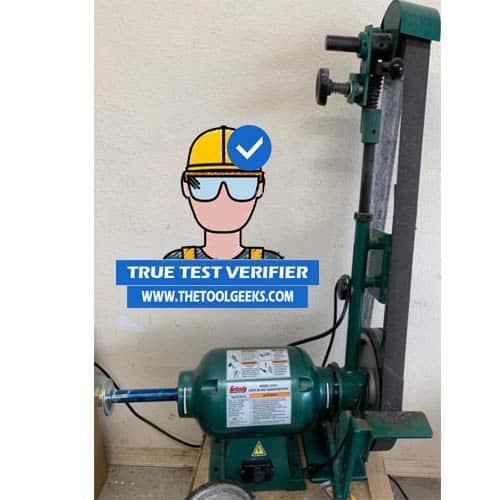 Best Features 
Ball Bearing Construction

Powerful

Easy Belt Changing
More detailed review ↴
We assumed that few of you have enough experience with grinders, so we included a grinder that we find very easy to work with.
We tested the first belt grinder to know if it could perform knife-making. This is quite a good grinder because of its unique capabilities.
The first thing is the ease of use; changing the belt is easy because of the quick-release mechanism involved in this grinder. Additionally, it can tilt, and the inch knife belt grinder makes it even more versatile and allows easy sharpening. 
This grinder is fast enough because the motor rotates at 1725 RPM. It comes with a 1HP motor which adds to the speed of the belt to make it up to 3600 FPM.  
Additionally, it draws 14 amps while it works on 110V. This cast iron body grinder has overall dimensions of 38.75 x 29.5 x 39 inches, which affects the weight of the grinder and makes it up to 58 pounds. 
This single-phase grinder has a belt of size 2″ x 72-76″ and a left arbor having an 8-½" extension with a 5/8″ arbor. 
The belt grinder has small wheels, which sometimes is not a good thing to experience. We recommend using this one for a beginning experience rather than for professional use. 
---
2.

Jet Tools – J-4002 – B

est Belt Sander for Knife Making
Best Features  
Cast Construction

Versatile

Used by Professionals
More detailed review ↴
Another belt grinder we tested was JET tools which are powerful and easy to work with a grinder, and you can professionally use it for metal working too. 
This AC/DC grinder is highly durable and powerful, with a capacity of 4.5amps and a horsepower of 0.33. Other than being powerful, it is also a versatile grinder. 
Why do we believe it is versatile? This is because while testing this very grinder, we learned that it has a removable platen which is extremely helpful for old-shaped workpieces or curves on the belt. 
It is also versatile because of the hinged idler wheels cover it comes with. As we were working, we were pretty satisfied because of the sturdiness of this tool. It is constructed with a cast-iron simultaneously, and the base is made with heavy steel. 
The best thing we liked about this grinder was its ability to turn and lock the angles. Also, it has 1-1/4″ ports and can be connected to a dust collector. 
This is a 63-pound weight and a 22 x 21 x 14 inches dimension grinder. It does not take up a lot of space, but we found it a bit heavy, but overall it's lightweight compared to other grinders. At the same time, it's a 1/3 HP motor but can deliver up to 1725 RPM, making it durable and fast.  
In other words, except for the grinding jobs, this unit can perform the work of a jigsaw and coping saw. So, when it comes to versatility, this tool is unbeatable. If you are dealing with large materials, you can use the grinder's plates, and you will be able to sand, finish or grind materials outside the curves.
---
3. Ex Electronix Express – B

est Belt Sander for Beginner Knife Making
Best Features  
Mini-Sander

Beginner-Friendly

Fast
More detailed review ↴
This is the next belt grinder on our list. We reviewed this grinder after talking to some consumers about their experiences and difficulties while using it.
Although this one is great for personal use (kitchen knives), you can also use it for blade and sword making. 
We loved the portability of this belt grinder which makes it extremely easy to use and carry around. We love the weight of this grinder which is just 1.11 pounds. 
Coming with 14.5 x 10 x 10 inches dimensions, it won't take up much space in your workshops or warehouses. 
The power source of the belt grinder is electric (corded). It can perform greatly by drawing three amps at 360 watts and 60 Hz. It comes with a 1/3 HP Motor with 3400 RPM, which is enough for knife-making. 
The belt of this grinder is 1″ x 30″ while the diameter of the vacuum is 1-3/4″ (which helps in reducing the vibration through rubber bottom feet), while the size of the table is 5″ x 5″, which allows easy tilting up to 45-degree angles. 
Although it gives a perfect edge to the blades or knives, we added some extra suitable quality belts to check, and they even enhanced the results. 
The tool is pretty easy to use and doesn't cost much. So, if you are a beginner and are only interested in making tiny knives for personal use, give this one a try. You won't be disappointed.
---
4.

Goplus – B

est Knife Grinder
Best Features  
Durable

Dust Collector Port

Quick-Release Tension
More detailed review ↴
This is like a better version of the previous one. Why would we say that? This is because there was a difference in sound production from this grinder while testing. It happens with the help of a heavy and robust base built into the grinder. 
That strong base is a disc Grinder made of heavy steel to make it durable and provide stability. It is also suitable for consumers' safety. 
We loved the grinder's design because you can do more work conveniently. Why? The ability to tilt up to 45 degrees of belt and disc grinder/sander allows easy and perfect edge-making. 
You won't face hardship while releasing the belt because of its quick-release lever, which allows easy, quick, and smooth changing of belts. But it has some parts made of plastic which might not run for a long time. 
The other difference we felt in this grinder was the dust collection port with the 1-1/2″, which helps maintain the environment's cleanliness by minimizing the residue and sawdust. The port allows you to connect the vacuum to the grinder too. 
This grinder has a 1/3 HP motor that might not be extremely powerful but can at least make knives easily. As the grinder works on 120V with 60Hz, the motor delivers up to 3450 RPM
Lastly, the size of the table is 5″ x 5″ while the size of the disc table is 4″ x 7-1/4″, which has a standard belt of 1″ x 30″ and PSA discs of 5″ that will allow you to work for small and medium grinding operation on different materials. 
---
5.

Happybuy – B

est Belt Grinder for Metal
Best Features  
Professional

Mirror-Like Finishes

Fewer Vibrations
More detailed review ↴
This grinder is more like a professional usage grinder to make the best knives and get great results. We suggest using it if you're a professional and for mirror-like results. 
You can also use it for stock removal, polishing, wood, acrylic, wood, and finishes through its powerful motor of 2 HP, which can deliver up to 2800 RPM. The unique feature of the grinder is its ability to change its corresponding wheels to desired results/ effects. 
The grinder has steel plates that can last longer, and its thick base gives stability and smooth working. 
The grinder's motor runs on 1.5KW and is made with pure copper. Additionally, the grinder has electric belts, which is the reason behind its high efficiency and low noise while operating.  
This is a hefty weight of 182.98 lbs, and a large grinder with 35 x 13 x 20 inches dimensions has a motor that runs on 110v and a belt with a size of 2″ x 82″. The diameter of the wheels is 1.57″/40. 
The belt and wheels are easy to change and adjust and do not require any tools. This grinder also comes with a frequency converter, which helps convert speed from phase 1 to phase 3 (according to your requirements) 
Professionals and contractors mostly use this grinder. So, if you want to take your workshop to another level, I recommend you check this out.
---
How To Choose The Best Belt Sander For Knife Making?
A belt grinder makes the knife-making process much easier and more efficient. However, if the chosen belt grinder is not good, it backfires and ends up ruining the knife. 
We have already recommended the five best belt grinders for this process, but do you know on which grounds you need to consider the grinders? We are here with a perfect guide after testing what factors to consider while choosing the belt grinders. 
Grinder & Belt Size
Considering the grinder size is necessary. Why? Because you cannot get a large grinder which will be challenging to install. You need a portable, which will be at least moveable. For professionals or shop owners, we would recommend a portable one. (for occasional use). 
Besides, it would help if you had a perfect-sized belt with the grinder. Our testing recommends using the 2/74-inch belt for knife making because it works best with knife grinders, and you can sharpen and grind. 
Related Read: Best Rechargeable Sanders
Motor
Next, the motor of the belt grinder needs to be efficient and powerful. Many motors are not good enough to handle knife making, which comes with grinders. 
We personally recommend using a 1HP motor; it will allow the sharpening and grinding of metal easily because of its power capacity. (it can be relatively costly).
Contact Point
First, what is a contact point? It is a plate-like part on the belt grinder where you need to place your knife. It fits the knife and prevents it from hanging. (The contact point not changeable, but a new one can be placed on top of it). 
We recommend choosing a grinder for knife making, which allows you to tilt up to 45 degrees, as it will be able to sharpen the knife.  
Speed
What will you do without a speed in your belt grinder? So this is important in the process of making a high-quality knife. Fewer speeds wastes too much time, and you won't be able to get a well-finished knife too. 
Additionally, the belt of the grinder will break early as it will be using more power than needed. 
You can get a variable-speed motor which will allow you to change speed according to the nature of the project. 
Dust Collector
You might think metal won't make a lot of mess, but now you still need a built-in or attachable dust collector with your belt grinder. 
Some grinder comes with ports that allow you to connect the tool to other vacuums. 
Ease of Use
Easy operating and handling are essential for beginners, make sure to consider the features of the specific grinder you are choosing: it should be easy to change the belts or other working requirements.
Tips & Safety Precautions to Use Belt Grinder
Using a belt grinder is not a piece of cake. It would help if you were experienced when you use these machines. In this case, as you will be using it for knife making, you need to be careful with yourself and the belt grinder. 
You should follow these tips for a safe and smooth working life. 
Safety: Wear Heat Resistant Gloves & Use Water
First, wear gloves because the belt grinder starts getting hot after some time of usage. It would help if you took safety measures to prevent your hands or fingers from burning. 
Similarly, the blades of the belt grinder get heated too, and the gloves won't work this time. You will need to use water to cool down the blade. 
Control: Use Your Body
Lastly, use both hands (avoid using just one) while sharpening the edges of the knife because it can result in imperfect lines and can lead to injuries due to less control. Using two hands provides more control, provides better sharpening lines, and at the same time, better protects yourself. 
Why Use a Belt Grinder for Knife Making?
Traditionally, people used to make knives with different methods, but as time has changed, you cannot continue with those old methods. 
Additionally, a belt grinder will be a smooth and efficient working style. It gives the consumer a proper cutting and shaped knife (metal). 
Blade smithing is one of the oldest and hardest DIY tasks, and one could rarely get a knife sharpened because it used to take a lot of time. However, now that this process is efficient and fast, you can get your knives sharper. So, belt grinders are more suitable.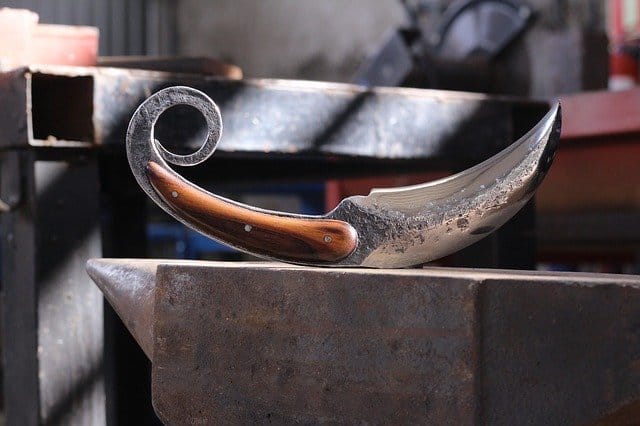 Why Do You Need a High-quality Belt Grinder?
If you want to make a high-quality knife, then you need a good belt grinder. Some people make knives with their hands, without using any tools, and to be honest, the final product isn't good enough and it takes a much longer time. That's why recommend to use a belt grinder to make knives.
Besides knife quality, there are a lot more reasons to use a belt grinder instead:
Easy to Use – Belt grinders are very easy to use, and they will give you the result you want very fast by shaping the metal and giving it a smooth finish without making any significant effort from your end. 
As long as you use minimal pressure, you are good to go.
Belt grinders are easy to use but not gentle, so it is always essential to have complete control over them and be constantly focused while working. If you make knives for a living, a belt grinder is needed, and you will get faster and better results.
Smooth Finish – Most of the time, you will work with metal. Metal isn't always clean; there's a high chance that the material you are working on has paint or any other unwanted residue.
A belt grinder will help you remove the paint or the residue, and at the same time, it will give the material a smooth finish. You can remove the paint with your hands (using sandpaper), but that will take a long time, and you will get tired.
Faster – You probably know by now that a knife grinder is fast. You can remove any unwanted paint and shape the metal very fast. Doing all this with your hand will take you hours, whereas doing it with grinders will take you a few minutes
FAQs
What's the Difference Between a Sander and a Grinder?
They are both sanders. The only difference between these two is the speed.  A "sander" isn't very good when it comes to metal, on the other hand, a grinder is very good with metals. A grinder can go up to 8,000 FPM.
Amazon and the Amazon logo are trademarks of Amazon.com, Inc, or its affiliates.