Best Kids Tool Belt – Make Your Kids Feel More Involved in Your Work
While growing up, kids will have a lot of hobbies. If your kid likes to play around with tools and helps you while you are doing a DIY project, then you are lucky! To make your kids feel more involved I recommend you to buy them a tool belt.  It makes them feel like they are a part of the process plus you will have a lot of fun.
When it comes to kids, you need a quality tool belt that is specially made for them. To save you a lot of time, we have decided to make a list that we think are the best kids tool belt.
All of them come with different features, different pocket numbers, etc. Some even come with tool sets that include different small tools. Make sure to read the detailed reviews and I'm sure you will find the best children's tool belt that your kid will love!
List Of Products
| Products | Product Name | Details | Price |
| --- | --- | --- | --- |
| Best Choice - Real Leather | Best Choice - Real Leather | Real Leather with 7 Pockets | Buy On Amazon |
| | | | Currently Unavailable |
| | | Toy Tool Set with 27 tools and Tool Bag | Buy On Amazon |
| | | Available in Orange, Pink, and Yellow Colors | Buy On Amazon |
| | | | Buy On Amazon |
F.A.Q
Q: How do I know if a tool belt will fit my kid or not?
A: Easy, every tool belt comes with waist size. Every manufacturer mentions it, make sure to find it and check if it fits or not before buying a children's tool belt.
Q. How long can my kid use the tool belt?
A: As long as he wants to, or as long as the tool belt is still useable. Usually, kids use the tool belt until they are 10-13 years. They can use it more if it becomes their hobby.
Q. Do the tool belts come with tools?
A. No, most of the tool belts don't come with a set of tools. But some do, such as the number 1&3 on our list. Usually, tool belts that come with real tools cost more.
Best Kids Tool Belt - Detailed Reviews
---
Best Features  
Scaled Version of Adult Tool Belt

Real Leather

Great for Boys and Girls 6 to 12 Years Old
My Overall Rating
[usr 5.0 size=30]
More detailed review ↴
If you are looking for a real leather tool belt for your son or daughter, which can also hold adult-size tools, then this one from AllwaySmart Kids is the perfect choice for you.
I got this for my oldest son [10 years] and he is loving it. Every time I tell him that I need his help for something he runs to get his tool belt and his tools.
The tool belt is made of leather and it comes with 7 pockets. This item is used to carry your tools around, with 7 pockets your kid can carry a lot of tools [ make sure to check the weight of the tools before your kid carries them ], it also has two hammer loops and an adjustable belt. The belt fits sizes from 21 to 30 inches.
Pros:
Scaled model made of real leather
Has 7 pockets
Can hold both kid-size and adult-size tools
Cons:
Not recommended for kids under 6 years old.
---
Best Features  Currently Unavailable
Made For Toddlers and Young Kids

Leather Material

Comfortable
My Overall Rating
[usr 5.0 size=30]
More detailed review ↴
When my kids saw me wearing my tool belt, they wanted one too. I made a lot of researchers and checked a lot of different tool belts until I found this one. You will love to see your kids wearing this. They will look like mini-workers. The Swovo tool belt is made of real suede leather, the chances of the material getting ripped or torn are slim to none.
It comes with two hammer loops (one on each side). The hammer loops are made from steel and they allow your kids to place their hammers without folding over.
It comes with 2 pockets large pockets that are mostly used for bigger tools, 2 other nail pouches that your kids can use to store the nails. While working you can give your kids to hold the nails on their tool belts and when you need them they can give you one. This will give you the chance to have more space in your tool belt plus make your kid feel involved in the work process. It also comes with a tape measure pocket and 2 pencil pockets.
Another thing I like about this one is the belt. The belt is made of heavy-duty nylon and it's adjustable.
If you are in a hurry, here are the pros and cons of this tool belt.
Pros:
Good Material – This Tool Belt is made of real suede leather.
Made for kids ages 3 to 10 years old
Belt – Adjustable belt that is made of heavy-duty nylon.
Cons:
Sometimes you have to clean the rivets
---
3. Loyo Kids Tool Set 

-  Best Tool Set For Younger Child
Best Features  
Toy Tool Set 

Two Colors – Blue and Red
Comes with Tool Belt, Tools, and Storage Bag
My Overall Rating
[usr 5.0 size=30]
More detailed review ↴
Before starting to give you my honest review about this item, I need to clarify that this isn't a tool belt but a tool kit & set. There's a difference between these two items, but at the end of the day, they are both used to store your tool and to carry them around.
This WORKPRO tool kit can be the perfect gift for your kids, it will help them show their creativity and help them develop their DIY ability.  If you want to be more involved with your kids or keep them around while working then this item is a perfect choice. 
Except for the tool kit that comes with a storage bag, this also comes with a tool set that included 27 tools. The tool set includes scissors, hammers, screwdrivers, mini tape, and many other tools.  The tools are small, lightweight and they all fit on the storage bag. They are perfect for 3-year-old kids and up. The tools are toy tools to give you the parents a piece of mind.
What I like about this product is that it is available in two colors, blue & red for either boys or girls.
Pros:
Tool Set – Included 27 toy tools that are specially made for kids
Storage Bag – The Storage Bag has enough space to store all the tools.
Available in two colors for the tools, blue & red.
Cons:
The Red set of tools comes with a Yellow tool belt instead of a Red belt.
---
4. Yitook Tool Belt

- Best Tool Belt For Your Daughter
Best Features  
Made For Kids

Microfiber Material

Comes in Orange, Pink, or Yellow Colors
My Overall Rating
[usr 5.0 size=30]
More detailed review ↴
This tool belt is a great gift for the kids that want to get more involved. It is constructed with a microfiber material. The tool belt itself is easy to carry around because of its weight. It weighs less than 1 pound. Which is perfect for kids.
It comes in different colors. I got my kid the orange one, but you can get a different color ( Click the link above to see other color options).
It has 7 pockets, 4 of these 7 pockets are large pockets that are mostly used to store screwdrivers, wrenches, etc. It also has 2 pencil pockets and 1 tape measure pockets. Except for 7 pockets, it also comes with 2 hammer rings that are specifically made to store hammers. It's safe to say that it has enough space for most of your kid tools (it isn't recommended to allow your kid to carry around a lot of tools).
The belt comes with a stylish color (mine came with a black color) and it fits 21 - 32 inches. waist sizes ( usually it fits kids from 4 to 14 years old). The belt is adjustable and it comes with an easy buckle means your kid can wear the tool belt all by herself.
Pros:
Good Material – This Tool Belt is made with a microfiber material
7 Pockets – 4 Large Pockets, 2 Pencil Pockets, 1 Tape Measure Pocket.
Belt – Comes with stylish color and it's adjustable.
Waist Size – It fits 21-32 inches waist sizes. Usually, kids from 4-14 years old can wear it.
Cons:
You need to keep it away from flammable sources.
---
Best Features  
Metal Hammer Loops

Durable

Easy To Wear
My Overall Rating
[usr 5.0 size=30]
More detailed review ↴
The Fellibay kids' tool belt is a real tool belt, meaning that it can actually hold tools and it is durable. I bought this one for one of my kids' friend and he is loving it so far.  He and my kid [ sometimes my daughter too]  always come around wearing tool belts whenever I'm doing a DIY project in my garage.
The Fellibay comes with 5 pockets, that include 2 big pockets that are mostly used to store larger tools. It also has 2 nail pouches, 1 tape measure pocket that is located on the side of the tool belt and two hammer loops.  Speaking of hammer loops - they allow your kid to reach the hammer without folding over plus they are made from metal so they don't fold as plastic loops do.
It has an adjustable belt, so if you have two kids they both can wear it, as long as they fit the waist size from 21 to 32 inches which usually kids from 3 to 10 years fit. The tool belt is also easy to put on and take off, your kid can wear it without your help.
Pros:
Real Tool Belt – This is not a toy, it is durable and it can hold real tools.
5 Pockets – 2 Big Pockets, 2 Nail Pouches, and 1 Tape Measure.
Hammer Loops – Two hammer loops that are made of metal.
Adjustable Belt – It fits waists from 21 to 32 inches.

It can be easily put on and taken off.
Cons:
I'm not a fan of the color [ Personal Taste ]
---
Buyers Guide
The list of the best kids tool belt contains great options to buy for your children. But the important question is; which one to choose? While choosing a tool belt for yourself you don't worry a lot about quality, safety, etc. But when it comes to your kids, safety is the most important thing you need to consider before buying a children's tool belt.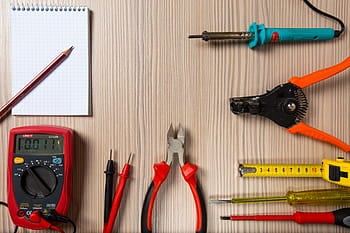 Suggestion
When buying a tool belt for toddlers there are two things that you should never compromise on - safety and quality.  These two factors sometimes come with a price. It depends, but, a quality tool belt will save you a lot of money eventually.
It is recommended to go with tool belt manufacturers that come with a warranty, the quality isn't guaranteed but at least you will get a replacement if you are not happy with the quality.
It is also recommended to go for tool belts that other people vouch for. That's the main reason why we made this post and listed the 5 best tool belts for kids.
A question I see a lot of people as is; should you buy your kid a tool belt and why? There are a lot of reasons why you should and shouldn't buy one.
[wps_alert type="secondary"]Read Also: Best Tool Belt For Womens[/wps_alert]
Why do kids need tool belts?
An important question; why do kids need a tool belt? Can't they just do their own thing and play with their cars instead of experimenting with tools? Yes and no.
Buying a children's tool is more about the time rather than the work.  A tool belt will help your kids upgrade their DIY ability which will be needed a lot, especially when they move out.
[wps_alert type="secondary"]Read Also: Best Tool Bag For Line Workers[/wps_alert]
Plus at the same time, you will be spending quality time with them. While you are doing a simple DIY project, you can make your kids feel involved in the project by using their tools. Plus you will have a lot of fun. My kids feel excited and run to grab their tool belt every time I ask them to help me.