Best Sander For Metal Working – Top 5 Tested + Reviewed
TheToolGeeks.com is a participant in the Amazon Services LLC Associates Program and other affiliate advertising programs.   We may earn from qualifying purchases.  (Learn More).
When it comes to metalwork, one of the essential things is finishing and detailing. To get the best results possible, you need the best sander for metal.
It doesn't matter if you are doing automotive projects, aircraft, or anything else; you need a high-quality sander. But how can you decide which sander is suitable for metalworking? For a person who's a newbie in metalworking, getting a suitable sander for metal is very important. Otherwise, they may ruin the job. 
That's why we have made a list of recommendations you can choose from. We have also written a buyer guide to help you make an easier choice.
Best Sander for Metal – Quick Comparison
| Products | Product Name | Details | Price |
| --- | --- | --- | --- |
| | | | Buy On Amazon |
| Easy Belt Installation | | | Buy on Tacklife |
| | | | Buy On Amazon |
| 360° Adjustable Arm | | | Buy On Amazon |
| Durable | | | Buy On Amazon |
5 Best Sanders for Metal – In-depth Review
Below is the list of sanders used by my team members who are into metalworking. As experienced users of these sanders, they knew all the details. So, I collaborated with our metalworking team for this in-depth review article. 
---
Variable Speed Settings

Usable

High-Quality
More detailed review ↴
ZFE sander is on the top of our list because we use it for sanding or grinding metal and wood. 
This is a 110V and 1200W working sander (you can use this on a 10A and 15A circuit). We use it for tarnishing, burnishing, and polishing stainless steel. You can also remove rust, scratches, and paint layers from metal.
The best thing about this sander is that it provides safety to its user with double-insulated construction (It prevents electric shock). It is electric, so it drives with a button to keep the motor running, and it has a fast heat dissipation system which ensures it does not heat up. 
One thing that we don't like about it is that it weighs 11.3 pounds and is 20.6 x 10.4 x 6.8 inches, so it is difficult to carry. 
ZFE sander has six-variable speeds upto 3000 RPM so that you can use it for various tasks and on different types of metals. 
The sander roller is an auxiliary that stabilizes the working while the non-slippery handles and protective covers provide a firm grip. 
The gears of the sander have high-strength alloys, and it also has four drums and is set with 4PCS with nonwoven burnishing wheels (80-grit, 120-grit, 240-grit, 360-grit) for metals. It also comes with a half-inch bolt and extra brushes to hold the drum in place. 
---
Powerful

Easy Belt Installation

2-in-one Sander
More detailed review ↴
The TACKLIFE h is a larger belt sander that we use for metal finishing. This 13 PCS belt sander (7-80-grit, 6-120-grit) provides more flexibility and ease, especially for sanding wood and metal.
The TACKLIFE belt sander also comes with an adjustment screw knob that helps you adjust the sandpaper to remain on the right track (belt tracking). But, we won't recommend excessive adjustments, as it can break the sandpaper.
It draws 7.5 Amp and 900W, and the motor delivers strong power to the sanding belt for metal finishing. Like the previous sander, it also comes with variable speed knobs with six dials running from 450 to 750 RPM, providing a high-quality finish and making it a good match for your operation.
It also comes with two metal clamps acting as bench sander so that the sanding belt can be changed easily. It also has a trigger lock to help you free your hands (no need to keep your button pressed while working). We easily sand the wood and metal pieces without working a lot.
The handles and additional support on the front make it much easier to work with the sander.
Additionally, the sander comes with a dust collector to hold dust for large projects. It has two vacuum adapters of (32mm or 35 mm), so it comes with a high-performance dust collection system to clean dust easily and keep your workspace clean.
---
Adjustable Tables

Perfect For Hobbyists

2-in-one Sander
More detailed review ↴
As the name suggests, It is a belt disc sander with a 1" X 5" belt disc that can be transformed from belt to disc sander.
We use this sander for prolonged use because it doesn't overheat. So, you can also work with your sander for a long time without worrying about burning the sander motor.
This sander weighs almost 19 pounds, which might seem heavy, but the working of the sander compensates for the weight. The dimensions of the sander are 17.4 x 12.3 x 11.7 inches, which means it is a relatively heavy sander.
The 1 x 30-inch belt arms (0 to 90 degrees) allow vertical and horizontal standing. An extra 3 PCS (100-grit) can be used for various sanding projects, and a 5-inch disc size (80-grit) can be adjusted from 0-45 degrees (according to your different angle's requirements, especially for metal work).
Additionally, it is driven by a motor directly on 120 volts providing 3160 FPM of belt speed and 3450 RPM disc speed, and comes with a gauge for contour sanding and shaping purposes. It also has knobs and belt tension levers to change the belt position easily. 
The sander prevents vibration, provides additional stability, and performs work efficiently. It comes with a dust port of sizes 1.7 inches (outer) and 1.5 inches (inner) to collect dust from the belt and disc, making your working space clean.
This sander also features a powerful 2.5 Amp motor that is more than enough for small to medium projects.
---
Adjustable Speed

360° Adjustable Arm
More detailed review ↴
The Astro Pneumatic 3037 is an air-powered sander suitable for many purposes, specifically metal sanding, and great for removing welding bumps. It is much more affordable than the previous one.
It is a 2.2 pounds and 15.5 x 3.5 x 2 inches dimensions sander. It weighs much less than any other sander we discussed in the article, so it's easy to carry it around. 
Another thing we love about this sander is that it comes with a belt tension lever to make quick changes (that helps in making work faster). The sanding belt (1/2″ x 18″) comprises three pcs (40-grit, 60-girt, and 80-grit)
It also has a variable speed setting that is adjustable upto 16,000 RPM. There is a button on the handle that helps in adjusting the RPM.
This sander also features a 360° Adjustable Arm. You can easily adjust the arm angle by turning the Allen bolt in the supplied wrench.
Lastly, the sander comes with increased pulley space for the thickness of the belt approx. 2.2 inches with a size of 12.7 x 457 mm with a non-slipping grip, allowing for fine-tuning of the speed.
Additionally, the motor delivers 0.5 HP and performs effectively, especially for the metal, as metalworking requires strength.
---
Adjustable Tables

Durable
2-in-one Sander
More detailed review ↴
Xtreme power belt grinder is another 2-in-1 (belt and disc sander). This machine has a different speed limit on its belt and disc sander modes. The disc sander mode is mainly used for woodworking and smaller projects.
The belt sander is mainly used for metals and bigger projects. The disc sander is made of heavy-duty steel and has a strong base that prevents heavy vibrations, gives you stability, and keeps you safe while working.
The built-in tables on both modes of the sander are fully adjustable. The tables can tilt up to 45 degrees. Moreover, we love the quick-release tension lever of this sander that helps you change the belt easily. (It makes your work more convenient).
The sander weighs almost 19 pounds with 30-grit, while it runs on 115 volts and draws 2.5A.
This sander also comes with a dust collector port, like the 3rd sander on our list. Its vacuum port allows you to connect the sander to other vacuums to get rid of the dust easier. It is ideal as it helps eliminate the dust and debris produced while sanding.
---
Best Sander For Metal Working – Buyers Guide
All the sanders we have listed are good, but if you don't know which one to choose, here are some features you need to consider before buying one.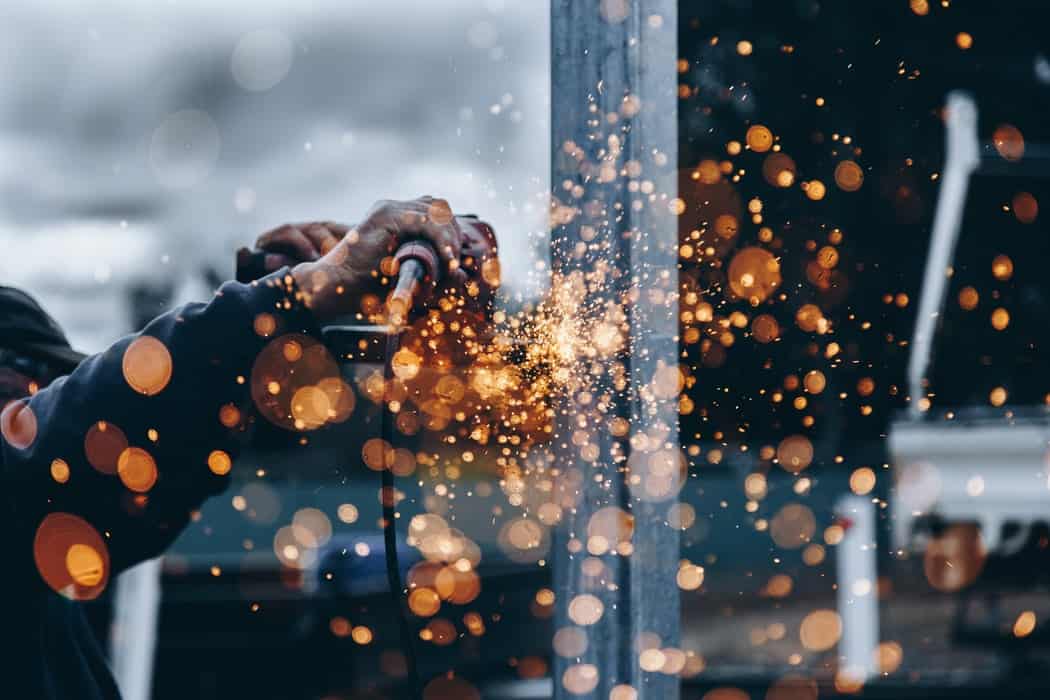 Material Type
If you work daily with metal, you already know what metal you need to sand. There are many different metal types, such as high-carbon steel, aluminum, steel, etc., which require different sanders. That's why it is essential to know the material before buying a sander.
Some people (including me) want to buy a sander that isn't only made for a specific material; we want one that we can use for different projects. As you have seen in the best sander for the aluminum list, we have listed many sanders that can be easily transformed from belt sanders to disc sanders or bench sanders.
These types of sanders are the ones you should buy if you want to use the same sander for different projects. Many people use sanders for woodworking, so having a sander that can do both is a wise choice, so you don't have to buy an extra one.
Read also: Best Sander For Cabinets
Sandpaper Type
Most metalworkers recommend using 50-grit sandpaper when dealing with metals. We recommend 50-grit sandpapers too. But what you have to consider is the material of the sandpaper.
The standard sandpaper for most metalworkers is aluminum oxide. This one is pretty good, but sometimes it isn't the best choice. This sandpaper doesn't last long when dealing with metals with a higher hardness rating. Also, they are known to generate much heat. So, if you use them, you have to take many breaks to wait for them to cool down or use a coolant sprayer.
Silicon oxide is a good sandpaper when dealing with aluminum. But just the aluminum oxide tends to overheat a lot. You must use a coolant spray or some lubrication with water to prevent the sandpaper from burning up.
Another good alternative is cubic zirconia. Professionals mostly use this sandpaper, it doesn't generate as much heat as the other two, and you don't need to use a lot of coolant spray or take any big breaks if you use this one. The CZ sandpaper is also more durable. You will have to pay more to get this sandpaper, but in the end, it's worth every penny.
Read more: Wide Belt Sander Review
Types Of Sanders For Metal
As we said earlier, there are a lot of different materials that require different types of sanders. That's why it is always important to know beforehand the material you will work on and the type of work you need to do. Two of the most used sanders for metal are the belt sander and the orbit metal sander.
Belt Sanders
Belt Sander is mainly used when you need to do polishing. If you need a good finish quality, belt sanders are your best friends. They are also good when dealing with difficult angles such as corners, their design allows superior angle control, and they are also good at maintaining the shape of the material. So if you ask, can a belt sander be used on metal? Then yes, it can.
When buying a belt sander, you must consider how long and wide you want the belt to be. Usually, longer and wider belts tend to be better and stay cooler while working, but they are more expensive. Make sure to know the size of the project you will be working on because often, you just need a 2-inch belt to do simple finishing work. Also, the belt sander is the best sander for aluminum.
Orbit Metal Sanders
Orbit Metal Sander is mainly used when you need to shape metal. This type of sander is used when dealing with automotive projects, usually when you need to give an object a little finesse machining so it can perfectly fit.
Just like with belt sanders, you need to consider the diameter/surface area of the wheel before buying one. The bigger the diameter, the cooler the tool stays while working. But again, you don't always need a big sander to complete a project.
Reminder: Many sanders can be transformed from a belt sander to an orbit sander. If you need to give the metal a good finish and re-shape it, then having a sander that is 2-in-1 is your perfect choice.
Final Words
This is all we had to share with you regarding choosing the best sander for metal. Remember that you always need to know the type of material and the size of the project you will be working on before buying a sander.
If you don't know it, we recommend you choose a sander that is 2-in-one and allows you to change the speed. In this list, we have listed three sanders that are 2-in-1. Make sure to check them out.  Let me know in the comments which sander you plan on picking and why.
Amazon and the Amazon logo are trademarks of Amazon.com, Inc, or its affiliates.