Can I Use a Heat Gun To Fix Scratches In Vinyl: DIY 5 Steps [Only]
TheToolGeeks.com is a participant in the Amazon Services LLC Associates Program and other affiliate advertising programs.   We may earn from qualifying purchases.  (Learn More).
Vinyl is an incredibly durable material, but it can still be scratched and damaged over time. Using a heat gun to fix scratches in vinyl can be an effective way of restoring its original look and feel.
Ensure vinyl surfaces are thoroughly cleaned, set a low temperature on your heat gun, and carefully apply it to scratched areas. Allow time for cooling, then gently sand down any irregularities to produce an even finish. Don't forget about tidying the surface afterward.
It would be best if you took all the necessary precautions before attempting this task, as there are risks associated, such as a vinyl wrap or melting, firing with using a heat gun on any surface. Let's explore the necessary steps for successfully repairing scratched vinyl using a heat gun.
How Can I Use a Heat Gun To Fix Scratches In Vinyl: DIY Steps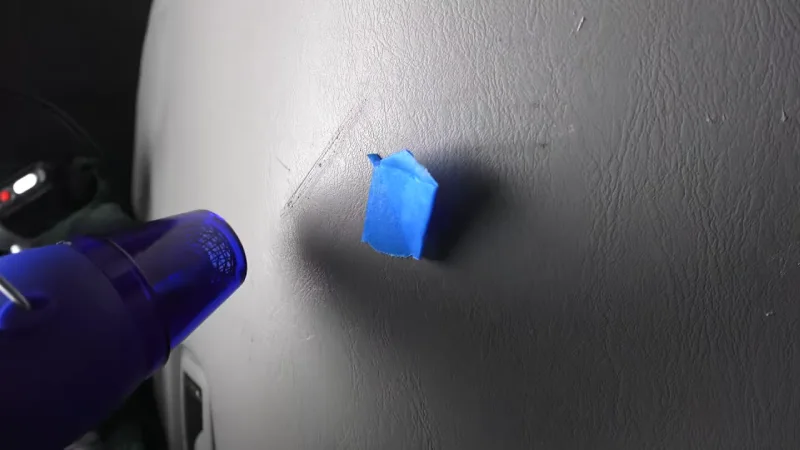 Vinyl is a popular material for flooring due to its durability, affordability, and ease of maintenance. Unfortunately, scratches can occur on vinyl flooring over time. Fortunately, repairing scratched vinyl with a heat gun is an easy do-it-yourself project that requires minimal tools and supplies.
Step 1: Gather The Necessary Materials
Gather the necessary materials for this project. You will need a heat gun, fine sandpaper, dirt cleaner, and two microfiber cloths. Ensure all the items are nearby so you can easily access them as needed.
Step 2: Cleaning the Vinyl Floor
Before you repair your scratched vinyl flooring, it's important to ensure it's properly cleaned. Start by spraying cleaner onto a microfiber cloth and rubbing the damp cloth into the vinyl surface in circular motions to remove all dirt and grime. Once you're done, use another microfiber cloth to wipe off any excess cleaning solution from the surface.
Step 3: Using the Heat Gun 
Before using the heat gun on your scratched vinyl flooring, read the manufacturer's instructions carefully regarding recommended heat settings. Different types of guns will have different temperatures for optimal results and safety purposes.
Once you have set up your machine accordingly, apply the heat slowly to the scratched area of the vinyl flooring by keeping moving it up and down at a constant rate to ensure even heat exposure throughout that area.
Step 4: Sanding Down Uneven Areas 
To create a polished finish on your scratched vinyl flooring, use sandpaper to even out any bumps on the surface. Once you're done, clear away all traces of residue for an impeccable result.
Step 5: Painting Damaged Area (Optional)
If desired, you can also paint over any damaged areas on your vinyl floor with acrylic paint. But be sure not to use dark colors due to their tendency to fade more quickly than lighter colors when exposed to sunlight or other UV light sources.
After applying two coats of paint, finish with one final top coat for extra protection. With these steps complete, now enjoy your newly repaired vinyl floors.
Risks of Using Heat Gun on Vinyl Surface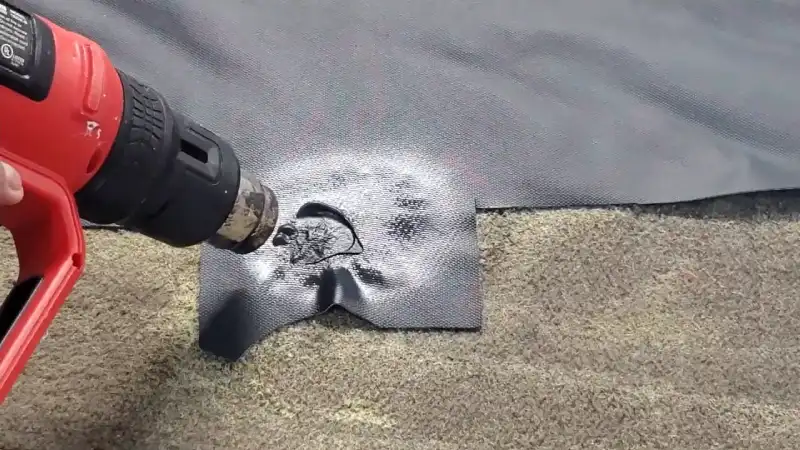 1. Melting or Warping the Vinyl:
Heat guns generate temperatures of up to 1,100°F or 593 °C, which is hot enough to melt or warp the vinyl material. If not monitored properly, the intense heat from the tool can also cause burns and other injuries. 
2. Causing Further Damage:
Using a heat gun on a vinyl surface is an extremely risky endeavor, given the potential to cause permanent and irreparable damage. Excessive heat can burn through the top layer, resulting in patches or holes that render it unusable for its original purpose.
A heat gun near seams or edges increases the risk of them curling or separating from each other. It causes an expensive repair job that could potentially require the replacement of large sections. Therefore, it is better to use alternative methods when possible to preserve the longevity of a vinyl surface finish.
3. Creating a Fire Hazard:
Heat guns are extremely effective tools for heating up surfaces quickly, but they come with inherent dangers, such as creating sparks when coming into contact with certain materials. These sparks pose an additional risk of starting fires if they come into contact with flammable items like carpeting and furniture in the vicinity.
Precautions to Take Before Using a Heat Gun
1. Familiarize yourself with a Heat Gun
Before using a heat gun, it is important to familiarize yourself with its operation and safety features so that you can use it without risk of harm or damage. Read the manufacturer's instructions thoroughly and become knowledgeable about the various settings and functions of the gun.
Ensure that the device is properly plugged into an appropriate outlet and away from any combustible materials. It is also advisable to have a fire extinguisher on-hand for emergencies.
2. Use the Heat Gun in a Well-ventilated Area
Heat guns generate high temperatures which can be hazardous if used in enclosed or poorly ventilated areas. Hence it is important to use them in areas with adequate ventilation.
To reduce the risk of suffocation due to carbon monoxide poisoning, ensure that no objects are placed too close to where you are working with the heat gun. Check for any flammable liquids around where you will be working and move them away before beginning work with the heat gun for optimal safety.
3. Wear Appropriate Protective Gear
When operating a heat gun, it is essential to take appropriate protective measures such as wearing protective eyewear, insulated gloves, and clothing made from natural fibers. Do not wear synthetic materials, as these may melt when exposed to high temperatures.
Keep long hair tied back so that it does not come into contact with hot surfaces or cause any obstructions while handling the device. Ensure to avoid touching the nozzle directly as it could cause serious burns.
What Type of Vinyl Surface Can You Fix with a Heat Gun?
1: Vinyl Plank Flooring
Vinyl plank flooring is one of the most versatile and resilient surfaces that can be easily fixed using a heat gun. The material is naturally resistant to warping, making it an ideal choice for areas with high humidity or moisture levels.
A heat gun can be used to seal the planks together, and create a tight bond that will prevent water from seeping in and causing damage or warping over time. It can also be used to soften the material for repairs or to level out any bumps or imperfections in the finish.
2: Vinyl Car Interior
Heat guns are an excellent tool for fixing a vinyl or plastic car interior. This includes items such as door panels, dashboards, interior trim pieces, and even plastic window frames. By applying direct targeted heat from the heat gun to the damaged area, you can soften up the plastic and reshape it accordingly.
With correct technique and practice, you will soon become adept at using your heat gun effectively on your luxury vinyl dashboard repair jobs. You can also use a heat gun to melt or accelerate the drying process of glue or other adhesive materials for reattaching loose trim pieces or components.
3. Vinyl Record
Vinyl records can also benefit from repairs with a hot air blower when done correctly by an experienced user. Typically, use a hot air soldering station set at 100-150 °F for this job.
Since too much hot air could potentially warp or melt fragile record grooves, permanently damaging them beyond repair.
Why do Vinyl Records get scratched?
Vinyl records can become scratched due to dirt, debris, static electricity, improper handling, or a damaged stylus. When a record is scratched, it can cause distortion, skipping, or even permanent damage to the record.
What are Hairline Scratches on Vinyl?
Hairline scratches on vinyl are small and light scratches caused by rubbing against other materials or from small particles on the record or turntable. These scratches may not be deep but can still be heard as a scuff mark during playback.
What Happens If You Scratch a Vinyl Record?
A scratched record can cause distortion, skipping, or even permanent damage when played on a turntable due to the stylus bumping out of the groove. This will result in a popping or clicking sound being heard during playback. A deep scratch could cause the stylus to skip to another part of the record entirely.
Can You Get Light Scratches out of Vinyl?
Light scratches on vinyl can be removed using a vinyl cleaning kit or wax. When cleaning the vinyl, it is important to use a gentle touch and avoid using harsh chemicals or abrasive materials.
A wax-based cleaner should be applied with a soft cloth in circular motions to fill in the scratches and restore the shine. If there is no improvement, purchasing a deeper-cleaning kit that includes polishing compounds may be necessary.
Can You Fix Deep Scratches on Plastic?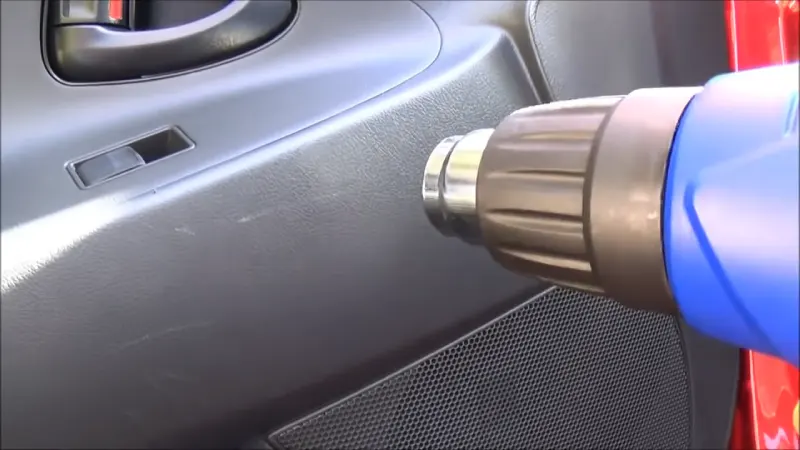 Deep scratches on plastic can be fixed by sanding with Micro-grit sandpaper or a plastic repair kit according to the manufacturer's instructions. Start by washing the plastic surface with warm soapy water, and then use fine grit sandpaper (800 grit or higher) for sanding down any rough edges.
Apply a clear coat of automotive paint or acrylic sealer over the affected area to protect it from further damage and increase its longevity.
Safely Fix Scratches on Vinyl Using a Heat Gun
Working with a heat gun is the simplest way to fix scratches on vinyl surfaces. While the process is straightforward, it's essential to be aware of all potential hazards that can arise when using a heat gun.
Understand the proper operation of the device, including safety protocols, and take necessary preventive steps. With correct application technique and caution, you can competently repair minor or deep scratches in vinyl materials. Restore your vinyl items quickly and affordably with this cost-effective method.
Amazon and the Amazon logo are trademarks of Amazon.com, Inc, or its affiliates.