TheToolGeeks.com is a participant in the Amazon Services LLC Associates Program and other affiliate advertising programs.   We may earn from qualifying purchases.  (Learn More).
How do I restore rusty metal to its original smooth, polished surface? This is a frequently asked question by many home improvement DIYers and crafters alike. Sanding metal can help get rid of old or unwanted discolorations, rust, paint, and scratches. With the right tools and know-how, you can indeed breathe fresh life into your tired-looking metal surfaces.
But to effectively sand metal and safely remove the resulting dust and debris, you need to be aware of a few key steps and understand your sanding tool options.
We'll help you figure out how to safely get rid of rust and paint and get the final finish you're looking for.
Here's what you need to know to get your metal sanding job done right.
Can You Sand Metal?
Yes! You can sand metal to get rid of old paint, metal scratches, discoloration, rough surface issues, and rust. Luckily, sanding metal doesn't take a lot of effort—if you have the right tools.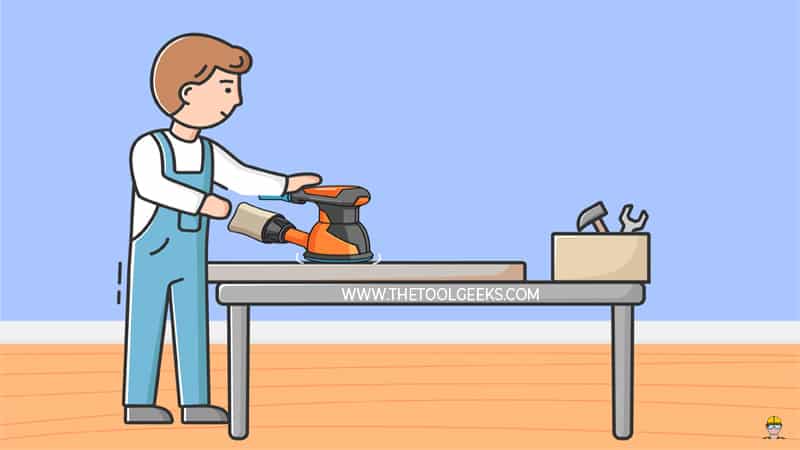 If you're working with a metal surface that needs retouching before painting, sanding is essential. You'll need to build a smooth surface for the paint to effectively coat and stick on the metal surface. Getting rid of metal rust and surface issues will help your new paint job be a success.
Metal rust can be a tricky issue to manage and is best addressed as soon as you notice the metal aging. The longer rust goes without being treated, the harder it will be for you to get sand and repair the surface. And, if a metal surface is rusted for a long time, it can become so severely damaged that you can no longer work with it.
This is why sanding and restoring metal can be so important.
Tools Needed To Sand Metal: 
Different Grip Sandpapers
Electric Sander
Sanding Blocks
Protection Gears.
There are several different tools you can use while sanding, but the most effective one in your tools box is an  electric sander. As you're getting ready for your job, it's still a good idea to have a manual sanding block and different grit sandpapers on hand, too, to help you reach those tight spots an electric sander may not be able to access (more on this in a moment).
Which Sandpaper Grits Are Best for Metal Sanding?
You may know that different sandpapers have various grit numbers, each number helping users understand the roughness of the paper. (The higher the grit number, the smoother the surface; the lower the number, the more abrasive the sandpaper.)
So, how do you know what grit sandpaper you need to sand metal?
Sandpaper comes in a variety of formats, from rolls and strips to discs and belts, and each has a different grit number assigned to it. Various grits of sandpaper perform very different duties, and choosing the correct grit is important—but it can also be confusing.
Some mental surfaces can peel rapidly, even when using a fine-grit sandpaper. For inexperienced sanders who don't know which grit level to use, this can make or break a project.
It's helpful to attack your metal sanding task in two steps:
First step: Look for a 35-100-grit sandpaper to start your job. Starting with these sandpapers will remove all the top layers and unwanted material from your metal surface. But, be careful with these sandpapers, as they can weaken the metal if you sand too hard.
Second step: To smooth out the metal surface, after you've carefully removed unwanted materials, use a 100-180 grit sandpaper. This sandpaper is good to use, only after all the rust is removed from the metal.
Still confused about sandpaper grits? These fundamentals can help serve as your guide:
Very Rusty Metal: 60-80-grit sandpaper
Rusty Metal: 80-100-grit sandpaper
To Smooth a Metal: 180-grit sandpaper
Before Applying Metal Sealer: 200-grit sandpaper
How Do You Sand Metal with an Electric Sander?
The process of sanding metal with an electric sander can be hard, if you aren't using the right sandpaper for your particular task. For this example, if you're using a random orbital sander to work with your metal surface, be sure to check your sander's handbook to check for recommended sandpaper grit and disc or belt paper suggestions.
Additionally, this step-by-step overview can help safely guide your way:
Step 1: Wear Safety Gear
Before you even start your project, collect and put on your safety gear. If you are sanding metal, chances are you'll be dealing with old, rusted surfaces. A lot of dust is produced when sanding—and when that material is metal, there's a whole additional layer of issues to contend with. Metal dust is highly dangerous to breathe in and the particles can be harmful to your eyes and skin, too. That's why wearing a mask, googles, gloves, and protective gear are so essential.
Step 2: Clean The Metal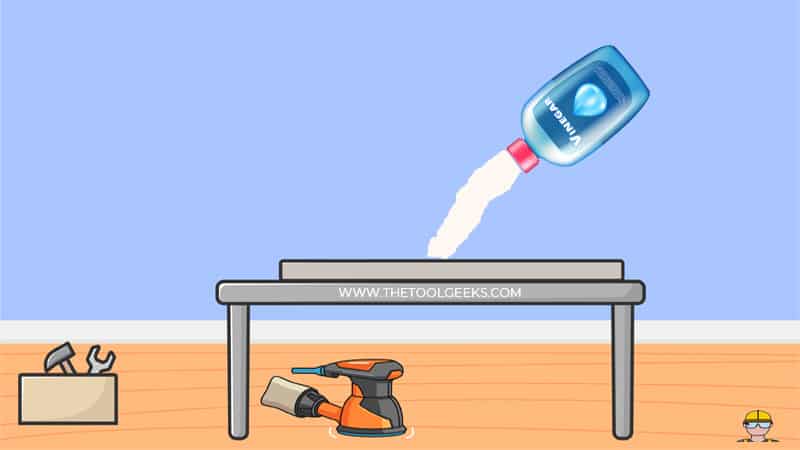 Cleaning up your surface area before you start sanding is another key step. Rusty metal can have a lot of surface disruptions, dust, and debris that may impact the effectiveness of your electric sander. Using rubbing alcohol and white vinegar to clean up the metal first is a good idea. Wet a work cloth with a bit of rubbing alcohol or vinegar and go over the surface you'll be sanding.  If you don't have vinegar or rubbing alcohol, you can use water and shampoo, too. Be sure to not skip this critical step. Cleaning up now will ensure you get the best possible result later.
Step 3: Choose the Right Sander for Your Job
When selecting the best sander for your metal project, first review your metal piece size, material, and shape.
In most cases, a random orbital sander is your best bet for sanding metal. These sanders have the right amount of power but aren't as harsh or forceful as belt sanders or grinders. Plus, the oscillating, or vibrating motion, combined with the circular movement of random orbital sanders is perfect for dislodging and sanding down rust or paint without harming the metal underneath.
We advise using belt sanders or grinders on metal surfaces only when heavy sanding is needed first, as both are aggressive and can easily take up some of the metal in addition to the rust or paint.
Step 4: Choose the Right Sandpaper & Start Sanding
While using an electric sander on a metalworking project, it's a good idea to use multiple sanding disks throughout the process. Different disks will help you get the best results.
Start with an 80-grit sanding disk to easily remove the top layers of paint and deeper scratches. Work slowly and carefully to avoid causing the sanding desk from eating into the surface or weakening the integrity of the metal.
Once the top layers of the paint and scratches are sanded down, plan to stop sanding and switch to another sand disk.
Step 5: Switch the Sandpaper Often
As you continue sanding, keep switching out sand disks to higher numbered paper, with a finer grit. Start with an 80-grit sanding disk and work yourself up to a 200-grit sanding disk.
In the final stages of sanding, your 80-grit sanding paper will allow you to remove any remaining debris on the surface. The smoother paper won't dig into the metal and will help you polish-up the final stages of your sanding job, for a super-smooth finish.
If there's any area remaining that isn't quite smooth and you can't access it with the electric sander, plan to work on it manually with a sanding block. Much like you worked with your electric sander, start with an 80-grit sandpaper and work yourself up to a smoother, 200-grit sandpaper.
If you want an even more polished sheen, use steel wool to polish your surface, after you've completed sanding with sandpaper. For a smooth and unique finish, rub the steel wool in circular motions until you reach the effect you're looking for.
Step 6: Seal the Metal
When all your sanding steps are completed, seal the metal. Apply a metal sealant and let it dry for a few hours to help protect the raw metal surface.  Once the sealing has dried, you can use the metal.
Can You Sand Metal Using Just Sandpaper?
Although manually sanding metal can be quite a time-consuming task, it can indeed manually sand metal surfaces. Plus, manual sanding can help you get into hard-to-reach areas better than most power sanders. With the right paper, you'll get the job done right—just plan to devote a bit more time and elbow grease to the task.
Step 1: Choose the Right Sandpaper
The quality of your sandpaper you use will affect how effectively and efficiently you'll be able to attack the job.
If your metal's surface is in a bad condition with lots of rust, plan to start working with an 80-grit sandpaper (just as you would with a power sanding project). You'll gradually move from the coarse 80-grit paper to a finer, 100-grit sandpaper as you finish your job.
A side note about sanding papers: When sanding a natural surface, emery paper works well. But when it comes to man-made abrasives, you can choose from aluminum oxide, silicon carbide, or zirconia alumina papers.
Step 2: Make Sure You Understand Sandpaper Grit Numbers
Sandpapers come in different grit numbers, with each level of coarseness serving a distinct purpose. For instance, sandpapers that are between 36- and 100-grit are ideal for shaping, leveling, and clearing rust and other imperfections from the surface of your metal. They're excellent for electric sanders, as long as you work slowly and carefully.
Sandpapers between 100- and 180-grit are great for removing scratches and polishing surfaces. And even higher grit numbers, like those between 180- and 320-grit will give your surface an ultra-polished, scratch-free finish.
Step 3: Consider Using a Sanding Block on Your Job
If the metal surface is large, you can use sanding blocks to sand it even faster.  Wrap the sandpaper around a wooden block and use this to sand-down your surface—you'll cover a larger surface area than you would without using a block.
Tip: Be sure to sand in circular movements with your sanding block; move against the grain of the metal, to help remove rust more quickly.
Step 4: Wet Sanding (OPTIONAL)
For a high- glossy finish, try a wet sanding technique.  In contrast to dry sanding, which uses a circular sanding motion, wet sanding uses straight movements and water as a lubricant to provide cleaner surfaces.
Please note: Wet sanding is not suitable for all sandpapers. You'll want to use 550- to 1500-grit paper that is made for use with wet sanding.
To try this process, after dry sanding use sandpaper that has been soaked in water.  Move the sandpaper in straight lines and alternating directions across the surface of the metal. Lastly, dry with a cloth.
Step 5: Finish the Job with Finer Sandpaper
Once you've removed most of the rust from the metal, you can move to finer sandpaper for a final polish. Use 200-grit sandpaper for this part of the job and use the same method used with a woodblock:  Wrap your 200-grit sandpaper around the sanding block and sand down your surface. Once the meta is smooth, clean and apply metal sealer.  And you're all done!
Final Words
Once you are done sanding your metal surface, you can repaint it with a fresh, new color or leave it instead to showcase its renewed natural luster.
Sanding, when done right, can help you extend the life of your metal surface. We hope this guide acts as a good touchstone for future metalworking projects and helps you to add new skills to help you bring fun style and creativity to your home.
Learn also: How to sand Tables?
To help get you started, we have also listed our recommended electric and pneumatic sanders below.
Recommended Sanders for Removing Rust and Paint from Metal
Brand & Model
Top Pick
Makita BO5041K 5" Random Orbit Sander
Runner-up
DEWALT Random Orbit Sander, 5-Inch (DWE6423K)
Smaller Size
BOSCH ROS20VSC Palm Sander 2.5 Amp 5 In....
Budget Pick
CRAFTSMAN Random Orbit Sander, 3-Amp, Corded...
Automotive Pick
Ingersoll Rand 4152 6" Orbit Palm Pneumatic...
Cordless Pick
Makita XOB01T 18V LXT® Lithium-Ion Cordless...
Preview
Amazon and the Amazon logo are trademarks of Amazon.com, Inc, or its affiliates.