Best Air Compressor for Heavy-Duty Trucks – (Tested + Reviewed)
TheToolGeeks.com is a participant in the Amazon Services LLC Associates Program and other affiliate advertising programs.   We may earn from qualifying purchases.  (Learn More).
Many truck owners carry extra equipment or emergency equipment in their trucks, such as first aid supplies, various tools, an extra tire, non-perishable snacks, water, and jackets.  An important tool that is often overlooked is the tire inflator, which is another name for an air compressor.  But, which air compressor is best for heavy-duty trucks?
While an air compressor can be used primarily for inflating the tires on your truck, a tire inflator can also be used for other activities requiring compressed air, such as operating power tools at a construction site, as well as camping and recreation equipment.
But if you are a professional tractor-trailer or bus driver or typically drive industrial or construction trucks, how do you determine which air compressor is the best one for your heavy-duty truck tires?
We've compiled a list of air compressors after extensive testing and interviews with various truck owners to help you determine and get the best air compressor for your truck tires and other portable needs.
Below is our quick comparison list if you are already familiar with truck tire air compressors.    
And keep reading to learn about some of the factors you need to consider before purchasing an air compressor for your truck tires.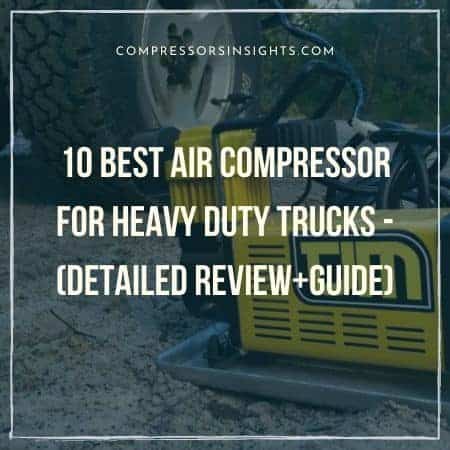 Best Air Compressor for Heavy-Duty Trucks – Quick Feature Comparison
Best Air Compressor for Heavy-Duty Trucks – In-Depth Review By The Tool Geeks Team
So, for testing, we arranged heavy-duty truck tires (195/65/ R15, 200/70/R180, 225/70R.19.5, 275/70/R22.5, and 295/75/R22.5) and tested these air compressors by inflating these flat tires to their maximum. All these air compressors are best for heavy-duty trucks, but there are minor differences between them. Let's see which one is best for you. 
1. Viair 00088 88P Portable Air Compressor for Heavy-Duty Trucks
Quick Tire Inflation: 20 to 30 PSI in 50 seconds or less
Powered via alligator clamps 
Works great for tires up to 33″ 
More detailed review ↴
The VIAIR 00088 88P is at the top of our list for many reasons. We love that this air compressor weighs only 4.5 pounds, making it lightweight and portable. Plus, with dimensions of 9.8″ L x 3.2″ W x 5.6″ H, it takes up a little less space in your vehicle. 
It also has a maximum pressure of 120 PSI, which is more than enough for truck tire inflation.  This air compressor is also suitable for SUV tires, bicycles, or motorcycle tires.
As you inflate your truck tire, the pressure gauge allows you to monitor the tire pressure. It can inflate at 12 volts by delivering 1.47 CFM in a few seconds, and the compressor seems to stay cool during operation. 
During our testing, the fast inflation cycle allowed us to fill a 225/60/18 tire from 20-30 PSI within 50 seconds or less.
When turned on, the VIAIR 00088 88P compressor pump draws 20 amps at 276 watts of horsepower, which helps maximize performance. The hose diameter is 16 feet, which helps to reach any of the tires. 
The self-lubricating design makes it more reliable and helps extend the life of the compressor.  We also loved the LCD, which makes it easier to inflate your truck tire in the dark.
Its noise level, at 70db, is less than many of the other compressors we tested for this article.  Alligator clamps allow you to power this air compressor directly from the battery terminals.  
Since this compressor is designed to inflate one tire at a time, it is best suited for personal use. 
---
2. GSPSCN Silver Tire Inflator for Heavy-Duty Trucks
More detailed review ↴
The GSPSCN is a twin-cylinder compressor that can use your truck's battery power as well as its own battery for operation when another power source is not available. It is compact, easy to use, and a suitable compressor for tire inflation. 
Like the previous inflator, it also has an LCD to see the pressure in the dark. It has a pressure gauge with an auto shut-off system that helps to keep the tire inflation level in balance as it shuts off when the level is reached. 
Weighing in at 6 pounds, this compressor has come in handy as its portability makes it easier to carry around without much effort. 
It has fast inflation quality at 0.5-1.5 PSI. The 12-volt motor pump delivers a maximum pressure of 150 PSI with 70 LPM airflow, which inflates 9 200/70/R180 vehicles from 0-35 PSI in 1.5 minutes.
We liked the stability of this air compressor, as it does not move during operation and produces less noise at 75 dB (for us, this sound level is a bit loud, but still, it falls in the category of quieter air compressors) with low vibration. 
In addition to inflating truck tires, it has 3 adapters that can be used to inflate cars, SUVs, bicycles, dinghies, and airbeds.
It operates on 20 amps, which means that the direct-driven motor cylinders use a maximum of 240 watts of power, making a low rotating speed. It compresses air simultaneously with the operation of the direct drive pump.
In interviewing a truck owner who uses this air compressor, we learned that the shorter cable length of 3.5 meters can make it difficult to move and reach your truck's tires without moving the compressor. We recommend an additional hose to meet the needs of inflating long-wheeled vehicles.
---
3. Portable Double Cylinder Air Compressor Tire Inflator
More detailed review ↴
This twin-cylinder, 12-volt air compressor has a maximum pressure of 150 PSI. It produces a flow of 40 LPM, making this compressor 4x faster than the others we have tested.
This metal tire-lubricated compressor has special features like an 11.5-foot hose for long vehicles and a spare fuse.  Plus it has a bright LED flashlight that helps illuminate it in low-light conditions.
It also has rubber feet to help stabilize this compressor and absorb some of the noise during operation.  
The motor operates at 0.8 horsepower with heavy-duty clamps and a connector that plugs directly into the vehicle's tire battery for quick and easy inflation. 
Most tire inflators take time, but this compressor inflates in fractions of a second. So watch your tire carefully as it inflates quickly and is used for cars, SUVs, trucks, trailers, bicycles, airbeds, etc.
It has a tank size of 10 gallons and weighs 6.82 pounds with dimensions L x W x H in 8.7 x 7.1 x 3.1 inches, making it portable and easy to place anywhere. 
The dial gauge on this tire inflator provides as much accuracy as digital tire gauges. It comes with multiple adapters to inflate more than just truck tires.  
This compressor is ideal for heavy-duty work and is made of metal to ensure its durability.  It has a pure copper connection that ensures it will never rust, making it longer lasting.
---
4. TIRE WELL 12V Tire Inflator for Heavy-Duty Trucks
FAST INFLATION: Maximum pressure 150PSI
Airflow 2.12CFM@0PSI
5M extension hose and high-quality battery clamp
More detailed review ↴
Another battery-powered compressor is this from TIRE WELL, which was tested and can be guaranteed as a good tire inflator for trucks. It is efficient: easy to control, compact, and quiet with stability.
This compressor is powerful as it connects with a 4-rod design fuselage which minimizes noise by 75 dB and ensures less vibration. Coming with a weight of 7.9 pounds and dimensions of 9.88 x 4.26 x 8.26 inches, it is a little heavier than other compressors, but it is not too bad. We could easily carry this air compressor, so it's not a big problem. 
It also has double cylinders that can quickly inflate the tires and compress air simultaneously. The motor makes the drive in such a state that it rotates at a slow speed. 
It has 3 adapters, which work great with SUVs, trucks, and car tires, and the feature of LED light used to see in the dark. It comes with rubber feet which help keep the air pump in a constant state where it is placed during the operation.
The best thing is a 5-meter extension hose which makes it suitable for long-wheel vehicle inflation, and a 1-meter clamp battery for directly connecting to the vehicle's battery.
We loved the connector that ensures the hose connects tightly with the tire. The tire has a fast inflation quality as others at a maximum pressure of 150 PSI and airflow at 2.12 CFM at 0 PSI. This air compressor inflates heavy-duty trucks by taking a time of 2 minutes (195/ 65/ R15 0-35 PSI).
---
5. Slime 40026 Tire Inflator
Long power cord with alligator clips for your car battery 
Features a built-in dial gauge (0-150 psi),
A bright LED light and an extra-long air hose
More detailed review ↴
The Slime inflator is another air compressor we tested to be ideal for tire inflation of heavy-duty trucks. Our testing team concluded that it is a safe and great compressor as it prevents the compressor from getting damaged through its sensors. 
The tire inflator 4×4 compressor is much more capable because of its dual heavy-duty power, making it fast and powerful yet quiet. 
The compressor has a dual-piston system that increases inflation and provides stability. It comes with a built-in super bright LED light which helps in the dark in any emergency. 
Additionally, the inflator wraps up in a rigid carrying case and produces multi-purpose air adapters with air nozzles for inflatables and is used for the SUV's tire and especially for truck tire inflation.
The tire inflator has a long power cord for usage at farther distances with an alligator clip (244 cm) to connect with the tire's battery that airs up the inflator within 2 minutes.
The Slime inflator is 0.811 ounces (about 23.98 ml), showing its lightest weight with dimensions of 11.63 x 7 x 9.38 inches representing its portability. It is applicable for tires that use 80 PSI of higher pressure. Also, It has a direct dual-cylinder motor and a thermal break feature to prevent overheating.
It features twin connected extra-long coiled air hoses of 82 cm (30 feet), making it ideal for multiple tires or vehicles.
---
6. Kensun AC/DC Power Supply Portable Air Compressor Pump
Specific characteristics: analog pressure gauge
The maximum range of pressure: 120psi
Continuous working time: 30 minutes at 35psi
More detailed review ↴
Kensun's AC/DC powerful compressor is easy to use and ideal for emergency roadside inflation. Digital screen and LED light for easy use at night in dark places, so it is perfect for use in the dark. 
This inflator works with 110 volts AC and 12 volts DC power so that they can run for cigarette lighters and garage outlets at an airflow of 18 LPM. 
The black air hose (48 cm) does not allow air loss while inflating. The hose length is excellent for inflating all vehicle tires without changing their position. 
This portable air compressor weighs 3.38 pounds (lightweight) and can be kept at hand while traveling with dimensions of L x W x H in 11.8 x 4.3 x 6.7 inches and can be easily placed in a truck. 
We love the case of this air compressor. The soft carry case is ideal for storing and transportation: it protects the inflator from dust and moisture, making it easy to carry and handle.
The tire inflator is perfect while used indoors and traveling with AC/ DC power cords stored at the back of the compressor. This compressor comes with accessory nozzles for the inflation purposes of cars, balls, airbeds, motorcycles, bicycles, and especially for truck tire inflation. 
The compressor has a maximum pressure gauge of 120 PSI pressure, and the motor at 120 watts continuously runs for 30 minutes at 35 PSI to fill the tank.
Additionally, the auto shut-off feature can automatically shut the inflator off when it reaches the desired pressure limit. 
The only thing not pleasing about this air compressor is its noise. It was irritating to our ears while testing.
---
7. VIAIR 300P Portable Air Compressor for Heavy-Duty Trucks
12 VOLT – 150PSI Max Working Pressure
2.40 CFM Free Flow
Direct heavy-duty dual battery clamps with 40-amp inline fuse
More detailed review ↴
This 4×4 compressor is powerful and easy to use, comes with accurate performance, and is water-resistant. Also, this is an oil-less air compressor, making it long-lasting without any maintenance. 
Like the previous air compressor, it has a carry bag for easy transport. Also, it has anti-vibration rubber brushing, so it produces less noise (68 dB) 
Additionally, the accessories kit is ideal for both on-road and off-road circumstances.
VIAIR 300P tire inflator can inflate up to 33-inch tires from (15-30PSI). It also has a thermal overload protector, so it does not overheat.
The best part is that it features clamps through which power leads (8 ft) are connected to your battery, making it even more portable. Simply connect the battery with this lengthy power cord and inflate your tires. 
The pressure can be checked using a 5-in-1 inflator/deflator for airing up the large tires and air hose (25 ft) in line with a 100 PSI pressure gauge. 
One thing we'd like to tell you people about the air hose because we've been using this air compressor in our workshop for some time is that the air hose may become brittle if the hose prolongs exposure to sunlight. So, avoid placing this air compressor in the sunlight. 
This compressor weighs 8.7 pounds and is 10 x 7.5 x 5 inches, which makes it a little heavier, but still, it's a good deal for your truck tires. 
VIAIR compressor is electric, works on 30 amps, and runs on 12 volts DC magnetic motor power of 414 watts that inflates the tire at 2.3 CFM and 100 PSI so it can run freely. The maximum pumping air is 150 PSI pressure.
Additionally, it has a 33% duty cycle with fractional horsepower, so it is seen that the engine motor must be running while using this inflator compressor.
---
8. CRAFTSMAN Air Compressor
PORTABLE: 6-gallon capacity maximizes portability 
NO MAINTENANCE: Durable, oil-free pump 
PRESSURE: 150 Max PSI
More detailed review ↴
Next on our testing list is CRAFTSMAN 6-gallon air compressor. This pancake style seems bulky because of its pancake style. But, we could easily carry and walk around with this air compressor using the handles. 
This air compressor is heavier than other air compressors on our list (32.5 pounds) and loud (82 decibels). Still, at the same time, it can run continuously and is a heavy-duty air compressor as compared to other air compressors that we've tested on truck tires. 
Additionally, it is an oil-free pump, meaning it does not need constant maintenance, and it generates 2.6 SCFM at 90 PSI, which is best for tire inflation because it runs for a long time. It has 150 maximum PSI pressure to ensure cut-inch pressure benefits for various applications.
The motor works at 120 volts. The 0.2 HP is enough because its high performance makes it easy to start even in colder weather conditions, so it performs heavy-duty operations efficiently. 
It has a 25 feet air hose with two quick couplers supporting two users and is used for airbrushing, nailing, spraying, and tire inflation. 
Also, it comes with accessories you need while inflating, and has plugged assembled OSHA safety nozzles with 3 inflator adapters.
Overall, this air compressor is best for the inflation of heavy-duty trucks. But we won't recommend buying this one just for your truck. This air compressor is a perfect choice if you want to use it for multiple purposes. 
---
9. VIAIR 450P-RV Silver Automatic Portable Compressor Kit
More detailed review ↴
The VIAIR 450P-RV is the most durable air compressor on our list, which is a suitable choice for heavy-duty trucks.
This compressor has a long hose that is 60 feet to ensure inflation on long-wheeled vehicles. It comes with extra air filters, which increases air intake. 
VIAIR 450P is a lightweight 18-pound compressor with 10.9 x 5.8 x 7.5 inches dimensions. (It's better than the previous one regarding its weight)
It also comes with a full kit of multiple attachments, so it meets your needs to inflate the tire, and it comes with a carrying bag (just like other VIAIR air compressors). 
This air compressor draws 23 amps, runs on 12 volts, has a 100% duty cycle, and has a maximum 150 PSI with 1.8 CFM, making it capable of inflating up tires as large as up to 42-inch tires.
It provides better airflow with flexibility and creates less noise because of its 69 dB rating. It also has approximately 0.8 CFM at 130 max PSI, making the motor run longer, up to 30 or more minutes of continuous use. 
The compressor has an 8 feet power cord with two alligator clips, too, so that it connects to the battery with an in-line fuse. It also offers an auto shut-off function in heavy truck tire inflators.
---
10. VIAIR – 40045 400P-Automatic Air Compressor for Heavy-Duty Trucks
12 VOLT – 150 PSI Max Working Pressure
2.3CFM Free Flow at 0 PSI
Great for inflating tires up to 35 inches
More detailed review ↴
The last tire inflator we tested with the truck tire is VIAIR 40045. This air compressor is also used mainly by truck owners. 
It has a distinctive feature of pressure detection to monitor pressure with automatic time and power-saving features, making it likable to our team. 
Viair 400P has a built-in pressure switch that will be on at 120 PSI and off at 145 PSI, and it also comes with a 25-30 feet air hose with quick couplers. 
It also has dual heavy-duty battery clamps easily connected to the truck's battery. The power cord is directed with alligator clips and 40 amps in-line fuse holder.
It works on 12 volts with a 33% duty cycle at 100 PSI, so the motor runs continuously for up to 15 minutes during use. The maximum working pressure is 150 PSI, enabling it to inflate up to 35 inches of the tire of the truck in no time. 
Regarding portability, this air compressor weighs 10.7 pounds and is 11.25" x 4" x 7" inches in dimensions, so we can say it's portable. 
Also, this air compressor is less noisy (74 dB), meaning you can use this air compressor without getting irritated.
The portable compressor has an automatic shut-off function that powers it down whenever the compressor exceeds the pressure limit. 
But, we noticed a problem with the auto shut-off function during our testing. It doesn't always work fine; sometimes, auto shut-off doesn't work. (We've emailed the feedback to the company, and we're discussing the matter)
---
How to Choose the Best Air Compressor for Semi-Trucks?
Professional, Tractor-trailer, and industrial vehicle tires are larger than regular tires and require heavy-duty compressors to handle the tire pressure requirements and inflate it efficiently.
So you need a compressor with a maximum pressure of 60-90 or 90-120 to fully inflate a truck tire.
Also, consider the airflow CFM and choose according to your needs. Your compressor should deliver at least 5 CFM to inflate the truck tires.
Always choose a portable air compressor for ease of use and storage and to reduce the need for an extension or hose. 
The tank size of the compressor should be between 6-10 gallons, which will inflate the tire quickly without the need for continuous operation but still be small enough for storage on the road.
How to Choose the Best Air Compressor for Heavy-Duty Trucks?
We put together the following list to ensure your compressor can handle your truck tire inflation. 
1. Tire Size
Considering the tire size and its pressure requirements is the most important factor.  You need to consider the tire first, then match up to the Compressor's pressure (PSI) range and airflow (CFM) capability. 
The list of above air compressors that we've tested can inflate almost every tire size,
2. Air Compressor Pressure for Heavy-Duty Trucks
PSI measures the pressure that the compressor can deliver. For truck tire inflation, you need PSI which can inflate at least 3 tires simultaneously. (For the safe side)
If the tires need under 80 PSI, consider a compressor with at least 120-130 PSI. 
3. CFM
CFM is a unit used to measure the airflow of the compressor or the air volume. The CFM of the compressor to inflate the truck's tires should be a at least 3-5 CFM. For heavy-duty tires, 5-10 CFM should be sufficient. 
4. Inflation Time
Inflation time is essential for inflating truck tires. You need to consider a compressor that takes less than 2-3 minutes to inflate, especially when on the road. Obviously, you don't want your air compressor to take 30 minutes to inflate your tire in the middle of nowhere. 
The inflation time depends on the PSI and CFM. Make sure to go with high PSI and CFM air compressors. 
5. Power Cable & Hose Length
The length of the compressor's power wires should at least be long enough for you to set the compressor on the ground when it's connected to your truck's battery terminals.  And in case you need to move the compressor toward the rear tires, additional power cable length comes in handy. 
Longer air hoses can help extend the compressor's ability to inflate longer-wheeled vehicles without having to move the compressor around for every tire.  Consider the length of your vehicle, and buy the air compressor with a suitable air hose length. 
6. With or Without a Tank
Whether you should consider a tank or tankless air compressor for truck tire inflating depends on your specific needs and preferences.
A tankless air compressor is generally more portable and easier to store, as it doesn't have a tank taking up space. It also doesn't require any time to build up pressure in the tank, as it continuously produces air. This makes it a good option if you need to inflate tires quickly and don't have a lot of storage space.
On the other hand, a tank air compressor is generally more powerful and can store a more significant amount of compressed air. This means it can handle more demanding tasks and be used for a longer period before needing to be refilled. It's also generally less noisy than a tankless compressor.
Now, deciding which one suits your needs is up to you. 
You need tank sizes according to the working criteria. Large capacity tanks over 20-30 G are recommended for workshops and professionals. However, you can consider an under 5-8 Gallon compressor.
7. Noise
Tire inflators will not be used in quiet places or rooms in truck inflators. So, you can ignore this factor, but still, the sound of the compressor should be at most 80 decibels, as more than that are extremely noisy. 
8. Weight/ Portability 
The weight depends on the type of compressor.  Portability depends on both its weight and its design.  Generally, lighter-weight compressors are also portable.  
Even though truck tires require heavy-duty compressors, which are usually heavier, the ones we've reviewed weighed either in the 6-10 lbs or 20-40 lbs ranges.
We recommend a portable compressor if you want to use your compressor outdoors and indoors while storing it in your vehicle. 
9. Accessories
Always check for the accessories kit with the compressor, such as hoses, regulators, tools, air filters, dryers, and other attachments. After all, you're spending money on an air compressor, and then buying accessories separately will burden your pocket. 
10. Price and Amazon Reviews
When deciding on an air compressor, research the model you intend to buy.  Check the prices, reviews, and comments on the compressor website. They are helpful, as they come from users. While it may be tempting to compromise on features to stay within a lower budget, we recommend purchasing a compressor with enough features to help you when you are out on the open road.
11. Display/Gauges
In an air compressor, there are two types of gauges. The tank air gauge displays that the available pressure air in the compressor is exact and accurate. The regulator air gauge displays the pressure at which you are using air tools. 
So, while getting an air compressor for your truck tire, make sure your compressor features a pressure display panel. 
12. Automatic Cut-Off
The automatic cut-off switch is a helpful feature. It automatically shuts off the compressor when it reaches the preset pressure level, thereby ensuring the safety of your air compressor as well as your tire. 
13. LED Lights
These lights help you inflate your truck tire at night, and you do not need to set extra lights for it. So, if you're a night traveler, you must have this feature in an air compressor. 
How to Inflate Truck Tire with an Air Compressor? 
While inflating tires with a 12V portable air compressor, you can follow these steps to inflate the tires properly. 
Connect your inflator's hose to the valve in the tire you want to inflate.

Plug your inflator into your tire cigarette lighter socket.

Now turn on the inflator, let it fill after reaching the desired air pressure, 

Using a pressure gauge, check the PSI. You are done if your inflator has filled the tire to your desired pressure limit.

Switch off the inflator, and disconnect your hose and unit. 
Conclusion
To get the best air compressor for heavy-duty trucks, again consider the tire size, then the pressure range (PSI), then the airflow (CFM), and finally the tank size of the compressor.
Portability, maintenance, weight, and cable length are also important. 
If you will be using your compressor at night, make sure it has either an LCD and/or LED lights.  Occasionally check the LED lights and the accessory kit of the compressor before you go out on the road. 
In this article, we have looked at the pros and cons of many of the brands of heavy-duty air compressors and hope that it is helpful for you to choose the right air compressor for inflating truck tires.
Amazon and the Amazon logo are trademarks of Amazon.com, Inc, or its affiliates.