Best Air Compressor for Sprinkler Blowout -Top 8 Tested & Reviewed
TheToolGeeks.com is a participant in the Amazon Services LLC Associates Program and other affiliate advertising programs.   We may earn from qualifying purchases.  (Learn More).
Getting your water pipeline clogged or choked is a problem. It grows even more problematic when you need your water pipes in an emergency. Well, you can get rid of this blockage with the help of an air compressor. But how can you determine the best air compressor for a sprinkler blowout?
In this article, we've reviewed the top 8 air compressors we've tested and winterized some sprinkler systems on our own to confirm which ones will work. 
We will also discuss air compressors in detail in the article and the factors to consider when selecting an air compressor.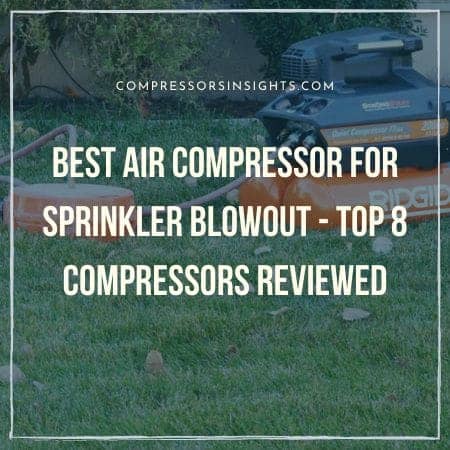 Best Air Compressor for Sprinkler Blowout – Quick Features Comparison
Why is an Air Compressor Important for a Sprinkler Blowout?
When the winter season arrives, it is important to winterize your sprinkler system to prevent any water from freezing inside the pipes, which can cause damage to the system. If water is left inside the lines, it can expand when it freezes, causing the pipes to burst and resulting in expensive repairs.
That's where you will need an air compressor to get the pressurized air to remove all the water (trapped in lines) from the irrigation system.
Best Air Compressor for Sprinkler Blowout – Tested & Reviewed
We're here with a list of air compressors that we tested on different sprinkler systems to check if they're worth buying or not. Luckily, we had some air compressors in the workshop, and we only had to arrange only two air compressors, so we bought them from Amazon. We also bought different sprinkler systems from Amazon to check these air compressors properly. 
1. California Air Tools 10020C
More detailed review ↴
The very first on our list for testing was this California air tools 10020C which is a 16″ L x 15.1″ W x 35.9″ H in dimension with a 10 Gallon capacity tank which makes the work much easier (it doesn't take too much time in refilling).
Additionally, this compressor has only 70 decibels of sound level and is from the ultra-quiet version, which means it won't make a lot of noise, so you can use it without disturbing your neighbors. 
The maximum running time is from 30-60 minutes with 6.4 CFM at only 40 PSI, while it can also run at 90 PSI with 5.30 CFM, which is perfect for sprinkler blowout. You don't need more than 90 PSI to blow out sprinkler lines. Otherwise, it will damage the pipes.
Although it is a heavy 82.5 lbs compressor, it comes with wheels, sometimes making it easier to carry. So, if you want to use it commercially, you can quickly move it with the help of wheels. But, we won't recommend it for people who wish to take the air compressor to different places, as we found it difficult to load and unload this air compressor. But, for single-place use, it's perfect. 
This compressor has an oil-free pump, so it does not need maintenance. According to the company, this air compressor creates less heat while working at 1680 RPM, but we noticed it gets heated more often. 
---
2. CRAFTSMAN Air Compressor
More detailed review ↴
Next on our list is the Craftsman air compressor, which is small but has enough capacity for sprinkler blowout. During testing, we checked it thoroughly, and the fantastic features we liked about it are: 
This portable air compressor is oil-free, meaning it does not require any constant maintenance. This is well-built, but it is bulky because of being a pancake. However, with its great handles and rubber feet, we could quickly move it to different spaces. So, we recommend this one if you want to take your air compressor to other places. 
The NPT port lets the user connect at least two hoses and other tools with your compressor simultaneously. For sprinkler blowout purposes, you can easily use it as it has a 6-Gallon capacity with a maximum of 150 Bars/ 150 PSI. However, to deal with several sprinkler blowouts (commercial use), you must give time to refilling (The tank is small).
Additionally, the minimum pressure of this compressor is 90 psi at 2.6 SCFM which is best for sprinkler blowout. This oil-free pump can work at 3.5 SCFM @ 40 PSI too. 
Although it is a loud compressor with 82 decibels sound level, this 32-pound compressor is still great for sprinkler blowout. While this 16.5 x 16.5 x 17.88 inches compressor has only 0.2 HP motor capacity, which might sound less but is enough for your purpose. 
---
3. PORTER-CABLE Air Compressor
More detailed review ↴
The porter-cable is another 6-Gallon air compressor that can be the best choice for sprinkler blowout and won't be a headache. This pancake compressor is only 31 pounds, and you can easily carry it around. 
The compressor has a 0.2 HP motor that works on 2.6 cubic feet per minute, which can work on 90 PSI, increasing its recovery time. 
However, the maximum pressure for this compressor is 150 PSI which allows the tank to fill up quickly. 
We also liked the rubber feet, which keep the vibration low and provide stability. Also, the drain valve makes it easier to drain the moisture from the air compressor tank (we drain this air compressor after every use without any problem). 
This 17 x 17 x 18.38 inches dimension compressor is an oil-free, long-lasting life compressor needing less maintenance. We don't recall when we last cleaned this air compressor, and we use it almost every other day at our workshop. 
While the handles and console cover protects the components with installed air couplers, and two regulators allow two users to use it. 
---
4. DEWALT Pancake Air Compressor
More detailed review ↴
The Dewalt pancake air compressor is another 6-gallon air compressor we could not get a hold of personally. Still, we researched and interviewed the users using this one for winterizing sprinkler systems. According to them, this compressor is perfectly capable of doing sprinkler blowouts. 
This is a 16 x 16 x 17.5 inches, which is also a pancake compressor and is almost the same in weight as the previous ones, which means you will not be troubled with at least handling the compressor and its 30-pounds of weight is like a cherry on the top. 
We liked the compressor's maximum capacity, which is more than 165 PSI, while it can deliver 90 PSI at 2.6 SCFM, which is a basic need in this case of sprinkler blowouts because high PSI will damage the lines. 
The 90 PSI also allows quick recovery time, and as it is a portable compressor, you will not be wasting your time while it recovers. Additionally, the compressor has an efficient motor that can quickly be started in winter. 
However, it might be a loud compressor because of its 78.5 decibels of sound level, because we consider this sound level noisy.
Interestingly, the customers we interviewed did not express any concerns about the noise. The compressor comes with high-flow regulators and allows tools to be attached easily. 
Additionally, the compressor has a 0.2 HP oil-free pump, so it does not need a lot of maintenance. It has a console cover which provides protection. 
---
5. WEN 2289 Oil-Free Vertical Air Compressor
10-gallon tank 
Maximum pressure of 150 PSI
Oil-Free pump requires no external lubrication for a longer lifespan
More detailed review ↴
WEN 2289 comes with two benefits simultaneously, being a huge help having a large tank and no regular maintenance requirements or no external lubrication required. 
This is a 16 x 17 x 33.5 inches and hefty weight with 71 pounds of the compressor which is not portable. So, we won't recommend you buy it only for sprinkler blowout purposes. But if you want to use it for multiple purposes, you can also use it for heavy-duty work. 
While testing, we learned that this compressor has a maximum of 150 PSI, which means it is a fast recovery and working compressor. At the same time, it can work on 90 PSI with 4 CFM and 40 PSI with 5 CFM flow rates. 
Another thing we really liked was the drain valve which is extremely easy to get a hold of, and the couplers of NPT ¼-inch with two pressure gauges are perfect for two users. Additionally, the compressor is a 62 decibels sound level compressor which means it is the less sound-making compressor. 
Although heavy, moving this air compressor was very easy for us because of the 7-inch never-flat wheels with rubber-gripped handles. 
The compressor also has a 15A motor, and the tank is steel. The auto shut-off feature, which is not present in any of the above compressors, is its unique feature that helps ensure the compressor stays safe in case of an accident. (As we've mentioned, the PSI should be less than 90 PSI so that we can set this air compressor at 90 PSI)
---
6. California Air Tools 8010 Steel Tank Air Compressor
More detailed review ↴
Another California air compressor is also a large tank compressor, like a previous one, which can be easily used for sprinkler blowout purposes. This is a 26″ L x 14″ W x 23″ H dimension compressor that is not only oil-free but also has a powerful motor. 
After testing, we were satisfied with the compressor for sprinkler blowout because of its unique features. 
While it does not make a lot of noise because of having only 60 decibels of sound level, that is because it comes from an ultra-quiet series of compressors. This oil-free pump needs less maintenance while the motor works on 1 and 2 HP at only 1680 RPM. 
This 48 lbs compressor has a maximum pressure of 120 PSI which also allows 90 PSI to work on 2.20 CFM and 40PSI to work on 3.10 CFM (totally safe for sprinkler systems). Also, it has low amps of 8.5 with 110V and 60Hz. 
The good thing is the compressor comes with wheels and air filters, but the bad thing is that you need to buy your own hoses for the compressor because it is not included in the package. The compressor also allows the ¼-inch universal quick connector to attach hoses to the compressor. 
Another thing we personally liked was the thermal protection features that protected it from damage, and the heat dissipated more quickly from the compressor. 
---
7. DEWALT Air Compressor
More detailed review ↴
This Dewalt air compressor comes with only 1 Gallon tank capacity. So, this one is suitable for personal use. This is a 19.76 x 15.49 x 10.5 inches compressor with only 24 pounds of weight, so portability is not an issue. 
This was a surprisingly great choice for the sprinkler blowout, as you do not always have to go for large tanks. But, still, we recommend large air tanks so that you can get the best out of your air compressor. 
This compressor comes with a roll cage which provides protection. 
Learn: Roll Cage Protection 
The maximum pressure of this compressor is excellent as it is 135 PSI at only 2.6 amps motor. But, for sprinkler blowout, you only need 80-90 PSI (higher PSI may damage the irrigation system), and the minimum pressure is 90 PSI, so it's suitable for sprinkler systems. 
This is a durable and oil-free pump compressor, so it does not need a lot of maintenance. 
The compressor does not make much noise because it has 69 decibels of sound level, but it does not come with nailers or hoses, which is quite disappointing. We had to buy the hoses separately. 
---
8. Metabo HPT "THE TANK" Pancake Air Compressor
More detailed review ↴
Metabo is another 6-Gallon air compressor which is our favorite and can be easily used for sprinkler blowouts. 
This 18.5 x 16 x 16 inches dimension compressor has only 41 pounds of weight which might sound like a lot, but the working and features of this air compressor beats the weight. 
This is a medium sound level compressor with 73 decibels sound level, but we found it a little bit noisy for our use (make sure not to use it in a place where it may bother your neighbors). The compressor's motor works on 0.2 HP, making the work easier. 
This corded electric power-sourced compressor operates on 120V, is made of stainless steel, and can do nailing, framing, and roofing. But, this air compressor is not portable, and you must set it up in a dedicated space. 
Additionally, the compressor has a maximum of 200 PSI which is more than 25% greater than other pancake compressors and makes work much easier. This PSI also fills the tank more easily and quickly without wasting your time. 
This one can work on 4 CFM at 90 PSI which is the basic need of the sprinkler blowout because more than this will damage the lines. 
---
What to Consider While Checking the Air Compressor for Sprinkler Blowout?
There are some factors that the buyer should consider when selecting the best air compressor to blow out sprinkler systems. If you choose your compressor according to that, you can select or reject the compressor easily, and your money will not get wasted.
Air Compressor Motor Type
Firstly while selecting the compressor, check its motor type. Most compressors have basic three-faced induction motors. Those motors are powered by electricity, diesel, or natural gas. Mostly it is said that electric motors are more reliable.
They can generate the standard power capacity for house use or job site uses. Gas-powered ones are portable and have more power than others. When choosing it, consider how much work you intend to do with your compressor.
PSI Requirements
This is the most crucial factor to consider when choosing the sprinkler blowout compressor. This is because too much high pressure will directly affect the blowout line, which you do not need. 
The maximum PSI of the compressor does not matter a lot; it can be within 120-200 PSI. However, the determining factor is the minimum pressure of the compressor, which should never exceed 80-90 PSI because it will damage your lines.
Portability & Weight
This one factor is for the contractors because they will need to carry the compressor, so the portability of the compressor is a must. This will come from the weight of the compressor. So consider the compressor at least less than 40 pounds if this is the issue. 
Air Compressor Tank Size 
When choosing an air compressor for blowing out a sprinkler system, you should consider the tank size of the air compressor. The tank generates and stores air to keep it ready to use whenever needed.
However, the tank is not the only factor to be considered; you can choose small and medium-gallon compressors. The large tanks allow you to run the compressor longer, as the compressor is not running regularly. It also saves you electricity costs. 
As for sprinkler blowout purposes, there is no specific Gallon size you need to consider, but the PSI is a must. 
AirFlow (CFM) for Blowing Out Sprinkler Lines
If you want to use multiple tools with an air compressor, then capacity is the factor to consider. You need to consider the CFM according to the PSI it can handle. 
High CFM is not an issue only if the compressor's PSI is within the sprinkler blowout's limits. 
Motor Horse Power
In the compressors, there is an engine and motor component. The amount of work the compressor can do is measured by HP. The powerful HP will help you work on heavy-duty projects. 
But for blowing out a  sprinkler system, you can use compressors with 2HP or less. This is because we need pressure upfront but not necessarily to have the compressor motor running continuously.  
Noise Level
While not a deciding factor when choosing a compressor for sprinkler blowout purposes, if it affects you, you should consider it, or if the neighbors getting involved is the issue, then you must consider it. 
A compressor under 80 decibels is good to go, but even lower will be better. 
How to Use Air Compressor for Sprinkler Blowout ?
Switch off the water
Shut off the water supply and drain the pimples. That will make the process thorough once you turn off the water. The irrigation system will clear itself.
Drain the water
After shutting off the water, open the hose bib on the sprinkler's mainline. Give the process some time so that all the pipes can clear themselves.
Check the compressor
Based on the types of pipes involved, you will decide how much power you need. Prepare your compressor according to its manual check and set the compressor.
Prepare and attach the hose
Shut off your unit and close its valves after you have set the PSI. Connect the lengthy hose between the compressor and the irrigation system. Attach the hose to the mainline sprinkler system. If needed, attach an adaptor to the bib.
Make sure the hose is attached correctly and there are no leakages.
Turn on the compressor
After connecting the hose, now turn on the unit. Set a system alarm on your unit to activate the sequence.
Open the compressor valve and check the blown-out process
In this step, you must shut off the backflow valves and open the air compressor valves. It will allow the air to enter the irrigation system. The air will take its time to move. When you start to notice wet spots on your lawn, it means the process is finished.
Stop blown out, and disconnect the tool
The sprinklers in that section should be completely clear after undergoing the process for 2-3 minutes. You can mark the process finished when the sprinklers blow out the water. After blowing out, it is now time to disconnect the hose from the bib.
Conclusion
We were choosing the best compressor for the sprinkler blowout. Although we have listed 8 of the best available compressors that will work great for sprinkler blowout, their unique features will make your work easier. 
However, if you want to choose another compressor, then there are some factors to consider: PSI and weight are the most important, and weight makes it portable, which helps in deciding whether the contractors will choose this one. 
Amazon and the Amazon logo are trademarks of Amazon.com, Inc, or its affiliates.