Best Cordless Circular Saws (& Buyers Guide)
TheToolGeeks.com is a participant in the Amazon Services LLC Associates Program and other affiliate advertising programs.   We may earn from qualifying purchases.  (Learn More).
Circular saws are very potent tools that any serious hobbyist or contractor should have as part of his work tools.
Gradually but progressively, these tools have risen from the obscurity of corded varieties, courtesy of their lightweight and compact design. In addition to their increasing power and extra inclusions, these cordless saw models have surpassed their corded counterparts in many aspects.
But, the market has different options that may catch your fancy – all of which would confuse even the best woodworkers. To help you deal with this, we have a list of the best cordless circular saws that would suit all budgets and experience levels, so your decision-making process can be less complicated and a little bit of fun.
Do you want to know the ideal cordless circular saw for your work, but don't have all the time in the world to keep browsing the internet? Read on!
Best Cordless Circular Saws
---
1. DEWALT ATOMIC DCS571B
More detailed review ↴
This circular saw offering by DELWAT is considered one of the best cordless circular saws model in the market presently.
It was built to cut through the plywood and some other wood materials, but you can still use it to cut through other materials. It has a lightweight build, and this implies that it assures you of less arm tiredness that comes with working on lengthy cutting works.
While it is true that it is lightweight, it does not imply a shortfall of durability. As a cordless option, it features a few noteworthy advantages that make it a go-to circular saw.
One of such noteworthy features is its electric brake offering that it utilizes as a security function. This inclusion will help you steer clear of some saw accidents when you are doing a job.
Pros:
Motor Build: The DEWALT circular saw features a powerful 5,150 RPM, 460 MWO motor that provides the power and speed needed to carry out the most complicated cuts with no difficulty.
Shoe: The high-strength and lightweight magnesium shoes provide worksite sturdiness for enduring cut precision.
Bevel Capacity: The 0-50° bevel capability ensures hard-line bevel cuts for many applications.
Comfortable: The maximized rubber molded comfort hold provides maximum control and balance.
Cutting Edge: It features a 6-1/2 inches carbide-tipped cutting edge for cutting twice the material thickness at 45 degrees and 90 degrees.
Cons:
It does not come with a charger and battery. You'll have to purchase them individually.
---
2.DEWALT DCS391B 
More detailed review ↴
One of the biggest advantages this cordless circular saw has over the others is the fact that it is great to handle and feels good to the hands. Its metal frame does not have any burr, and this spares you of dissatisfaction and time.
This battery-powered circular saw comes with a motor that produces up to 5150 RPM, and it comes with a 0-50-degree bevel capacity that allows you to make aggressive bevel cuts.
One other great inclusion of this saw is its visibility. With its lucid plastic viewing space and LED light, you can effortlessly have a razor–sharp view of the object that you're cutting.
Pros:
Powerful Motor: This model comes with a powerful 3700 rpm, 460 MWO motor that provides efficiency and speed to execute the most complicated cuts.
Bright LED: It comes with a brilliant LED light with a twenty-second wait after trigger release which provides improved visibility of the cut line and object.
Tough Steel Shoe: The towering strength of its steel shoe offers resistance and durability against the build-up of chips.
Good Battery: This cordless circular saw features a fast charger and a 20V/5.0 Ah lithium-ion battery.
Cons:
It does not come with a push-down safety style trigger which is better.
The Rafter hook is absent.
---
3. Milwaukee 2730-20
More detailed review ↴
This equipment is a very fast and capable one. It is the fastest within the 6-1/2″ group and works beyond its weight, outperforming some other larger models like its 7-1/4-inch circular saw counterpart.
This product is a force to reckon with as it performs greatly courtesy of some of its premium features.
For those that were born left-handers or those who would prefer a conventionally-built sidewinder, it would be interesting to know that the makers of this product are the only ones that offer sidewinders that come with both blade-right and blade-left options on its eighteen volts platform.
Pros:
Motor Build: It comes with a brushless power state motor that is more durable and efficient.
High-tech: It is driven by the Redlink intelligence module—a superior-tech that optimizes its performance.
Base: The shoe and guards are produced from cast magnesium to give it a lightweight, durable base.
Rafter Hook: The cordless circular saw also has a rafter hook for suitable storage and an LED light for better visibility.
Cons:
Its guard suspends in its left-side cuts.
The body-to-shoe connection is somewhat unstable when you are cutting through shallow depths.
---
4. Makita XSS02Z
More detailed review ↴
Makita XSS02Z is a cordless saw that can do the work for both novices and experts. It has an unquestionable unique blade with outstanding in-built inclusions that let users simply use it.
Also, its faultless outlook cannot be ignored. This makes the product less ready to be quickly utilized when compared to the products that feature batteries as part of their complete package.
This circular saw is not another random saw designed for fancy reasons, but it was majorly built to endure pressure and execute demanding assignments effortlessly.
Pros:
Motor Build: The in-built motor has an impressive 3,700 RPM rate for quick ripping and cutting through wood.
Cutting Ability: It produces profound cut depths.
Depth Control Lever: Makita XSS02Z comes with an exceptional depth regulation lever positioning.
Design: Also, this tool has an ergonomic and compact design, with rubber-lined grips rear and front.
Cons:
It does not come with a battery.
It has some obvious dings during operation.
---
5. PORTER-CABLE PCC660B
More detailed review ↴
The Porter-Cable circular saw is another go-to fast cordless circular saw that would do the job for you without breaking a sweat. However, during operations, its blade can sometimes drift to a direction away from the wood cutline. This is probably due to a flawed design.
The saw's body and shoe connection is located at the edge of the upper guard cluster. The plastic is particularly amenable even though the prevailing temperature may be room temperature.
It becomes increasingly looser when it is exposed to sunlight. Without anything sizeable keeping the blade firm and straight, the body of the saw would point the cutting edge into the cut when you thrust down on the saw.
To ensure that this saw functions correctly, it requires a strong hand to steady the body, and executing the deepness of the cut as much as you like can prove to be helpful.
Pros:
Cons:
Its wiggly build makes it short of precision and power.
It is somewhat sluggish and makes cutting difficult.
---
Best Battery-Powered Circular Saws — Buyer's Guide
There are some things that you need to consider when you go all out to buy a cordless circular saw for your woodworks. These include the features that it comes with, the size of its blade, its power output, and its build style. Below are some of the other options that you should consider too: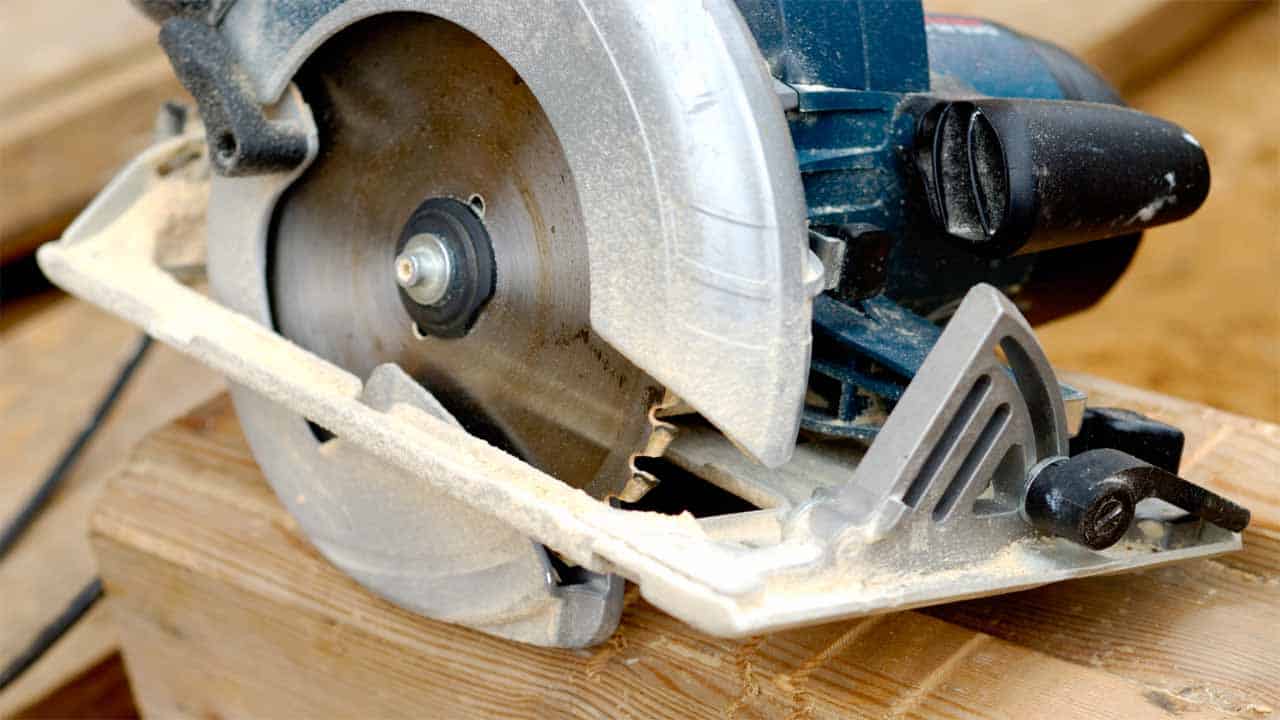 Worm Drive vs. Sidewinder
Carefully considering whether the cordless circular saw that you are about to buy features a worm drive or a sidewinder is a wise decision. It is currently one of the passionately discussed topics in the woodworking industry. What side of the fence are you on? Let's see!
Sidewinder saws and worm-drive saws are different in the way their motor is positioned. The motor of the latter is attached to its rear side and interacts with the blade through two gears – a spiral worm gear and one other gear type – which conveys the energy of the motor to its blade.
Due to the indirectness of this configuration, most blades that are worm-driven do not rotate as quickly as what is obtainable with the sidewinder blades, reaching the highest speed of just 4,500 rpm.
Also, a saw with a worm drive uses bigger gears, and this provides it with greater torque than that offered by a sidewinder, letting it better absorb shock and handle harder cutting tasks.
Worm-driven cordless circular saws also have a narrower and longer profile than that of the sidewinder saws, and this broadens the user's reach and gives room for tighter spaces.
As a result, they are the perfect tool for framing and remodeling. Sidewinder circular saws feature motors that are positioned on the side of the saw and render the profile lighter, shorter, and wider than that of the worm-driven saws.
This packed build makes it simpler to use and more suited for novice operators. Sidewinder saw utilize spur-gear to spin the saw's blades at around 6,000 RPM.
Related Read — Best Corded Circular Saws
Power
Previously, the cordless circular saws in the market are not as effective as their corded counterparts. Courtesy of the progress made in battery technology, this power bridge has dramatically been closed.
It is astonishing but true that many manufacturers keep churning out cordless circular saws that are more effective than the corded saws. The power rating of circular cords is estimated in rpm (rotations per minute).
Most of the cordless circular saws in the market have four thousand rotations per minute, with first-rate saws having close to five thousand rotations per minute, or even more.
Saws would have a greater cutting potential if they have higher rotations per minute. Do not forget that rotation per minute is not ultimately a great indication of torque.
Although worm drive cordless circular saws may feature lower rotations per minute than their sidewinder counterpart, their build provides it with more torque.
You should look out for the power rating of the saws when looking to make a decision.
Related Read — Best Compact Circular Saws
Battery
Because of the considerable power needs of circular saws, cordless saws come with a rechargeable 20-volt or 18-volt Li-ion battery that is attached to the saw.
A lot of saw-making brands build their batteries to function interchangeably with the whole power equipment lineup, including cordless saws. You need to ensure that your choice has reliable batteries. More so, if it has batteries that function interchangeably across multiple devices, then it is a huge advantage.
Blade Size
Due to the fact that cordless circular saws normally do not have the amount of power than its corded counterpart does, most of them cannot deal with a complete 7¼" blade well.
While it is true that smaller blades will offer greater torque because of the ease with which their motor turns, their cutting depth is their undoing.
Most of the cordless circular saws out there come with 6½" blades, though a handful of high-end circular saws utilize 7¼" blades.
The former offers the highest cutting depth of about 2⅛", while a bigger 7¼" blade will cut through a 2-7/16" depth.  Smaller circular saws will come with both 4½" blades and 5½" blades.
Pay attention to these details in any chosen saw and see to it that the blade size matches your cutting needs.
Related Read — Best Circular Saw Guide
Brushless vs. Brushed Motor
The major distinction between brushless and brushed motors has everything to do with the effect of frictional forces.
Without going deeper into the working principles of each of these motors, it is important to note that brushless motors generate less friction, and as a result, they have efficiency ratings somewhere between 85 – 90%.
In contrast, brushed motors, because of their design, lose a lot of energy due to frictional forces, and this hinges their efficiency values to around 75 – 80%.
While it is true that this disparity may not be so significant for a corded saw that can access an enormous voltage supply of 110V, it has a real effect on a cordless saw. Less energy would be lost to friction when the efficiency rating of the motor is higher, and this implies that a greater part of the power of the battery would be dedicated to the rotation of the blade. This means extra cuts before the saw's battery finally runs down.
A greater efficiency mark also implies that a twenty volts battery can commit more of its power to make the blade turn, leading to greater maximum rpm and additional torque. Some of the most effective cordless circular saws in the market, like those with the ability to turn 7¼" blades, utilize brushless motors.
And because brushless motors do not produce as much friction as brushed motors, they generate a lesser amount of heat. This decreases the incidence of overheating and may cause some serious harm to the motor.
Related Read — Corded vs. Cordless Circular Saws
Safety Inclusions
Most cordless circular saws come with comparable safety measures to those of their corded counterparts. Some of them include retracting blade blocks and blade guards that instantly halt the blade immediately there is a release of the trigger.
Also, cordless circular saws activate safety measures to avert the occurrence of unintended experiences. Some other safety measures that it comes with include molded holds that are coated with rubber that stop the equipment from slipping through the hands of the operator.
Now we all know that saws are very efficient tools, yet, they can be devastatingly dangerous when accidents happen. Therefore, when buying a cordless circular saw, it is highly imperative that the one you chose has important safety inclusions.
Extra Features
Aside from the common features like depth and bevel adjustments those cordless circular saws come with, they also have innovative systems built to make them more durable. Some makers have built their saws in such a way that they'll simply shut off when there is a problem of overheating.
Most first-class saws include waterproof materials that block the entrance of dust and water, conferring to them the ability to endure the cruel environment that characterizes open-air worksites. Eventually, some of these saws will adjust to speed and torque contingent on their workload to maximize their performance.
Final Words
Our review captured five unique cordless circular saws with their strong points and how they suit different purposes.
But, if you are targeting the overall best, then cast your gaze towards DEWALT ATOMIC DCS571B.
We are very certain that any pick amongst our own best five (5) picks is a very nice option. Also, the buying guide section of this review, when followed properly will ensure that you make a choice that serves you efficiently.
So what do you think? Which of the cordless circular saws in our list appeals to your fancy? Get on with it!
Amazon and the Amazon logo are trademarks of Amazon.com, Inc, or its affiliates.