5 Best Cordless Drills – Complete Any Project You Want!
TheToolGeeks.com is a participant in the Amazon Services LLC Associates Program and other affiliate advertising programs.   We may earn from qualifying purchases.  (Learn More).
Buying a new and competent cordless drill can often be overwhelming. If you are starting with these pieces of devices, you'll quickly notice that the market is filled with tons of drills with different models and makers. But which do you go for?
The past decade has recorded an enormous improvement in cordless drills. Many cordless drills produced currently come with lighter weight and are also more efficient in their energy consumption.
Also, their batteries recorded great improvements so that many of them now last longer than their predecessors. So, how to find the best cordless drills?
If performance is what you are looking for, then we've got you covered. Our diligent investigations on the battery-operated drills in the market made us narrow down our choices to five of the bests out there. So, which do you go for? Check them out!
Best Cordless Drills
---
1.DEWALT DCD791D2
Best Features  
High-speed Transmission

Reliable

Easy to Use
More detailed review ↴
Dewalt DCD795D2 is one of the most reliable and versatile cordless drills that you'll find in the market. Coupled with the fact that it was made by a first-rate manufacturer like DeWalt, there's no doubt that this drill is indeed one of the go-to options out there.
It is not a heavy option and is best suitable for those working in tight areas. For lots of home enhancement users, this tool will be great for down screwing decking boards and building decks with relative ease. It comes with sufficient space for dual batteries that can be contained in a plastic enclosure.
Activities like constructing heavy-duty shelves in your garage, or some other tasking projects that you want – this monster of a drill will handle it.
Its clutch regulation dial comes with a single setting from which the device's hammer function may be deactivated. By setting the drill to the "drill mode", you are essentially making it not to hammer.
Driver mode or hammer is normally utilized for drilling very hard surfaces such as concrete or some other masonry objects. The drill mode of this cordless drill is used for more conventional applications such as wood drilling.
Pros:
Multi-mode: This allows you to choose either hammer, drive, or drill function, making it truly versatile
Lightweight: Because of its lightweight build, you can use a single hand to hold the drill while carrying out jobs that are hard to reach.
High-speed transmission: This permits operators to pick diverse speed variations based on the task being handled.
Cons:
When utilizing this drill, the chuck appears to slide in an awkward position and this can be so annoying if you are in the middle of a very tasking project.
---
 2. RIDGID R9780
Best Features  
Smaller Head Size

Efficient Motor

Lightweight
More detailed review ↴
Ridgid boasts that their products come with a heavyweight performance and lightweight design, with its efficient 18V drill being the flagship illustration of this claim.
This sub-compact cordless drill is one of those few drills that come with an in-built hammer setting. This is a particularly useful inclusion for works like masonry drilling, clasping a ledger board to your house's foundation to construct a deck.
This tool is also one of the few others in the market that comes with an impressive 115 clasp settings; a feature that makes the act of driving screws very precise. To complement this, the drill comes with a very powerful and efficient motor that makes it one of our favorites in terms of speed.
With two Ah batteries, LED light, belt hook, double-edged bit, auxiliary handle, and a soft-sided bag, this cordless drill is one of the most feature-filled packages that you can get.
Pros:
Less Prominent Head Size: This enables it to fit into tighter spaces.
Lightweight: You don't have to break a sweat to lift and use this tool
Several Combo Kits: This tool comes with several combo packages that great features that'll make your work easier.
Powerful Motor: It comes with a powerful motor that makes drilling through materials efficient.
Cons:
Its bottom-heavy design appears somewhat awkward.
---
3. Milwaukee 2605-22
Best Features  
High Efficiency

Great Design

Anti-vibrating System
More detailed review ↴
Milwaukee products have often had a great name courtesy to the dedication of the company to produce tools with the best performance and design. For the cordless drill category, it has the Milwaukee 2605-22 M18 that is one of the best of its kind out there.
It comes with 18V Li-ion batteries and some other features that make it stand shoulder-to-shoulder with some of the best cordless drills in the market.
This device has an efficient system that can effortlessly drill through sturdy masonry. If you want to drill some holes on your floors or walls, then this tool is the go-to option for the task.
While some manufacturers are not careful enough to include their product in a casing that is protective enough, the makers of this product redefined the game by enclosing it in a friendly by hard storage case.
Also, the fact that this storage case is built with aluminum reinforces the confidence that it is indeed a lasting device.
Pros:
Super Compact: This function makes it suitable for working in limited spaces.
Anti-vibration System: This system makes it more convenient for handling while in operation.
Long-lasting Battery: You don't have to charge it every now and then to use it conveniently. A single charge will last for a relatively long time.
Cons:
 It does not come with low or high-speed settings.
---
4.CRAFTSMAN CMCD710C2
Best Features  
Ergonomic Design

Great for DIYers

Efficient Motor
More detailed review ↴
Craftsman V20 cordless drill is an excellent option for value-minded individuals, DIYers, and homeowners. It is a good backup tool that you need to be present in your toolbox.
When placed side-by-side with other options in the market, this tool offers a great balance of speed and power, a half-inch chuck, and a fast charger. It also features a compact size and ergonomic build.
Like the other cordless drill options in this list, this tool is also a very great tool for drilling through different materials.
Pros:
High Efficiency: Because of its high-performing motor, this tool is a very efficient option.
Improved Visibility: It comes with an LED light that augments performance and visibility for those working in dark areas.
Great Features: It comes with half-inch keyless chuck for fast and easy bit changes, charger, and 20V Li-ion battery.
Cons:
Its speed is not so impressive.
---
5. BLACK+DECKER LD120VA
Best Features  
Easy to Use

User-friendly

High-Speed Motor
More detailed review ↴
With a weight that is under 5lb and 8.9" x 4" x 7.8" dimensions, this tool was particularly built to be user-friendly. Also, the sheer small size of it decreases the extra stress that you may feel when you use it.
The ergonomic handle of this device makes it super easy to use and hold. Furthermore, projects will be simpler and quicker to finish with this tool because you will not have to deal with the inconvenience that comes with using fatigued hands courtesy of heavier drills.
With many bit options to select from, it is perfect for DIY projects and mid to low-range house fix-ins. Starters do not have to worry because this tool does not need a ton of effort to know how to use it.
Pros:
More Control: This tool features a 24-position clutch that provides control and evades overdriving screws.
Lightweight: This drill is lightweight, compact, and only weighs about 4.7lb.
Ergonomic Handle: The ergonomic build of its handle makes it comfortable for handling.
High Speed: The motor speed can go upwards of 750 rpm.
Cons:
It is not suitable for heavier works.
---
Buyer's Guide About Battery-Operated Drills
From heavy-duty constructions to fine woodworking, having the right drill will make your work easier and fun-filled. They are great and necessary inclusions in your toolbox, and you should get one as soon as you can.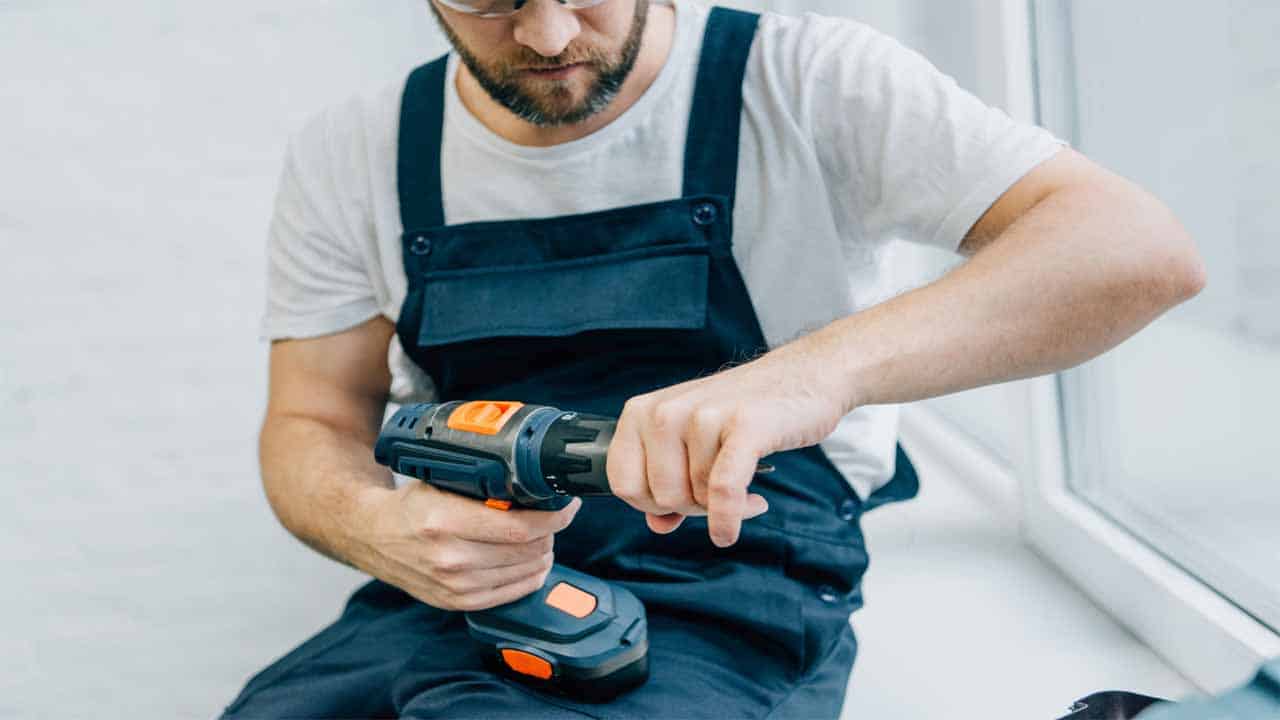 Because of the sheer volume of these tools in the market, it becomes necessary to be equipped with some important information to help you find the best cordless drills.
The following are the most important factors to consider before getting battery-powered drills.
Related Read — Best Corded Drills
Motor Type
Cordless drills can have either brushed or brushless motor. In both of these motor types, well-positioned magnets are responsible for producing the shaft's rotary motion.
What differentiates them is the mode of power supply, with brushed motors using carbon brushes for their power delivery function. Brushless motors utilize internal circuitry to produce a rotating magnetic field, and this makes the need for the incorporation of brushes completely unnecessary.
Aside from its mode of operation, one very important thing to know is that the brushless variants are more powerful and efficient than its brushed brothers. Drills that depend on brushless motors will also generate lesser heat and frictions during operations.
Torque and RPM
The value of the rpm indicates the highest achievable speed for a certain drill. Many low-ended drills give at least two options (three hundred and eight hundred rpm) and a slide switch that lets operators choose high or low speed.
They are particularly suitable for light works, but you must also consider torque when you are making a comparison of speeds.
Torque is a device's turning force. Essentially, a drill will have a greater tendency to drill tougher surfaces if it has a greater torque value.
When you want to acquire a cordless drill, it is advisable to pick drills with low speeds if you are aiming to drill tougher surfaces. Choose those with higher rpm values if you want to bore holes.
Clutch
Otherwise referred to as a torque selector, clutches minimize the probability of snapping or overdriving screws. A clutch is a part that unfastens the drive shaft after the attainment of a particular resistance level.
Even though the vast majority of cordless drills come with an adaptable clutch, the available number of settings differs for different models. Professionals advise that you go for an option with a broad range that will make it easy for you to adjust the operation of the drills.
Mainstream suggestions state a decent tool ought to come with a minimum of twenty-four clutch settings. Even though you will not need such a broad variety of essential tasks, it makes tailoring the drill to the things you will be working with easier.
Chuck
Chuck is the section of the drill that clutches the revolving bit in its place. A great chuck ought to clutch the bit securely without generating any form of wobbling, but you also need to know its size before settling for it. Except you are going to be drilling tiny holes all through.
It is advisable that you check out for thirteen millimeters chuck that will clutch bigger bits securely and firmly. This is especially important if you suspect that you'll be handling a heavy-duty task in the future.
Do not also forget to consider keyless chucks – they come with metal prongs that let operators tighten and loosen them effortlessly without using keys. They are perfect for all-purpose drilling because they have what it takes to clutch most bits.
The hex chuck design is another build that makes changing bits effortlessly. Even though they only function on hexagonal bits, these chucks are perfect for those who want to drill into very tough surfaces.
Battery
A good battery is one of the core determinants of a great cordless drill. To put it differently, the dependability of your source of power can mean a lot for a good workday. Hence, you must go for an option with the requisite capacity to hold enough charge, and if possible, one that generates its power at greater efficiency levels.
Most old-fashioned chargers can take about five hours to charge your drill's battery, but their contemporary 'innovative' brothers may take one hour or less to do the same job.
Also, you want a drill that has a battery gauge to help you stay informed about the amount of power left so you can know how to maximize it.
The Material/Surface You'll be Drilling
Before opting for a drill, ensure that you consider the material or surface that you'll use it on often. If you are into woodworks, smaller models are appropriate for most of the tasks you'll be coming across. If you are utilizing a hole saw or boring big holes, go for bigger drills with voltage levels of about 18-20V.
If you'll be working with metals, however, it makes sense to opt for one that can drill through metals without a hassle. Keep it at the back of your mind that many models can just drill through light metals, so you must diligently search for a model that is appropriate for heavier tasks.
For masons, a cordless hammer drill works better. Courtesy of its high-speed beating activity, a device in this class will easily drill into stones and concretes.
Voltage
Generally, when a tool's voltage is high, it stands a higher chance of producing more torque. While it is true that most power devices come with a voltage range that falls somewhere between 3-48V, these tools take this range down to about 12-36V. On most of the models that you'll be encountering, a figure that is printed by the side of the battery indicates the voltage.
Talking about your voltage choice, this depends on what tasks you'll be handling. If they are light works, it makes sense to get a model that does not consume a lot of voltage. 12V is sufficient for these types of tasks.
Go for drills with 18-20V if you'll be handling heavy-duty works or 36V drills if you want to drive enormous fasteners or quickly drill large holes. It is important to know that voltage can have a toll on weight so that high-voltage drills will become weightier.
Related Read — How to Drill Through Epoxy?
Conclusion
Whether you are an expert craftsman or a hobbyist, it is already obvious from our in-depth review that there is a drill out there for you and your particular tasks.
From this review, you must have noticed that the five drills we reviewed have what they better at and what purposes they are more appropriate for.
That said, we've decided that the overall best cordless drill is the Dewalt DCD795D2 compact brushless drill because of its high efficiency, versatility, and reliability.
After going over this exhaustive list, we're certain that you've seen a cordless drill that fits the exact purpose for which you need such a device.
If you need more questions, you can always refer to the buyer's guide as it contains invaluable advice that will keep you on the right track as you go out to acquire your ideal cordless drill.
So, have you made a choice?
Amazon and the Amazon logo are trademarks of Amazon.com, Inc, or its affiliates.