Best Corded Drills (Complete Your Projects With Ease)
TheToolGeeks.com is a participant in the Amazon Services LLC Associates Program and other affiliate advertising programs.   We may earn from qualifying purchases.  (Learn More).
Irrespective of the great strides made in cordless drill technology, it is still common knowledge that the most efficient ones are sometimes not so efficient to do a particular task.
Making a burrow in steel, drilling a half-inch hole in a hardwood; these feats can only be achieved with a corded drill.
Courtesy of their simplicity, these types of drills are some of the most vital and handiest tools you can have in your workshop. But with tons of options to pick from, which do you choose? 
And that's why to help you make a better choice we have made the best corded drills list that you can find down below.
Best Corded Drills
---
1.BLACK+DECKER DR260C
Best Features  
Sturdy

Powerful Motor

Lock-on Button
More detailed review ↴
This corded drill packs an efficient punch with its different speeds. It comes with a very efficient motor and a power button that makes it easy for you to switch the device on or off at will.
If you are concerned about getting a lightweight product, then this 3.5lb tool is your best bet. Also, there is the keyless chuck featuring a changeable speed switch for precise drilling and a one-handed reverse/forward slider.
To get accurate in tough metal, put the drill on slow and pump it up to drill through wood and masonry in just a few minutes. This modest tool changes from drilling through metal, drywall, and wood to taking on buffing and sanding tasks with attachments.  
Indeed, it is a good pick for DIYers that cherishes a durable and lightweight drill. Another reason why we included it as one of the best corded drills is the fact that it has a higher output for a lighter frame.
Several folks have transited from cordless drills back to corded drills and they are shocked with their capabilities.
Pros:
High-quality Materials: Made with long-lasting materials that are great to feel.
Ergonomic: It has an impressive build with a Lock-on button and reverse/forward slider.
Keyless Chuck: It features an easy-to-adjust chuck that does not over-grip the bit.
Lock-on Button: This inclusion allows you to configure the drill to a particular speed even without holding down the switch button.
Cons:
You can have your hands poked by the bits if you are not careful enough while handling this tool.
---
2. Bosch 1-1/8-Inch RH328VC
Best Features  
Flexible

Heavy-duty

Vario-Lock Feature
More detailed review ↴
The Bosch RH328VC corded drill is a heavy-duty tool that can quickly drill into tough materials like concrete. It is so tough that it can remove drywall, stubborn tile, and lots more. This tool comes with a vibration control that renders small remodel or big tasks demolition a breeze.
Its high efficiency is sufficient to remove a steel fixture attached to the foundation of a house and firmly hold a railing and concrete together.    
With an energy impact of about 2.6 foot-pounds and an 8-amperes power-to-weight ratio, it is a marvel that this corded drill weighs about 7.7lb. If that doesn't impress you, its versatility courtesy of its multi-operation modes will definitely astound you.
There is also the Vario-Lock inclusion that gives you the benefit of choosing from different positions so that you can work in a way that suits you and your specific task.
The manufacturer of this product was careful enough to make it ergonomic and easy-to-handle to keep their customers satisfied with their offering.
Even when the task you are handling demands that you work overhead, you wouldn't have a strained arm while working with this product. Its auxiliary handle that can rotate in all directions makes it flexible enough for your comfort.
Pros:
Lightweight: You don't need extra muscles to lift and work with this tool.
Easy-to-handle: Coupled with its versatility and flexibility, handling the tool isn't rocket science. Anyone could wrap their brains around it easily..
Absorbs Vibrations: It minimizes the discomfort that you'll feel by absorbing the vibrations produced when working with the tool.
Cons:
It does not come with a trigger lock.
---
3.  PORTER-CABLE PC600D
Best Features  
Comfortable to Handle

Versatile

Lock-on Button
More detailed review ↴
This well-known corded drill is built for comfort in addition to high-performance. If the task you are embarking on is a repetitive and long one that needs slight modifications as you gradually complete it, this corded drill is the right fit for it.
There is a 3/8-inch keyless chuck that lets you change the bits easily and quickly. With this keyless chuck feature, there's no need to use the hand tool to change the bits every time that you need to change it.
It includes a 2500 rpm and a 5.6-ampere motor. These made the corded drill very efficient as it does the job effortlessly. Furthermore, there is a lock-on regulator that furnishes solid regulation for this ergonomically and comfortably built corded drill that is perfect for extended use while working on small or big jobs.  
The powerful and versatile corded drill has what it takes to drill through wood and steel jobs, plus it offers comfort and better control than most of its counterparts in the market.
Pros:
Efficient Motor: It comes with a very efficient motor that makes drilling a breeze.
⅜-inch Keyless Chuck: This feature makes it quick and effortless to change the bits.
Lock-on Button: This option makes control easier and a bit of a fun
Lightweight: Because it only weighs four pounds, you will not have a hard time lifting and using this product.
Cons:
---
4.  DEWALT DWD115K 
Best Features  
Sturdy

High Efficiency

Variable Speed Trigger
More detailed review ↴
Tough and powerful, DEWALT DWS115K corded drill is perfect for most big tasks and does not relent until the work is finished. To this end, it features an 8-ampere motor that is especially suitable for heavy-duty tasks and drills through steel without missing a single beat.
The ratcheting, all-metal, keyless chuck coupled with the fact that it is comfortable to handle makes it easy to retain bits on slippery steel sheets. The makers of this device were efficiency-conscious and this reflected in the build of its motor so that it speed-reverses at will and drill through steel without raising a speck of dust.
The reversible trigger has a changeable speed that can make the drill quickly get out and in tough spaces when fastening and drilling. To make it even more interesting, its all-ball-bearing build makes the tool long-lasting so that it can handle one hard project after another without breaking down.
Pros:
All-metal Keyless Chuck: Because of this feature, you can change bits without applying all the efforts in the world.
High Efficiency: It comes with a high-power and tough motor that makes work easier and faster.
Soft-to-Grip Handle: Its handle is comfortable to grip, and this makes working a bit of fun.
Variable Speed Trigger: This makes it easy for you to change the speed to what works best for your specific task.
Cons:
Driving screws through it is not so easy
---
5. Milwaukee's 1/2-inch drill 
Best Features  
Noiseless Operation

Ergonomic

High Power Output
More detailed review ↴
The well-known tool manufacturer is famous for creating hard-wearing and easy-to-use products that lasts job after job and year after year.
While it is true that it has a powerful motor, this corded drill will give you the benefit of a noiseless operation as a result of its helix-shaped steel gears. This drill is somewhat different from the others in our list because it comes with a half-inch keyed chuck rather than a keyless chuck.
This chuck can take care of all the bits that you may have, and coupled with its 8-ampere motor, this corded drill can withstand hard, long jobs without getting at a disadvantage.
It comes with a clutch that is built to limit the maximum amount of torque that it can apply on a fastener to ensure a consistent deepness all through the duration of the task. Its side handle intended for control is required once the device is in the middle of a task because of the high torque it generates.
Pros:
Easy to Use: You don't need a high level of expertise to use this tool efficiently.
Ergonomic Build: It comes with a fascinating and attractive design.
Great Power Output: Because of its high power output, it efficiently executes tasks.
Noiseless Operation: This feature is a result of its helical gears.
Cons:
It does not come with a well-positioned directional switch
---
Buyer's Guide
When dealing with power devices, most owners tend to cast their gaze on the size of the motor alone without considering other things and this piece of equipment is not an exception.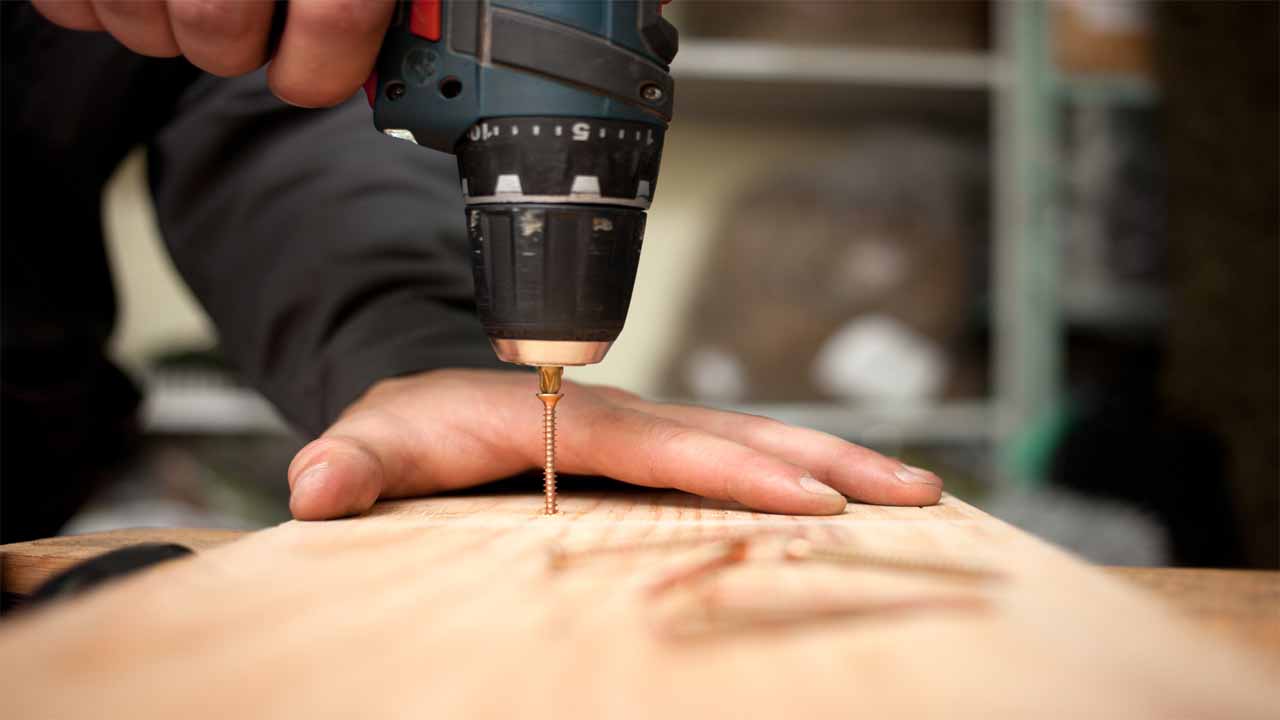 While the maxim "extra power makes it more efficient" rings true for these types of drills, there're still other things that you should focus on. Features like rotation speed, chuck size, weight, and overall size all go a long way to determine the performance of a corded drill.
Related Read — Best Cordless Drills
Chuck Size
A drill's chuck is a clamp at one of its ends that helps keep the bits in position. These parts normally utilize a locking key to hold the drill bit's shank end. For most power drills out there, the different sizes that the chucks come are; ½-inch, 3/8-inch, and ¼-inch.
The maximum diameter of the drill bit and what it can hold in place are dependent on the size of the chuck. Keep it at the back of your mind that most of the bits that you'd be encountering utilize a shank that is slightly smaller than the real drill bit size. This implies that a chuck of the order of 3/8-inch lets users utilize a half-inch but using a shank that has a size of 3/8-inch.
If your drill has a chuck size of about f3/8-inch, it means that is sufficiently large to cater to most home tasks. Enormous half-inch models are normally deployed by experts because of their ability to take on bigger drill bits and also their heavy-duty design.
Motor Power 
The major differentiating factor between cordless drills and their corded counterparts is power. While it is true that the most efficient corded drills leverage on 20V rechargeable battery, they can use an electricity supply to the tune of 110V so far it is connected to a source of power.
Corded drills are normally rated in amperes. To check out the power rating of a motor, multiply the maximum power output from the power supply by the ampere rating on the motor.
For instance, a corded drill with a motor rating of 5 amperes will have a maximum output of 550W (i.e. 110V x 5 amps). A motor will find it easier to drill through materials when it is more powerful, and also it would produce additional torque. This makes for a more precise hole.
Torque is as important as power is. The unit for torque is pounds-feet, and it determines the twisting power of the drill. The bit will find it a lot easier to dig through materials when the torque is higher. Torque is important when you plan to drill through materials like masonry and metal.
Drills produce a large amount of torque so that you may have a hard time using them with a single hand. Hence, it becomes necessary to include certain attachments that let users use the drill with both of their hands.
Speed of Rotation
The speed of rotation refers to the number of complete revolutions a drill can make in a minute. Lesser quality corded drills function at a lone top speed while its high-end cousins normally come with 3-4 unique settings that range from 200-2000 rpm
The vast majority of drills come with variable speed triggers, a function that lets you adjust their speed to the desired number. Because speed inversely relates to torque, it is equally important. While it is true that a drill possessing high revolutions per minute value can drill through materials quicker, one with great torque can utilize bigger bits and dig through tougher materials more effortlessly.
Size and Weight  
Because corded drills do not have a natural source of power, they often weigh less than their corded brothers. Most of the corded drills you will see in the market will normally weigh about 4-5 pounds.
Since these tools are handheld power devices, their weights and sizes can have a toll on how comfortable they can be during usage.
Bulky drills can be a lot cumbersome so that it can be a bit challenging to drill accurate holes across different materials. On the other hand, lightweight and smaller drills can easily be managed and they can also fit into tinier spaces.
Grip
The handle part of this tool is a very essential inclusion since it is a handheld power device. This is to make it more comfortable and safe to use.
Handles that are made from rubber make it possible for the user to use them tactically. Drills with a high-quality grip also see to it that you don't have blisters and wrist and hand fatigue. Certain drills feature grips designed to assist multiple hand postures for different drilling types.
Hammer Function 
Also called impact drills by some folks, hammer drills produce a hammering effect on drills while in use coupled with the usual drilling rotation. The drive plunges a heavy mass against the drill's chuck, including a hammering feat to the rotation of the drill, appreciably escalating the torque. Hammer drills can generate 56,000 impacts in one minute.
This feature helps render impact drills more efficient than non-hammer ones, letting the operator drive it more efficiently in lag bolts, long screws, and other clasps that need tons of torque.
Conclusion
When you are looking to acquire a corded drill, we think it is difficult to beat the feat set by the BLACK+DECKER DR260C Corded Drill. Aside from the fact that it is a great DIY tool, this corded drill is our top pick because it comes with some of the most mouth-watering features, such as a 5.5-ampere motor, reverse/forward slider, 3.5-pound weight, 2500 rpm motor, lock-on button, ergonomic build, to mention but a few!
One other smart choice from our list is the DEWALT DWD115K. It is a great choice for those that want a tough and powerful corded drill that can last longer. It is also a great choice for who those who want to embark on heavy-duty tasks.
We truly hope that you enjoy reading our reviews of the five best corded drills and we also hope that you've made a choice for your specific projects. If you have any questions hitherto, we're pretty sure that the buyer's guide has addressed them.
Amazon and the Amazon logo are trademarks of Amazon.com, Inc, or its affiliates.