TheToolGeeks.com is a participant in the Amazon Services LLC Associates Program and other affiliate advertising programs.   We may earn from qualifying purchases.  (Learn More).
Your home's staircase is the backbone of your house. The staircase connects floors and rooms and is often the first thing guests see when they step into your front entryway.
Because stairs connect so many facets of your living space, they see a lot of foot traffic and can suffer a fair amount of wear and tear.
If you're renovating your house or want to change your look, refurbishing your home's staircase can be a dramatic makeover opportunity.
With various types and models of hand sanders available, how do you know which is best suited for your home?
We've taken the guesswork out of making the right choice and have created a mini-guide to help you better understand your options.
What Type of Hand Sander Is Best for Your Stairs?
There are 10 main types of hand sanders available for purchase on the market today. Chances are when you visit your local hardware store or big-box supplier, you'll see one of the following options:
Palm sander
Detail sander
Random orbital sander
Sheet sander
Drum sander
Spindle sander
Edge sander
Belt sander
Disc sander
Combo sander
Let's break down the top three most-used hand sanders, what they're used for and which one may be the best option for working on your home's stairs.
Palm Sanders
Palm sanders are easy to use and can be operated with a single hand. A suitable choice for a host of home improvement projects, palm sanders can be an effective choice for sanding your stairs.
A palm sander operates circularly and at varying speeds. This makes it a good choice if you want to move quickly. Its design also makes it easier to hit those hard-to-reach areas and still get a smooth finish.
Most palm sanders utilize a loop-style sandpaper system. This means you can switch out used sandpaper and replace it with fresh sheets effortlessly and easily.
Detail Sanders
Also known as "corner sanders" or "mouse sanders," detail sanders help sand smaller staircases in tight spaces.
Not as fast as palm sanders, detail sanders sander use a triangular-shaped sandpaper pad and have a little less power. Operating in a controlled orbital motion, detail sanders may require more time to finish a project. But they're an affordable and good option for woodworking projects.
Random Orbital Sanders
A random orbital sander is a great choice as an all-rounder sander. For stairs with rough surfaces, small eccentric orbits and delivers fine sanding. Random orbital sanders are very powerful, but they can't reach the corners compared to palm sanders which can do that.
So, you have to do that manually. This sander model gives the best results on diverse surfaces such as wood, metal, or plastic. However, it is a bit costly.
Best Sanders for Stairs – My List
Brand & Model
BOSCH OS50VC Electric Orbital Sander - 3.4...
Makita BO4556 2 Amp Finishing Sander, Teal
DEWALT Random Orbit Sander, 5-Inch (DWE6421K)
Porter-Cable 352VS 3 in. x 21 in. Variable-Speed Sander with Dust Bag
BLACK+DECKER MOUSE 1.2 Amp Electric Detail...
CRAFTSMAN Random Orbit Sander, 3-Amp, Corded...
Preview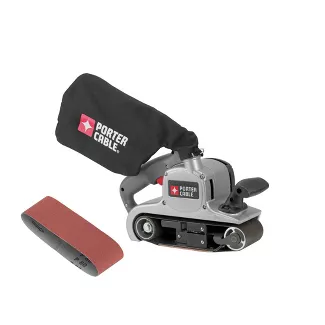 Best Sanders for Stairs: A Buyer's Guide
Before we get into the reviews of my top choices for the best sanders for stairs, let's take a quick look at some considerations you will want to keep in mind as you shop.
Hand Grips: Being able to hold your sander safely and comfortably is important. A more powerful sander will have greater vibrations, while smaller sanders allow for more intricate control so you can avoid damaging any fine details there are on the stairs. A soft grip is best for holding and controlling your sander as you work.=
Dust Collection: Another important feature you want to look for is dust collection when floor sanding or sanding hardwood stairs. When sanding wooden stairs, you will create a ton of dust. To avoid having to breathe this in and sweep it all up when you're done, you want to have a built-in dust collection bag. Many sanders are even compatible with a shop vac or other external dust collection system.
Speed: A lot of electric sanders have variable speed controls. This means you can run your sander at low speeds when starting and at higher speeds for polishing.
How to Choose the Right Sandpaper Type and Grit
When it comes to choosing which sandpaper grit and type to use when refinishing a wooden staircase, a general rule of thumb is to start with coarse grit sandpaper, working your way up to a fine grit when it is time to finish the wooden staircase.
However, the sandpaper grit and sanding process also depend on the condition of the wooden staircase. If you need to clean up a rough surface, you want to start with 60 grit sandpaper and finish with 220 grit sandpaper.
Best Sanders for Stairs – My Reviews
---
1.

Bosch OS50VC 
Type of Sander: Orbital Sanders
Best Features  
Powerful

Good Dust Collector

Multiple Speed Options With Less Vibration
More detailed review ↴
The first noticeable feature of this sander is that it doesn't vibrate as much as other hand sanders. This is largely because the Bosch OS50VC has a vibration control option that allows you to adjust your sanding speed. This feature is extremely beneficial for sanding stairs, where different speeds and control options are particularly helpful in tighter areas.
We also like the easy-grip, ergonomic handle. Combined with the sander's vibration control, we could work longer with less fatigue.
The Bosch OS50VC also has a specialized SheetLoc™ Supreme paper-clamping system to help keep your sandpaper in place and increase the lifespan of the sandpaper you use. For sanding stairs, you often need different grit papers to get the job done right. Bosch accepts 60,80,120, and 180 grit papers.
A powerful sander, the Bosch OS50VC comes with a 3.4 amp motor and has an adjustable speed range from 8,000 to 11,000 orbits per minute (or OPMs).
When sanding and refinishing stairs, a lot of dust can be produced. This sander features a micro-filter canister and screw-off caps to help get rid of the dust faster.
Overall, this is a great sander for working on stairs. However, it is a costlier choice, and the sander tends to be rather noisy.
On the downside, this sander can get very noisy after a while.
What We Liked:
Powerful – A 3.4 amp motor makes the Bosch OS50VC a robust and effective sander
Fast – Its speed range is between 8,000 – 11,000 OPMs, suitable for swift applications
Accurate – The specialized paper clamping system helps ensure the sander grips the sandpaper effectively for more careful and precise woodwork
Comfortable – Ergonomic handles provide an easy grip
Less vibration – Vibration control helps reduce fatigue
Multiple sandpaper grit options –This is a versatile sanding option and can operate with different sandpaper grits options (60, 80, 120, and 180-grit paper)
What We Didn't:
Cost – This is a spendier model of sander
Noise level – The Bosch can be extremely noisy
---
2.

Makita BO4556 
Type of Sander: Finishing Sander
Best Features 
Less Noise

Lightweight

Fast
More detailed review ↴
If you are looking for a lightweight sander with a smooth performance, then make sure to check out Makita BO4556. This effective hand sander combines speed, power, and smooth performance and only weighs 2.6 pounds.
The Makita is a good option for most woodworking and finishing projects, making it a good choice when it comes to refinishing and sanding your home's stairs.
Powerful and fast, the Makita sports a 2.0 amp motor and delivers up to 14,000 OPMs (out-pacing the Bosch). I like this sander's ergonomic palm grips with soft rubber padding that fit perfectly in your hand, making the sander easy to hold and control.
The Makita BO4556 also employs a ball-bearing construction, which reduces noise and makes the tool vibrate less.
Like most sanders, the Makita has a dust-collection system. But this particular system is more effective than most others: Its dust bag has an extra mouth to help you get rid of the dust faster.
The only drawback I found with the Makita BO4556 is it doesn't come with adjustable speed settings.
What We Liked:
Fast –The Makita has super-fast speeds, ranging up to 14,000 OPMs
Robust motor – It contains a strong 2.0 AMP motor
Lightweight and compact – It just weighs 2.6 pounds
Less noise – Ball-bearing construction lessens noise and vibration
Effective dust collection system – This hand sander has a better dust collection system with an extra mouth on the dust bag
What We Didn't Like:
Its speed is not adjustable
---
3. DEWALT

DWE6421K
Type of Sander: Random Orbit
Best Features  
Powerful

Good Dust Collector

Fast
More detailed review ↴
If you are looking for a sander with a powerful motor, then the DEWALT DWE6421 is the perfect pick. This sander has a powerful 3.0 amp motor with a speed of about 12,000 OPMs, adequate for sanding stairs and more.
A prominent feature of this sander is its short height. It allows you to hold the tool more easily and with better control. Its design has a separate counterweight and a rubber cover to prevent vibrations and provide more stability.
The DEWALT sander also has a great dust collection system. You can connect a vacuum to the tool to remove the dust. Plus, it contains a dust-sealed switch that protects it from dust ingestion to give it a longer life. The system also includes dust collection and a one-handed locking bag.
What We Liked:
Fast – DEWALT's hand sander can reach up to 12,000 OPMs
Powerful motor – It features a strong motor with 3.0 amps
Easy control – The tools' shorter size translates to easier maneuverability and control
Fewer vibrations – DEWALT's rubber design helps decrease the vibration effect, making this sander easier to hold for longer periods of time
Effective dust collection system – A protective dust seal helps the DEWALT work more effectively and enjoy a longer life
What We Didn't Like:
A pricier sander, this option isn't affordable for single use
---
4.

PORTER-CABLE Belt Sander
Type of Sander: 1/4 Sheet Finishing Sander
Best Features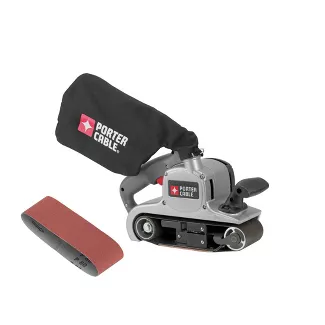 Quiet

Powerful

Good Dust Collection System
More detailed review ↴
First of all, this is a belt sander. These sanders are usually used to sand larger areas because they do it well and fast. They usually are not used for stairs.
But I used this sander to sand stairs and got good results, which is why I included it on this list. Plus, sometimes it's better to have a sander that can be used for different tasks rather than buying one for a specific project.
The PORTER-CABLE 352VS comes with variable speed settings, meaning you can change the speed. This is helpful, especially if you work with different materials. The speed goes from 850 to 1,300 SFPM. It has a quick-release belt change that makes the speed changes easier and faster.
It comes with a unique dust collector. It has a 360-degree dust nozzle that it's adjustable — I haven't seen this anywhere else, and this feature lets you pivot the dust bag. I find this helpful when I have to sand corners or tight spaces.
The dust collector system also allows you to connect a dust vacuum (make sure to check the dust port sizes, a regular vacuum doesn't fit the port).
To make it better, it also has a powerful motor with an amperage capacity of 20 amps.
What We Liked:
Speed Variable Settings – Allows you to change the speed from 850 to 1.300 SFPM
Powerful Motor – Features a motor that is made to last
Quiet – This tool keeps the volume low thanks to the gear system. It meshes more accurately, which means less noise
Unique Dust Collection System – 360-degree dust nozzle that can be adjusted
What We Didn't Like:
A regular vacuum doesn't fit the dust port
---
5.

BLACK+DECKER QS900
Type of Sander:
Random orbit hand sander
Best Features  
3-Position Grip

Cheaper

Lightweight
More detailed review ↴
The BLACK+DECKER QS900 is a budget-friendly sander and does a great job refinishing most wood projects, particularly smaller tasks—like sanding your stairs.
This tool features a 3-position grip:
Palm grip: Used for sanding large surfaces
Precision grip:For careful jobs requiring more attention
Handle grip: Perfect for sanding in tight areas or on rougher surfaces; this is a good option for going over wood stairs and corners that were previously carpeted or painted
The BLACK+DECKER QS900 comes with a 1.5 AMP power motor and operates at 1400 OPMs. It boasts an effective dust collector system with a transparent dust canister, so you can see when it's full and needs to be emptied.
What We Liked:
Budget-Friendly – This hand sander doesn't cost as much as the other products listed in this article
Good Motor – The BLACK+DECKER sander has a 1.2 AMP motor that runs at 16,000 OPMs
Multi-Purpose Sanding Options – With three helpful grip positions that match your job's application needs: palm grip, precision grip, and handle grip
Effective Dust Collector – The dust collection system has a see-through canister
What We Didn't Like:
It isn't as high-quality as the others, but it still does the job!
---
6. CRAFTSMAN Random Orbit Sander
Type of Sander: Random orbit hand sander
Best Features  
Dustless sander
Powerful tool
Comfortable to use
More detailed review ↴
If your stairway renovation requires serious sanding, you need the power and performance that a Craftsman corded random orbital sander offers. The Craftsman CMEW231 is a great option, with a 5-inch sanding pad that can make quick work of any surface, no matter how large.
This sander comes with a powerful yet quiet motor that delivers high performance. The ergonomic design has an easy-grip handle for extended use.
A 3 amp motor gives the Craftsman sander enough power to deliver high performance and shoulder your heavy-duty tasks.
The Craftsman hand sander features a unique dust-sealed switch that protects the machine from debris, extending its lifespan. It also has an integrated pad brake that helps stop the sanding pad immediately when you turn it off.
The Craftsman CMEW231 Random Orbit Sander is a great tool to have around the house. It's compact and easy to use, and we think it's the best recommendation for anyone who wants an affordable sander for quick and efficient jobs.
What We Liked:
High-quality – The Craftsman hand sander is an amazing quality for this price range
Suitable speed – With speeds up to 12,000 OPMs, the Craftsman hand sander is suitable for stock removal
Smooth performance – It has a very smooth pad rotation
Great balance – The ergonomic design helps this tool feel well balanced
What We Didn't Like:
Variable speed mechanismmakes it a little bit difficult to control at the start, and you need some time to get used to that
---
How Much Does It Cost to Refinish Wood Stairs?
The average cost to refinish a wooden staircase is between $4.50 and $8 per square foot. This price includes materials and contractor fees. A stair replacement will be even more expensive, depending on the number of steps and surface area you have. To save on these costs, you can sand and refinish the wooden staircase yourself.
How to Sand Stairs
Are your home's wood stairs stained, chipped, or tired and worn out? Redecorating and refinishing them can breathe new life into your home's decor.
An updated wood staircase can:
Give your home a brand-new look
Improve your house's resale value
Make it easier to clean and maintain your stairs for years to come
Although it may seem like a job reserved for only pros, updating your stairs can be a good DIY project. Let's dive into the steps that go into updating and sanding wooden stairs.
Learn Here: How To Refinish Your Staircase? (A more detailed article)
1. Remove the Existing Carpet
If you have carpeted stairs, give yourself a clean slate by removing the existing carpet or old paint. You can use pliers to pull up carpet nails and your existing carpet and paint remover to clean up any existing paint.
2. Clean the Surface
After removing old carpet or old paint, you'll want to clean and prep your stairs. You can either use your favorite wood cleaner or warm soapy water to wipe down your stairs. A tack cloth is also a great choice. It is a rag made with lint-free materials. A tack cloth has a tacky substance that can remove dust and dirt from wood. Follow up on any cleaning you do with a dry towel.
3. Patch Holes With Wood Filler
You can skip this step if you don't have any holes in your stairs. But, if you have any holes from old carpet nails, you'll want to fill and sand-down the surface, to ensure your floors are even.
4. Sand 
Once you have removed the old carpet and paint from your stairs and cleaned the surface, it's time to sand. You can do this in one of two ways: (1) with a little elbow grease and a strip of sandpaper; (2) or with a power hand sander. We recommend you sand with the help of a power sander for fast results and a smoother finish.
Make sure to use a sander that gives you a smooth finish (Check our recommended list at the top of the page). Don't move your hand too quickly while sanding, and try to sand the entire staircase.
Learn here How to Sand A Table?
After you are done with the sanding now you will have to get rid of the dust. Sanders for stairs usually come with a good dust collection system, but on the off chance, you still have to use a vacuum to make sure there isn't dust. You can also use water to wash the stairs before the next step.
After you are done with the sanding, you will have to get rid of the dust.
Sanders for stairs usually comes with a good dust collection system, but on the off chance, you still have to use a vacuum to make sure there isn't dust. You can also use water to wash the stairs before the next step.
When sanding the stairs, make sure to follow the wood grain. This makes it so much easier to remove the old paint or varnish that exists. It also ensures a smoother surface that is level. If the tread and risers aren't sanded, use 80-grit sandpaper.
If you have spindles on the staircase, these should be sanded by hand for the best wood finish. Cut the sandpaper into strips, wrap them around the posts, and then rub them up and down along the length of the spindles.
5. Clean Up Any Dust
After you've completed sanding the stairs, repeat your cleaning process. Sweep or vacuum up dust, wipe the steps clean, and dry them with a soft, clean towel.
6. Stain or Paint the Wooden Staircase
Almost done! If you're planning to stain your stairs, carefully apply your wood stain with a clean cloth dipped in your stain, and wipe gently along the wood in the direction of the grain.
Use a lint-free rag and aim to make the stain as opaque as possible. Leave the stain for a few minutes before adding a second coat if you want a darker stain. The darker the color, the more layers you'll need to apply and the longer you'll wait for it to dry fully.
Planning to instead paint your stairs? You can employ a paint sprayer for a faster and evenly covered result. Using a paint sprayer can be harder than you'd imagine, but we have all the info you need to get started in our paint sprayer section.
We have also made a list of recommendations for the best HVLP paint sprayers for wood. Make sure to check it if you need one!
If you dislike the color, you can use a sander for paint removal.
Can you stain stairs or paint without sanding? You want to sand the stairs to have a smooth finish and ensure that the stain or paint you use adheres to the stairs properly.
There are some instances where you can skip the sanding process, but for the best results, you want to sand and prep your wooden stairs before painting or staining.
Final Words
We hope you enjoyed this overview of finding the right sander and employing the best techniques to make your stairs look new again. Don't forget to reference our list of top-recommended sanders to consider using for your project and our step-by-step mini-guide to help you through the process.
Bottom line: A good sander can make all the difference, make your staircase refinishing process easier, and bring the final results we know you love.
Brand & Model
BOSCH OS50VC Electric Orbital Sander - 3.4...
Makita BO4556 2 Amp Finishing Sander, Teal
DEWALT Random Orbit Sander, 5-Inch (DWE6421K)
Porter-Cable 352VS 3 in. x 21 in. Variable-Speed Sander with Dust Bag
BLACK+DECKER MOUSE 1.2 Amp Electric Detail...
CRAFTSMAN Random Orbit Sander, 3-Amp, Corded...
Preview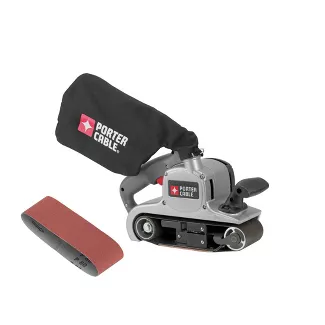 Amazon and the Amazon logo are trademarks of Amazon.com, Inc, or its affiliates.