TheToolGeeks.com is a participant in the Amazon Services LLC Associates Program and other affiliate advertising programs.   We may earn from qualifying purchases.  (Learn More).
Selecting a power tool comes with a lot of technicalities and details that require your attention. When you're looking for a power tool such as a sander for refinishing your deck, the internet will provide you with thousands of options and many different models from the same company.
This will eventually leave you confused as every model consists of different features where some are worth the price while some are not.
Now we all need a quick and easy way out of everything. This is why we have thoroughly researched, listed, and reviews the top best sanders for decks that you can look into.
For further information to know what you should look for in a sander, keep scrolling for a buying guide as well that will provide you more clarity and help you understand your needs much better.
| Products | Product Name | Details | Price |
| --- | --- | --- | --- |
| Variable Speed Settings | | | Buy On Amazon |
| | | | Buy On Amazon |
| Smooth Finish | | | Buy On Amazon |
| Rubber Sealed Switch | | | Buy On Amazon |
| | | | Buy On Amazon |
Best Sanders for Decks
---
1.DEWALT DWE6423K
Best Features  
3.0 AMP Motor

Variable Speed Settings

Dust Port
Review:
The DeWalt DWE6423K is manufactured with a powerful 3.0 AMP motor. Along with a powerful motor, it also comes with a variable speed setting — meaning that you can change the speed to match it with your project. The speed is 8,000 to 12,000 OPM.
A lot of sanders produce a lot of vibration while in use and can result in poor results. However, this particular sander is designed with a counterweight as well as a rubber over-mold that helps reduce the vibrations and give you a smooth sanding experience.
The design of this sander is made to provide the user extreme comfort and ease, the height of the sander is shorter which allows the user to have a better and comfortable working experience.
The special feature of this sander is that it consists of a dust-port system. This port allows you to attach another DeWalt dust collector with which you can clear away the dust much quickly without it having to be a distraction.
With this, you can easily re-finish any deck you want even if they are very old.
Pros:
Powerful motor – Provides 3.0 AMP
Fewer vibrations – Counterweight reduces vibrations
Design – Shorter height for easier control.
Cons:
Dust bag needs to be handled very carefully and may lead to a huge mess sometimes.
---
2. Makita BO5030K
Best Features  
3.0 AMP Motor

Creates 12,000 OPM

Fewer Vibrations
Review:
Next, we have the Makita Random Orbit Sander. This sander comes with a 3.0 AMP motor and provides 12,000 OPM without a problem giving you one of the best experiences while you re-do your large decks. The orbit action is large measuring up to 1/8" which allows you to get your work done efficiently and quickly.
To help improve comfort level, Makita designed this sander with a rubber grip — this helps you have more control over the tool and makes your work fast and smooth. Its rubber grip also reduces any vibration that the sander causes giving you amazing results.
The interesting feature of this is that it consists of a pad control system that gives you a controlled pad speed when you start the sander. This helps ensure the safety of the user.
Moreover, the dust collector quickly sucks away all debris created giving the user a much clearer vision along with keeping the area clean. This way you do not have to worry about cleaning up space.
Along with this, the dust-sealed switch lessens contamination and avoids the dust bag from making a mess. The tool is manufactured with oversized ball bearings that aid in increasing the lifetime of the tool giving you a great sanding experience for a long duration of time.
Pros:
Rubber Grips – Provides comfortable use
Dust Collector – Uses 8 holes to suck away dust
Large Orbit Action – Consists of a 1/8" orbit action
Cons:
Does not come with abrasive paper
---
3. Bosch ROS20VSC
Best Features  
Variable Speed Control

Smooth Finish

Microfilter System
Review:
While sanding you must notice the left-over swirl marks on the wood, the Bosch ROS20VSC is manufactured with a pad dampening system — the use of this system is that helps you avoid any swirl marks on any surface resulting in a smooth experience.
The sanding pads stick to the sander so easily thanks to the company's signature hook and loop feature for the disc attachments making it easy to change sanding pads.
The unique feature of this sander is that it consists of variable speed control. This feature allows you to handle multiple jobs with just this one tool. It is built with a powerful motor of 2.5 AMP that can create 7500 to 12,000 orbits per minute depending on your need. This way you can use this sander for old or worn-out decks that require fast speeds as well as normal day-to-day use with a comparatively lower speed.
The dust collection system is featuring a microfilter system that traps the tiniest of dust particles as small as ½ micron in diameter.
This keeps your environment completely dust-free. Moreover, the dust compartment also consists of a dust meter which shows how filled the compartment is so you can easily detach and clean it.
Pros:
Pad dampening system – Helps in avoiding swirls
Portable – Comes with a hard case and is light in weight
Powerful – Uses a 2.5 Amp motor
Dust collector – Collects the smallest particles of dust easily
Cons:
Dust filter fills quickly
---
4. Makita BO4556
Best Features  
Rubber Sealed Switch

Smooth and Efficient Results

Dust Collector
Review:
Makita BO4556 is one of the top listed sanders. The powerful 2 AMP motor easily creates 14,000 orbits per minute providing you with a smooth finish. Many power tools such as sanders create a lot of vibration, this can lead to uneven control and cause poor results.
For this purpose, this sander is designed with all-ball-bearing construction that helps reduce any vibrations as well as any noise that it may produce during use. It has a firm grip design that is made out of rubber to improve your comfort while handling and give you better control of the sander.
As every sander requires sandpaper that needs to be changed quite often, in most tools it can be a very tough job to do so however, this sander is designed with large paper clamps that allow easy and fast installation of sandpaper, making your work efficient.
It consists of an on/off switch that can be operated with a single hand easily. To prolong the useful life of the sander, the switch is sealed with rubber so that dust cannot get through it.
Moreover, the dust collection system works efficiently and sucks away all the sawdust created, ensuring that your workplace and surroundings remain clean.
Pros:
Light in weight – Weighs only 2.4 lbs.
Portable – Small in size makes it easy to move around
Comfortable grip – Uses rubber palm grips for comfort and control
Powerful – Consists of a 2 AMP motor
Cons:
Does not have a variable speed option.
---
5. BLACK+DECKER BDEMS600
Best Features  
Compact in Size

Comfortable grip

Does Not Create Much Sawdust
Review:
The BLACK+DECKER mouse detail sander is designed to be compact which allows you to store anywhere and even carry it from place to place making it highly portable.
Moreover, the tool weighs only 2.8 lbs. making it light in weight and easy to carry. The sander uses a 1.2 AMP motor and creates 14,000 OPM which gives you a smooth sanding experience as well as fine results.
The interesting feature of this sander is that it is designed with three unique grips, these grips include a precision grip, a handle grip, and a palm grip for maneuvering, tight spaces, and surface sanding respectively.
This gives you a wide range of options allowing you to complete multiple tasks with just one tool. The base of this sander is triangular shaped which makes it easy to reach into small areas and furnish your deck to the finest.
This sander does not create much sawdust, but, it still consists of a dust collector that seals tightly giving you a clean space to work on. However, wearing a dust mask is recommended.
Pros:
Small Base – Fits into smaller areas easily
Comfort Grip – Has three different operation positions
Portable – Light in weight
Dust collector – Seals tightly so no dust gets out
Cons:
The triangular base can lead to a short lifetime of sandpaper.
---
Buying Guide
Now that we have reviewed the best sanders for decks, there are also a few things that you should look into when buying a sander or even any power tool.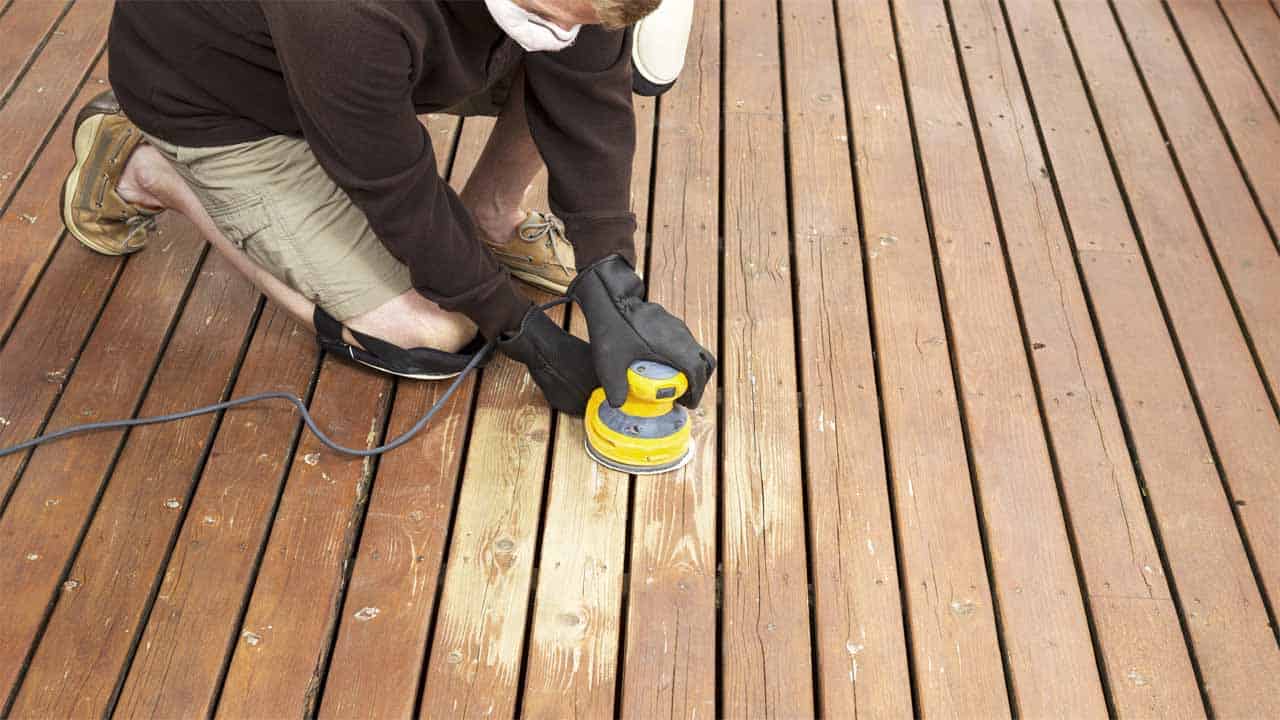 There are certain requirements that one has and sometimes a product may not consist of the feature that you require or may not be able to fulfill the purpose you want your sander for.
To make it easier for you, we have listed down the top features you need to look into before purchasing a sander.
Power
If you want to use a sander for refinishing a comparatively new deck, you may not need to buy a very powerful one. However, if you want to get rid of a lot of woodwork, which is generally not a good idea, then a powerful sander will do the job for you.
You need to make sure for what reasons you need the sander because if you only want to re-do your items, one with a powerful motor will ruin everything.
Speed
The most important aspect to look into while choosing a sander is to know its speed. The speed of a sander is measured in the unit OPM (orbit per minute).
The more OPM a sander creates the faster the sander will be. Usually, if you're dealing with old wood that needs a lot of work done, then a sander with high speed will be the best for you.
However, many companies manufacture their sander so that they have variable speed. This way you can adjust the speed according to your users instead of buying separate sanders for multiple jobs.
Vibration
Sanding is one of the most time taking processes and can be tiring as well. Many powerful sanders tend to have a lot of vibrations. These vibrations can lead to fatigue and give you a rough sanding experience within a few minutes.
Therefore, you should always test out and buy one that does not have high vibrations and uses rubber grips. This way you can work for longer periods without your hand feeling tired and get a smooth sanding experience.
Fewer number vibrations will also help you have much better control over the tool hence making it easy for you to get the job done.
Comfort Design
Dealing with power tools is not an easy job and sometimes can turn out to be very tiring and difficult if not designed properly.
Sanders needs to have an ergonomic design and it should be able to fit your palm perfectly. If it does not fit then you might face trouble while working with it as you will not have much control over the tool.
You should always make sure to check the dimensions of any tool you buy as it is recommended that your sander should be compact. The palm sander fitting your hand and having a small compact size allows you to have better control and makes your work fast and efficient.
Safety
Safety should always be your number one priority even if you are a professional user, you can never know when things may go wrong. Before buying a power tool always make sure that it consists of all the safety features.
As for sanders you need to ensure that they consist of pad brakes, comfortable and firm grip handles, and a dust collection system. This will ensure your safety even if things get out of hand and if you are a beginner, these safety features are a must to have.
Dust Collector
Sanding can be one of the messiest jobs that you do. As an obvious fact, when you are sanding old wooden surfaces, a lot of debris and sawdust will be produced. This can scatter everywhere and it can cause a huge mess for you.
To avoid this, you should buy a sander that is manufactured with a dust collection system. Many sanders come with a boot switch where you can connect a vacuum cleaner to suck away all the dust. Other than keeping your workplace clean it also provides clearer vision as it removes dust away from your wood.
Grit Rating
Sanders requires sandpapers if you want to sand any wooden item. If you're a professional or previously owned a sander you must have leftover sandpaper.
Instead of throwing them away, you can always check if your new sander can fit those sandpapers. This way you can utilize your sandpaper and save money instead of buying new ones.
Final Word:
Purchasing a power tool can be a difficult task as it involves a lot of technicalities that you need to look into. Make sure you always look into the details thoroughly and know exactly what you need it for.
Hopefully, this guide and our top-rated sander will help you make the choice easy.
Amazon and the Amazon logo are trademarks of Amazon.com, Inc, or its affiliates.