5 Best Belt Sanders (For DIYers & Professionals)
TheToolGeeks.com is a participant in the Amazon Services LLC Associates Program and other affiliate advertising programs.   We may earn from qualifying purchases.  (Learn More).
When searching for technical equipment, you'll agree with us that detailed information and buying guides are required. You wouldn't want to fall prey to purchasing a piece of equipment that is out of date or ineffective.
So, when you need a tool that is highly effective for removing the roughness and preparing the wood but less aggressive, a belt sander is the most ideal option.
A belt-sander is necessary for those involved in massive projects that require a lot of sanding, like; sanding down doors or cabinets or refinishing floors. You will appreciate the effectiveness and quickness if you have to sand a large or flat area.
Belt sanders operate by the principle of a continuous loop, unlike the static abrasive sheets like; orbital, disc, and finishing sanders, belt sanders.
Our team of experts has revealed a list of the best belt sanders to give you the best advice on this equipment, features to look out for, buying guidelines, and every other thing you need when purchasing it.
After going through this review, you will know about the best belt-sanders for your various woodwork.
Best Belt Sanders
---
1.Makita 9903
Best Features  
Powerful

Durable

Little Noise
More detailed review ↴
Makita is a household name in the Belt-sander manufacturing industry and it is no surprise one of their products comes first on our experts' list. Makita is known for creating fast, strong, and user-friendly tools.
One of their products Makita 9903 Variable Speed certainly is a testament to those qualities. This model is very likable. This belt-sander is Powered by an 8.8 AMP and can maintain consistent speed irrespective of how fast it is operating.  It also comes with electronic speed control that allows you to regulate the speed while sanding.
It is fast and accurate and can effectively remove several materials. The makers made it comfortable by installing an auto-track belt system that helps track the belt while working to avoid the need to adjust. Furthermore, the innovative design gives you the option to flush out the sand wall from its nose and side.
To cap it all, it makes little noise despite the size. This will certainly make your neighbors happy and affording you the opportunity of listening to the radio while you are at the work station. It emits only 85db of sound. It is one of the quietest models around.
It is user-friendly, you can comfortably use it while working for long hours.
Pros:
Efficient – This model is highly efficient as it does not only get the job done but it does so with comfort. It is suitable for working for long hours.
Extended Power Cord – Despite being an electronic belt-sander, the power cord is 16.4 feet long enough for a workstation.
Does Not Make Much Noise – The device has little noise when using it; it is suitable for working without much disturbance and creates audibility.
Powerful – The device is powerful and can be used for different kinds of wood textures.
Cons:
Heavy – The Makita 9903 is quite heavy when used, and operating it will require a large amount of personal strength.
Vibration – This belt-sander makes a lot of vibration while in use. This could affect the finish of the woodwork.
---
 2. BLACK+DECKER DS321
Best Features  
Dust Bag Collector

Lightweight

Versatile
More detailed review ↴
Another example amongst the best belt sanders for you is the BLACK&DECKER DS321 which is a handy belt sander with a weight of 6.5 pounds.
This model allows you to do more with less effort and still get the same high-quality results. The handle is adjustable, which means you can approach the work from any angle you prefer; this gives you additional control and less pressure on your joints after you may have sand for hours either on the wood floor, the top of your deck, or the countertop.
It is powered by a 6 AMP motor which is more than enough to handle most projects. The producers added a retraceable three-position handle to control the power, which allows you to adjust your work quickly.
It has excellent control as it comes with a belt-release lever and adjustable knob to keep the belt in the proper position. The product is user-friendly and comes with a dust collector, which gives better vision while working and helps to keep the work area neat and tidy.
Pros:
Very light – This belt-sander is easy to use and lightweight. The weight has no significant effect on its ability to work and can perform optimally for long hours.
Versatility – The Black & Decker DS321 is very versatile, and you can use it to work from different angles.
Efficient Dust Collector – The dust collector allows your workstation to be neat and tidy; you have one less thing to worry about.
Cons:
Adjustment Knob –  The adjustment knob is quite stiff and requires extra effort to adjust.
---
3. PORTER-CABLE 362V
Best Features  
High Speed

Quick-Release Belt Lever

Easy To Use
More detailed review ↴
If you ever need a belt-sander that is appropriate for both home and commercial purposes while assuring quality results, the PORTER-CABLE 362 is a worthy option. The porter-cable brand is a trustworthy brand and this model is up to expectation. It meets several demands while sanding.
This model comes with a 12 AMP motor and can work on several projects. The speed control features give you ample control of the power based on the required power of the projects. This speed setting allows you to set the speed from 1000 SFPM to 1500 SFPM.
The motor is placed on top of the plates to offer stability while working. The producers made the body entirely metallic, thus making it durable and suitable for complicated jobs.
Along with these, the adjustable belt knob works much like the Makita 9903, ensuring you can adjust it quickly and efficiently. If you ever need to change the belt during work, you can make use of the quick-release belt lever and a fingertip belt-tracking knob.
These two features work together to reduce extra downtime significantly, and you can dial in the belt adjustment.
Pros:
Variable Speed – This model has variable speed, which helps you tailor the machine based on the job requirements.
360-degree Swivel Dust Bag – It comes with a dust bag to ensure neater jobs.
Durable – This machine is highly durable due to its metallic structure. It is one that you will use for a long time after purchase.
Cons:
Power Plug – The power plug is not long enough and could easily get snagged.
Hot Air – The fan blows hot air. This is an indication of excessive use, and if works continue, it may damage the tool in the long run.
---
4. WEN 6321
Best Features  
Adjustable

Easy to Use

Powerful
More detailed review ↴
This belt-sander comes in an all-black design with drops of orange which makes it easily noticeable. The WEN 6321 belt sander stands out amongst others for its exceptional finishing capabilities. Thus, if you want a perfect finish, you will be happy with this model.
This machine is powered by a powerful motor that rotates the belt at a very high speed. What does this mean? It means that it can get your project done quickly and efficiently. Additionally, it is compact and surprisingly light, therefore makes working long hours possible without getting too tired.
You do not need to maintain a grip on the trigger at all times; this makes the product increasingly user-friendly. This functionality is made possible because the machine allows you to lock the trigger in place when work is ongoing instead of having to hold it down throughout the process.
Also, the sandpaper can be changed or adjusted without any help from additional tools because the machine comes with a release button. Once you press it, the sandpapers come off easily. This feature makes it easy to use the machine.
When working, the machine allows you to reach very difficult angles and spots. This is chiefly because of the further extension in front of the machine.
Pros:
Compact – As mentioned in the features, this tool is very compact and can perform various woodwork, thereby saving one the stress of getting several machines.
Lightweight – With high power, and various tools attached, this belt-sander still retains its weight and can function optimally for several hours.
Ease of Sanding Belt Release – This is a noticeable feature that makes work easier and helps switch from one sanding paper to another.
Cons:
Some users complain that it stops working after a while.
---
5. Hitachi SB8V2
Best Features  
Dust Collector

Trigger-lock Option

Very Powerful
More detailed review ↴
This particular belt-sander has an attractive design and comes with a speed that is highly effective for work.
This tool can be used on various surfaces; wood, metal, or for removing paint. This is entirely achievable by the 9 AMP motor that creates a speed from 0 to 1475 ft/min. It has a trigger lock mechanism as well; this is for the user not to wear down while holding down the trigger.
This machine comes with an impressive adjustable speed dial that makes it easy to control your work. It also has a clear front cover that allows you to see the belt and surface while working. This means you can accurately use your device and get excellent results due to guaranteed precision.
It comes with a dust collection bag to the left-hand sign to make it more appealing. This will help you get into areas that are inaccessible while the dust bag ensures that your workplace is clean.
Pros:
Front Cover Tracking Window – This unique feature allows you to see the surface you are working on; this promotes accuracy.
Durable – It has a metallic built, which allows it to last for an extended period, and you can work for several hours using this tool.
Speed – Additionally, it is one of the fastest belt-sander around.
Cons:
---
Buyer's Guide
The belt sander is used for a variety of reasons. Therefore, you will agree that different requirements must be met before you purchase one.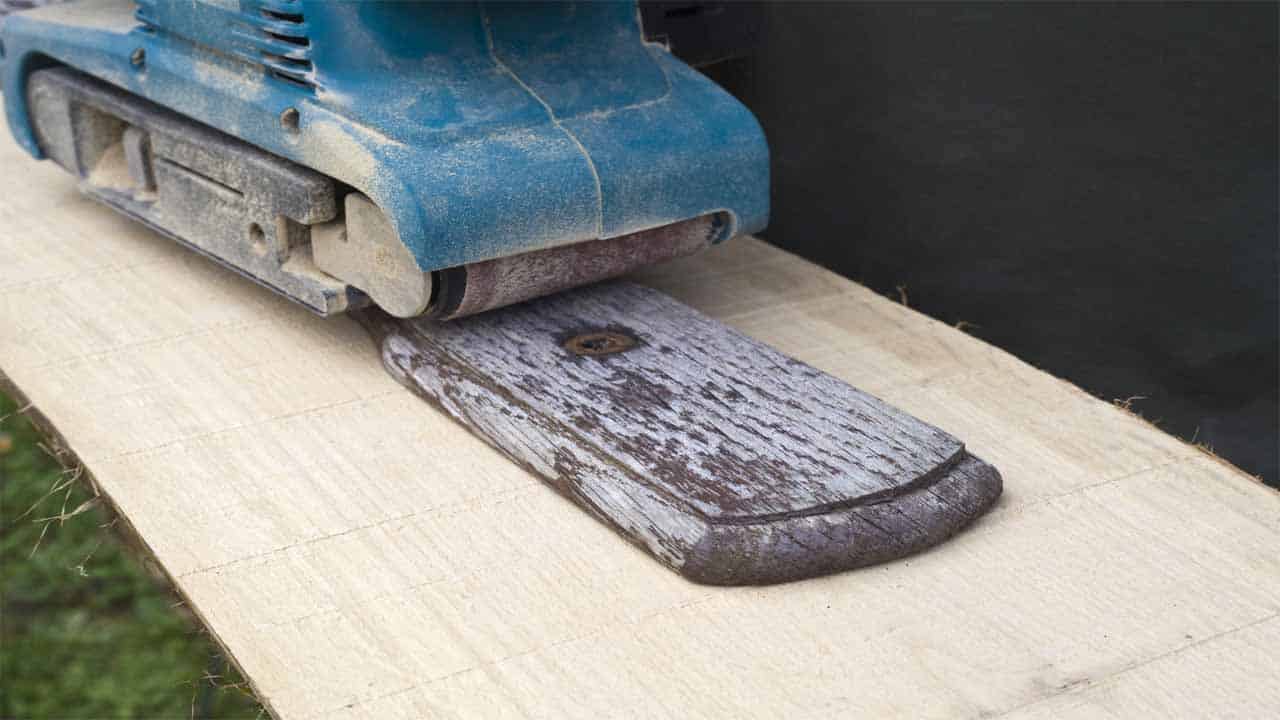 All of the belt-sanders listed above have some unique features, however, there must be a standard benchmark that all buyers must take cognizance of before you buy one.
The list above of the best belt sanders is to help you pick the product most suitable for your sanding work, below is a list of buying guides to help you make concrete or more job-specific choices.
Power
The power of a man determines the capability of a man to a large extent. The performance of an athlete who trains frequently is different from a random person who only does the same sport for leisure. This applies to your appliances – in this case, belt-sander.
The more powerful the machine is, the higher the capacity. The power drives other significant functions of this device.
When you want to buy your belt-sander, it is extremely important you check the power to decide if it fits the job you want to do. Power is such a critical requirement you cannot ignore.
Related Read — Best Sanders For Decks
Durability
We all hate to buy equipment one week and the following week, we are out to get a new one. If you want to enjoy a belt-sander and allow it to serve its purpose, you need to check for the durability of your belt-sander.
Customers don't like buying tools weekly, so a one-time investment that can fulfill demands comes in handy. It is essential you have good knowledge about the durability before you purchase one.
To be sure of how durable the tool is, it would be best if you consulted user reviews while also looking out for some of the features that have been covered in this review.
Related Read — Best Belt Disc Sanders
Ease of use
If the device has a lot of good features, some of which we have talked about but is somewhat challenging to operate, then it is almost as though the other features do not matter. Machines are expected to make work easier and faster; any belt sander should do the same.
Check how easy it is to use the belt-sander; the more accessible, the better, and enjoyable. Some tools have in-lock features that release the pressure which is created by holding the trigger for long off your hand,
Dust Collector
Everyone loves a neat job and more importantly, a neat workstation. Therefore, some essential features to be taken note of is a dust bag.
If the tool has a dust bag collector, the ease it gives your work is inexplainable; knowing you don't have to worry about doing a lot of cleaning is very relieving. Dust collector increases the value of a belt-sander.
It saves you the stress of taking away dirt to ensure it doesn't affect the quality of your work.
Related Read — Drywall Sanders Review
Innovation
You should also look out for new insights and extra features in the product. Whether it is an upgrade or a unique feature that makes the work experience bright and easier, it does save you from buying an earlier model when you can easily afford the upgrade. It additionally lets you know what are the new best features of the belt-sander you are buying.
Year of Production
Inadvertently, tools develop technical faults at one point or the other. One of the most important factors in solving and dealing with these faults is community support.
Hence, it is important to also know the production year of the tool before purchasing it. The production year plays an important role in knowing whether there are relevant information about issues that should be expected from that tool as well as how such issues can be dealt with.
Related Read — How to Refinish a Table?
Final Thoughts
By now, we expect you to know the right belt-sander to purchase for your projects. Also, you should know the exact features to check before making that purchase. You should be well on your way to making a fantastic choice of belt-sander before working on that wood to create that beautiful furniture, cabinet, or shelve you crave.
Sanding is a somewhat difficult task; it is only right if one can get the most appropriate tool to make that task less challenging.
The Makita 9903 comes out on top of our top 5 list of the best belt sanders for its power, durability, seamless, and noiseless operation. This machine is actually very ideal for all categories of woodworkers. Sanding is a piece of cake with this one.
Asides from this tool, you'll find four other amazing belt sanders on this review and the core attributes that stand them out from amongst others. Any of them can give you a good sanding experience.
We also hope you know some of the most important factors to consider in picking a quality belt sander should you decide to go for options outside our list. Whichever the case might be, have fun picking the a good belt sander for your project.
Amazon and the Amazon logo are trademarks of Amazon.com, Inc, or its affiliates.