Pocket Chainsaw: The Ultimate Guide
TheToolGeeks.com is a participant in the Amazon Services LLC Associates Program and other affiliate advertising programs.   We may earn from qualifying purchases.  (Learn More).
When you're camping, out in the wild or facing survival situations, having the right tools can certainly help and be a lifesaver. One tool that's gained popularity among homeowners, campers, deep-woods backpackers, rescue crews, and survival experts is the pocket chainsaw.  It's small, lightweight, and does a great job at cutting and clearing. 
In this complete guide, we'll cover everything you need to know about pocket chainsaws, from what they are and what they're used for to how to take care of them and stay safe.  So, let's break it down and make understanding pocket chainsaws a breeze for your backyard, local woods, outdoor adventures and survival needs.
What is a Pocket Chainsaw?
A pocket chainsaw is a compact, hand-operated cutting tool created for outdoor activities and survival scenarios. It typically consists of a chain with sharp teeth and two handles at each end for easy gripping. This compact tool allows users to cut through wood, branches, and other materials efficiently.
Historical Context 
Pocket chainsaws have evolved from traditional saws and chainsaws. They were developed to address the need for a lightweight and portable cutting tool, without a motor, in various outdoor activities. Over time, pocket chainsaws have become popular because they are practical and easy to use. 
Why Choose a Pocket Chainsaw?
Portability and Compactness:
Pocket chainsaws are very small and light, so you can easily put them in your backpack or even your pocket.  However, we do recommend a carrying case to protect your clothes and other gear from their blades sharp edges. 
Their small size is a significant advantage for those who need to travel light during outdoor adventures.
Versatility in Outdoor Activities:
Whether you're camping, hiking, hunting, or involved in any outdoor activity, a pocket chainsaw can come in handy for various tasks like removing dead branches in your backyard, cutting firewood for your campsite, clearing trails for hiking, or building shelters during an emergency.
Emergency Preparedness:
Pocket chainsaws provide a compact and effective solution for cutting wood for fire, creating shelter, or signaling for help.
How Does a Pocket Chainsaw Work?
Manual Operation of Pocket Chainsaw 
Unlike traditional chainsaws powered by gasoline or electricity, pocket chainsaws are operated manually. Users pull the chain back and forth to make cuts, similar to using a traditional saw.
Pocket Chainsaw Components
A regular pocket chainsaw is made up of three parts:
Chain with sharp teeth

Two handles for gripping

Attachment rings for extending the length
Cutting Mechanism
The sharp teeth on the chain are designed to grip and cut through wood effectively. The back-and-forth motion of the chain generates cutting force, allowing users to make precise cuts.
Things to Consider Before Choosing a Pocket Chainsaw
Length and Weight
Pocket chainsaws come in various lengths and weights. Typical lengths range from 25 inches to 36 inches.  Typical weights range from 5 ounces to 10 ounces.  Longer chainsaws provide more cutting reach and allow the user to generate more cutting momentum but may be heavier. 
Chain and Blade Type
Pocket chainsaws have varying chain types and blade designs. Most blade chains are made of carbon steel.  But be sure to check the hardness value of the carbon steel as it can vary (the higher the hardness number the harder and more durable the blade).
Number of  Blades
The teeth on the blade do the actual cutting and pocket chainsaws have a varying number of cutting blades.  In fact, some pocket chainsaws may have alternating cutting and non-cutting blades on the blade chain, instead of all cutting blades.  The reason is due to the fact that the person supplies the cutting power with the back and forth pulling motion.     
The number of cutting blades can vary, regardless of the overall chain length.  Typical blade counts range from 10 to 50 and the greater number of cutting blades, generally the quicker cutting time.
Cutting Direction
Check the cutting direction of pocket chainsaws.   Some will be one-directional while others will be bi-directional.  Bi-directional will allow you to cut further with each back and forth motion.
Another thing to consider is if the chain has cutting blades on one side or both sides of the blade chain.  One-sided cutting blades would require that the chain side be used against the surface to be cut, while two-side cutting blades enable either side to be used against the surface to be cut.  
Handle Design and Comfort
Handles are a key part of a pocket chainsaw since the design and quality will determine how much power and momentum the user can create during use.  
Ergonomically designed handles offer better comfort during prolonged use.  Handles made of high-strength nylon or thick leather are recommended for frequent use, while plastic pull-type handles can suffice for occasional use.
Make sure that the handles of the pocket chainsaw you pick are comfortable and provide you a firm hold.
Using a Pocket Chainsaw Safely
Safety Gear and Equipment:
Prior to using a pocket chainsaw, it's crucial to put on the right safety equipment, such as gloves and eye protection. These items protect against injury, splinters and debris while cutting.
Proper Cutting Techniques:
To use a pocket chainsaw safely and effectively, follow these steps:
Make sure the item you're cutting is firmly held.

Keep your body in the right posture and maintain balance.

Use smooth and consistent cutting motions.

Ensure the chain is properly lubricated.

Steer clear of any twisting or bending of the chain while using it.
Applications of Pocket Chainsaws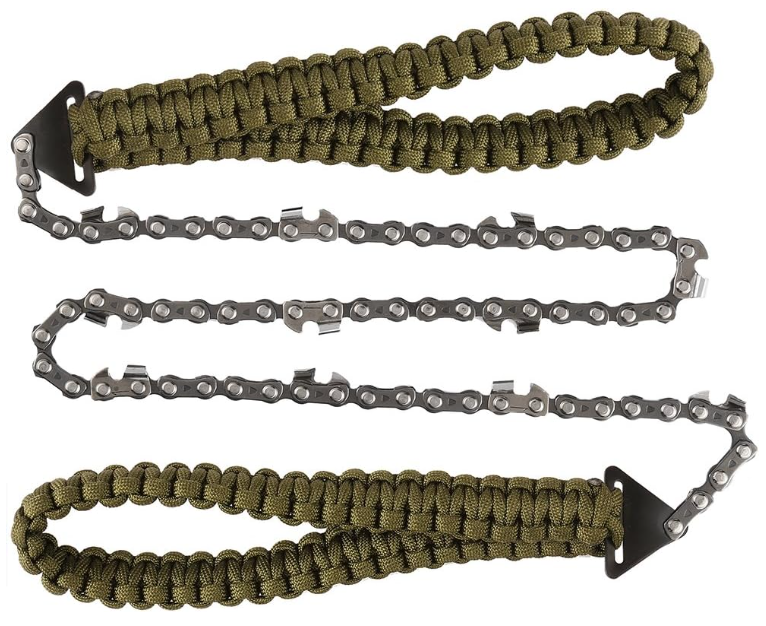 Camping and Outdoor Cooking:
Pocket chainsaws are ideal for cutting firewood and preparing it for cooking or heating while camping.
Shelter Building:
In survival situations, a pocket chainsaw can help you cut branches and materials to build a shelter quickly.
Firewood Preparation:
Whether for warmth or cooking, a pocket chainsaw simplifies the process of gathering and processing firewood.
Clearing Paths and Trails:
When hiking or camping, you might need to clear obstructive branches or create pathways. A pocket chainsaw makes this task easier.
Emergency Situations:
Having a pocket chainsaw in your survival kit can be a lifesaver during emergencies, allowing you to cut through debris or signal for help.
Maintenance and Care
Chain Sharpening:
Regularly sharpen the teeth of your pocket chainsaw to maintain cutting efficiency.
Cleaning and Lubrication:
To maintain smooth operation and prevent rust, it's important to keep the chain clean and properly lubricated.
Storage Tips:
Store your pocket chainsaw in a dry place and consider using a protective case to prevent damage during carrying and to avoid cutting yourself.
Conclusion
In conclusion, pocket chainsaws are invaluable tools for outdoor enthusiasts, campers, hikers, and anyone concerned with emergency preparedness. Understanding their features, usage, safety precautions, and maintenance will enable you to make the most of this versatile and portable cutting tool in various outdoor and survival scenarios. Whether you're clearing a campsite, building a shelter, or preparing firewood, a pocket chainsaw should be a key item in your outdoor gear arsenal.
Recommended Pocket Chainsaws to Purchase
Amazon and the Amazon logo are trademarks of Amazon.com, Inc, or its affiliates.