Unveiling the Oscillating Tool Uses
TheToolGeeks.com is a participant in the Amazon Services LLC Associates Program and other affiliate advertising programs.   We may earn from qualifying purchases.  (Learn More).
Oscillating tools are the cross-trainers of power tools and have evolved into essential companions for both professionals and DIY enthusiasts. Within this article, Unveiling the Oscillating Tool Uses; we will unveil the many applications of oscillating tools. 
These versatile handheld power tools feature a high-speed blade or attachment that moves back and forth rapidly while also vibrating, commonly referred to as an oscillating motion.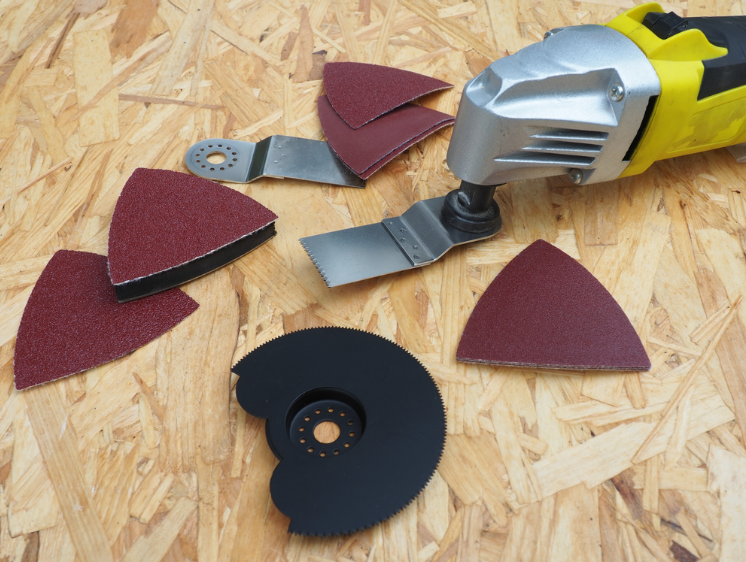 Also called Multi-Tools or Oscillating Multi-Tools or OMT for short, are capable of performing an extensive array of tasks.  From cutting, sawing and sanding to scraping and grinding, oscillating tools are the functional powerhouses of any workshop. 
While individual saws, sanders or grinders may be more efficient in performing those single individual tasks, Oscillating Multi-Tools can perform all of those tasks to a useful degree, especially when adding the multiple attachments available.  Therefore, we recommend that every serious DIYer and contractor have one in their toolkit.
Different

Oscillating Tool Uses
1: Cutting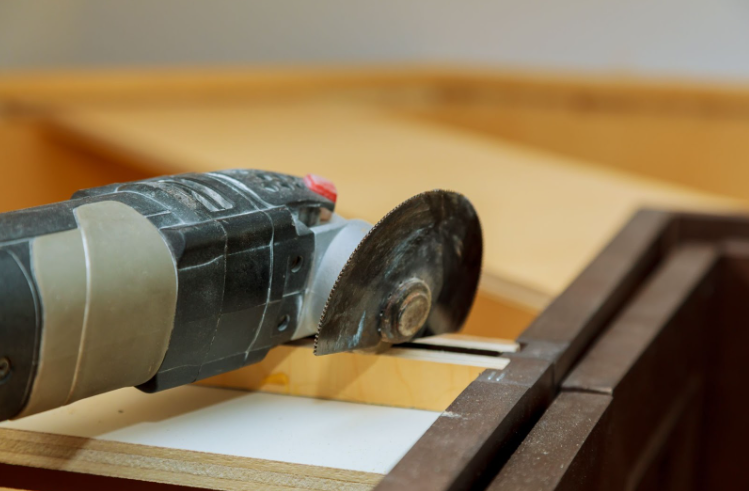 1.1 Precision Cutting
Oscillating tools are excellent for making precise cuts in a variety of materials. Their oscillating motion reduces the risk of kickback and provides greater control. Common uses include:
Cutting baseboards and trim

Trimming door casings for flooring installation

Cutting PVC pipes

Removing damaged drywall for patching
1.2 Flush Cutting
When you need to make flush cuts, an oscillating tool is your go-to tool. It excels at:
Cutting protruding nails or screws

Trimming excess material from a joint

Removing old grout between tiles
1.3 Plunge Cutting
Need to create an opening in the middle of a material? Oscillating tools can plunge cut through various surfaces:
Carving openings in drywall to accommodate electrical boxes

Fashioning pathways in hardwood flooring to accommodate ventilation openings

Making openings in plywood or MDF for access panels
2: Sanding
2.1 Sanding in Tight Spaces
Oscillating tools come with sanding attachments, making it easy to sand intricate or hard-to-reach areas, such as:
Sanding curved moldings

Smoothing rough edges on woodworking projects

Prepping surfaces for painting or refinishing
2.2 Paint and Rust Removal
Oscillating tools equipped with abrasive attachments are efficient at removing paint and rust from various surfaces:
Stripping old paint from furniture

Removing rust from metal surfaces

Cleaning and prepping surfaces for repainting
3: Scraping
3.1 Adhesive and Caulk Removal
Oscillating tools are a godsend for removing stubborn adhesives and caulk without damaging surfaces:
Scraping off old adhesive or glue residue

Removing old caulk from bathtubs and sinks

Scraping off vinyl flooring
3.2 Tile Grout Removal
Say goodbye to tedious manual grout removal! Oscillating tools make this task quick and easy:
Removing grout between tiles for repairs or replacement

Creating clean grout lines for tile installation
4: Grinding and Polishing
4.1 Metal Grinding
Oscillating tools can handle light metal grinding tasks, such as:
Smoothing welds

Removing burrs from metal edges

Shaping metal pieces
4.2 Polishing
With the right attachment, oscillating tools can be used for polishing various surfaces:
Polishing car paint

Restoring the shine to countertops

Polishing jewelry and small metal objects
5: Other Applications
5.1 Detail Work
Oscillating tools excel at detailed tasks that require precision:
Engraving

Carving

Sculpting
5.2 Gasket Removal
For automotive enthusiasts and professionals, oscillating tools are ideal for removing old gaskets and sealants from engine components.
6: Home Improvement and Renovation Oscillating Tool Uses 
6.1 Flooring
Oscillating tools are invaluable when it comes to flooring projects:
Trimming door jambs for new flooring installation

Removing old adhesive and tile mortar or tile grout (see above)

Cutting and shaping laminate or hardwood flooring and tile
6.2 Trim and Molding
Achieve a professional finish when installing trim and molding with an oscillating tool:
Precisely cut angles for perfect corners

Trim excess material for a seamless fit

Smooth edges for a polished look
7: Plumbing and Electrical
7.1 Plumbing Repairs
Oscillating tools simplify plumbing repairs and installations:
Cutting copper or plastic pipes

Removing old, corroded pipe fittings

Enlarging openings for new fixtures
7.2 Electrical Work
Electricians can benefit from oscillating tools for various tasks:
Cutting electrical conduit

Trimming junction boxes

Removing old cable insulation
Other Oscillating Tool Uses
8: Outdoor and Garden
8.1 Pruning
With the right blade attachment, oscillating tools can assist in pruning small branches and bushes.
8.2 Trimming
Keep your hedges and shrubs in shape by using oscillating tools to trim and shape them with precision.
8.3 Lawn Edging
Achieve clean and precise lawn edges by using oscillating tools to trim along borders.
9: Automotive and Garage
9.1 Body Repair
Oscillating tools are handy for automotive bodywork:
Trimming fiberglass or plastic panels

Removing adhesive residues from body surfaces

Cutting metal for custom body modifications
9.2 Detailing
Achieve a professional finish when detailing your vehicle:
Removing oxidation from headlights

Sanding and polishing small areas

Cleaning hard-to-reach spots in the engine bay
10: Arts and Crafts
10.1 Model Building
Perfect for hobbyists and model builders:
Cutting and shaping miniature parts

Sanding and smoothing model surfaces
10.2 Sculpture
Oscillating tools offer precision in artistic endeavors:
Carving wood, plastic, or clay

Creating intricate details in sculptures
11: Emergency Repairs
11.1 Temporary Fixes
In emergency situations, an oscillating tool can provide quick solutions:
Cutting through debris blocking access

Shaping materials for makeshift repairs
11.2 Home Safety
For fast response during home emergencies:
Cutting drywall for access to shut-off valves

Creating openings for smoke detectors
12: Miscellaneous Uses
12.1 Pet Care
Trimming pet nails with precision and ease.
12.2 Aquarium Maintenance
Trimming aquatic plants and maintaining aquarium decor.
Conclusion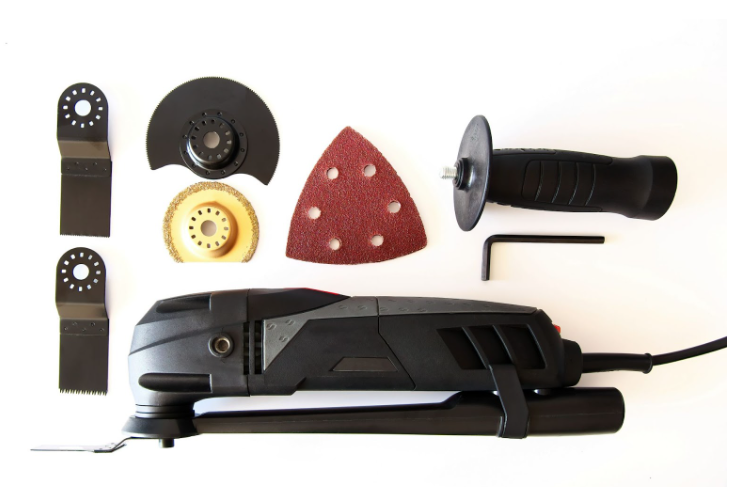 Oscillating tools have remarkable versatility, offering a simplified approach to a diverse array of tasks within your workshop or home setting. Whether you're a seasoned tradesperson or an avid DIY enthusiast, incorporating this tool into your toolkit can substantially elevate your skillset. By delving into the multitude of applications and accessory options, you can unlock the full potential of your oscillating tool and confidently tackle a wide range of projects. Visit The Tool Geeks for such informative articles. 
Recommended Oscillating/Multi-Tools
Amazon and the Amazon logo are trademarks of Amazon.com, Inc, or its affiliates.