Best Air Compressor for Plasma Cutter – (Top 7 Tested + Reviewed)
TheToolGeeks.com is a participant in the Amazon Services LLC Associates Program and other affiliate advertising programs.   We may earn from qualifying purchases.  (Learn More).
Choosing a suitable air compressor is crucial when it comes to plasma cutting. With plasma cutting, you need a certain pressure to throw a plasma beam to cut the metal. If you choose an air compressor without proper research, you may ruin your project. That's why we're here with a list of air compressors so you can choose the best air compressor for your plasma cutter. 
Our team of contractors who're experts in using air compressors for several purposes has compiled this list after testing these air compressors with plasma cutters to give you something worth buying. 
We'll also highlight some crucial things you should consider while getting an air compressor that aligns with your requirements.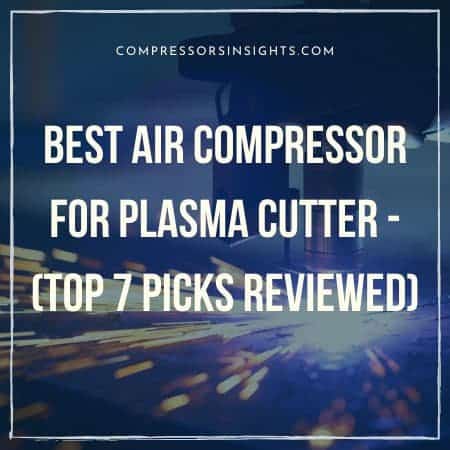 Best Air Compressor for Plasma Cutter – Quick Features
What is a Plasma Cutter?  
A plasma cutter is a highly useful tool that uses electricity to heat and ionize a gas into hot plasma for cutting metals.  Plasma cutters make precise and smooth cuts in metals easily.  Many consumer and contractor plasma cutters have their end device shaped  like a blowtorch and using one is similar to welding.  
The main components of a plasma cutter are the power source, the work clamp (for grounding), the arc-starting console (ARC) for up-converting the electrical power high enough to turn the gas into plasma, the fixed or handheld torch for directing the plasma flame, and the air compressor.  
Plasma cutters have many different uses due to their high speed and precision cuts.   They are used in fabrication shops, for automatic repair or restoration, manufacturing and industrial facilities, and scrapping operations. Smaller plasma cutters can be used in hobbyist shops or for individuals to create intricate metal artwork.
Why does a Plasma Cutter Need an Air Compressor?
While plasma cutters can operate with or without compressed air, adding an air compressor to a plasma cutter increases its cutting precision and makes the cutting process easier.  The air compressor provides increased air pressure to increase the force of the flame out of the torch nozzle, increase the cutting precision, and reduce the cutting time. An air compressor can also be used to power, or provide the electricity to the plasma cutter.  
Some plasma cutter models come with a built-in air compressor.  And if you already have an air compressor from other uses, you connect it to a plasma cutter to perform metalwork.  If not, then keep reading for the best air compressors to buy for a plasma cutter.
Best Air Compressor For Plasma Cutter (Top 7 Picks)
1. Quincy QT-54 Splash Lubricated Reciprocating Air Compressor
10-gallon tank 
Maximum pressure of 150 PSI
Oil-Free pump requires no external lubrication for a longer lifespan
More detailed review ↴
Quincy QT-54 reciprocating air compressor has a stationary or vertical design because it is a huge tank compressor. This one is 60 gallons, making the work much easier. 
This lubricated air compressor was recommended by our colleague who is into metalworking, so we decided to try it. After testing, we concluded it is a high-capacity compressor ideal for heavy-duty work. 
The best part is that it's cost-efficient, as it lowers the cost using less HP and low RPM. The powerful motor works on 5HP using 230 V, while the CFM is 15.4 at 90 PSI. It is easy to use and a 100% duty cycle compressor that does not need much rest. 
This 29L x 21W x 64H inches compressor has a maximum of 175 PSI – the greater usage between pumps fills the tank rapidly and works longer. But, we found this air compressor slightly noisy (75 decibels). 
The PSI range is 150-175 PSI which means you can easily use it for plasma cutting. But, it's not portable because of the heavy weight (475 pounds), and you must set it in a dedicated space. 
The pump cycles RPM 1,310 show slower than other competitor models and has a life rating life of hrs 30,000. It is aluminum made; it will help in the dissipation of heat.
The problem is a relative change in the price, and you need to purchase the oil kit warranty extension at the same time. We recommend buying an auto-purge valve to keep the air dry and a silencer to keep this air compressor quiet. 
---
2. California Air Tools 8010 Steel Tank Air Compressor
10-gallon tank 
Maximum pressure of 150 PSI
Oil-Free pump requires no external lubrication for a longer lifespan
More detailed review ↴
Another air compressor we tested is California Air Tools 8010, which is ideal for a place where noise is an issue because it produces noise of 60 decibels which is considered almost nothing. 
What we didn't like is that we had to attach it to the outlet and it's not portable. This ultra-quiet and oil-free compressor has a 70/30 working cycle and comes with an air filter which ensures that it produces less heat. 
We use this air compressor in our workshop for drilling, nailing, spraying, and metal cutting through the plasma cutter.  You can use this air compressor for small pneumatic air tools such as airbrushes, blow guns, finish nail guns, staple guns, brad nail guns, etc. 
It works on 8.5 amps, showing that the motor is relatively reasonable but uses 2500 watts of power. Additionally, it comes with 2 pressure control gauges too.
The large steel air tank is 8 gallons in size and creates no issues in the cyclic process. It weighs 48 pounds and is significantly less than the previous one. The 26x14x23 inches dimensions air compressor comes with a wheel kit making it easier to carry it around. 
Its maximum pressure is 120 PSI, quickly filling the tank. The working operation runs maximally half an hour to an hour, and the 1 hp motor operated at only 1680 RPM creating less noise with less wear too.
The dual-piston pump operates for more than 300 hours, and its thermal load protector protects the motor if it gets heated. 
The compressor has 2.20 CFM at 90 psi and 3.10 CFM at 40 PSI, filling the tank within 130 seconds, and within 30 seconds, it goes from 90 psi to 120 PSI.
---
3. DEWALT DXCMLA1983054 
10-gallon tank 
Maximum pressure of 150 PSI
Oil-Free pump requires no external lubrication for a longer lifespan
More detailed review ↴
This air compressor from DEWALT is also one of our favorite air compressors tested with the plasma cutter. 
If we talk about durability, we love this air compressor as it's made up of aluminum. The flywheel and cast iron make it more convenient for heavy work. 
Additionally, its wheels and footprints make mobility easier.  It comes with synthetic oil for longer life with effective performance as it is an oil-lubricated compressor. 
This 30-gallon vertical tank size is quicker to fill and maintain multiple air tools with high-capacity tires to make it possible to transport and for heavy work. 
This 120V air compressor features a long-lasting induction motor of 1.9 HP providing powerful performance. It has a better belt drive which provides better power. This compressor is easy to start and handle.
Its weight is 190 pounds with dimensions of 22 x 27 x 46.5 inches which means it is not for garages or home working purposes, and you need a space to set up this air compressor. So, if you're into small-scale projects, we don't recommend this air compressor. 
The best thing is that you can use this air compressor for drilling, spraying, airbrushing, and nailing purposes apart from plasma cutting. Its portability makes it more efficient. 
We liked the dual voltage motor, which works at 120 volts and 240 volts which enhances its durability. (You can get this air compressor in the US region as well as Europe and UK region)
According to the company, this air compressor is less noisy (78 dB), but it was slightly noisy and uncomfortable for us. You can get this air compressor if you're fine with the slight noise. The air compressor produces a 78 dB sound level which means it is not a loud working compressor that generates less vibration relatively. 
After running this air compressor for some time, we checked if it got warm, and we liked the fact that the cooling system of this air compressor is excellent. 
The compressor has 155 maximum PSI pressure, perfect for plasma cutting. 
---
4. CRAFTSMAN Air Compressor
10-gallon tank 
Maximum pressure of 150 PSI
Oil-Free pump requires no external lubrication for a longer lifespan
More detailed review ↴
Next on our testing list is CRAFTSMAN, which is a small but, at the same time, enough capacity compressor for plasma cutting. 
This portable air compressor is oil-free, meaning it does not require any constant maintenance. This is well-built, but because of being a pancake, it is bulky; however, with its great handles and rubber feet, you can easily carry it to different places. 
The NPT port lets the user connect at least two hoses and other tools with your compressor simultaneously. For plasma cutting purposes, you can easily use it as it has a 6-Gallon capacity with a maximum of 150 PSI. 
This air compressor is loud with 82 decibels sound level so we won't recommend it for quiet places. This 16.5 x 16.5 x 17.88 inches compressor has only 0.2 HP motor capacity, which might sound less, but we could easily use it for plasma cutting. 
Additionally, it performs heavy-duty operations efficiently. It allows you to work on home renovation projects while you do plasma work. 
---
5. Makita MAC5200 Big Bore Air Compressor
10-gallon tank 
Maximum pressure of 150 PSI
Oil-Free pump requires no external lubrication for a longer lifespan
More detailed review ↴
The Makita MAC5200 is an electric air compressor (AC) designed for the job site area. It works on 120 volts and provides faster recovery time, which increases the effectiveness of the working (you don't have to worry about refilling time).
This high-quality construction ensures that there will be no leakage at any time. The capacity of the tank is 5.2 gallons with an airflow capacity of 5 cubic feet per minute, while it has 75 pounds with dimensions of 29 x 19.5 x 19 inches, which means it is a heavy compressor with this small tank. 
This oil lubrication compressor has a roll cage that provides protection. To check if the handles and tires were durable enough, our team members dragged this air compressor on the rough floor one by one, and it was easy to move. 
The maximum pressure rating is 140 PSI, and the amperage capacity of 13.8 amps. Its powerful motor provides 3.0 horsepower to run at a speed of 3,420 RPM, which makes work efficient.
The compressor delivers 6.5 CFM  at 90psi and 6.9 CFM at 40 psi, producing less noise because of 65 decibels. 
It comes with a built-in overload thermal protector, which adds to the protection of the compressor in case of overheating.
It is 88 pounds with dimensions of  29×19.5×19 inches, but this weight is not an issue because of the tires and handles. 
---
6. Metabo HPT "THE TANK" Pancake Air Compressor
10-gallon tank 
Maximum pressure of 150 PSI
Oil-Free pump requires no external lubrication for a longer lifespan
More detailed review ↴
The Metabo air compressor is oil-free and requires no maintenance. So, for testing, we had to plug it into a voltage outlet as it can't operate on a battery or car plug. In conclusion, it's not portable; you need a dedicated voltage outlet to power this air compressor.  
This compressor works on 220 volts and weighs 41 pounds (22%) less than other air compressors on our list. 
Additionally, it comes with a motor that has the power of 0.2  horsepower and 1.3 horsepower. The tank size capacity is 6 gallons providing air to the unit with a maximum pressure of 200 PSI (13.78 bar), perfect for plasma cutting.
It delivers 4 CFM at 90 psi and 5.1 CFM at 40 psi at an amperage capacity of 13.5 amps. The pressure switches are limited to service at 170pi and shut down at 200 PSI, so this is a safety feature. 
The sound level is 73 dB, which is considered quiet. But if you're very sensitive to loud noises, you may find it a bit nosy. Overall, this one is a quiet air compressor. 
---
7. Industrial Air ILA3606056 Air Compressor
10-gallon tank 
Maximum pressure of 150 PSI
Oil-Free pump requires no external lubrication for a longer lifespan
More detailed review ↴
This is a robust industrial air compressor we tested and can ensure it is an excellent option for plasma cutting. 
It is highly electrically powered and operates on 240 volts with a motor of 100% tough duty cycle. It can also be ideal for drilling, nailing, and airbrushing purposes and applies to many other tasks. 
While testing, we noticed that the compressor has an aluminum head, valve plate, oil-level sight glass to check out the oil level in the compressor, and automotive-style ball bearing switches so that it can perform on a high level without any risk of damage. 
The maximum PSI of the compressor is 150, suitable for plasma cutting for an extended time.
Additionally, it is a durable, reliable compressor with a balanced flywheel equipped with a pressure gauge and is thermally stable, which helps in protection and movements. 
It is a 228-pound heaviest compressor and dimensions 31 x 27 x 68 inches, making this 60-Gallon compressor extremely heavy and stationary (best for heavy-duty and large-scale metal cutting)
At the same time, it only makes 68 decibels of sound level which was quite a surprise, as the air compressor is very heavy-duty, but the sound is excellent. 
It delivers 13.4 CFM at 40 PSI, but when there is a demand for more air, you have to relatively enhance the CFM from 11.5 to 12 CFM at 90 PSI.
---
Factors to Consider In an Air Compressor For Plasma Cutter
Selecting the compressor that will be perfect for a plasma cutter and is suitable according to your needs is a necessity. We will guide you with some factors which will help you in choosing the appropriate compressor.  Those factors are: 
CFM
CFM stands for cubic feet per minute. It is used in the context of measuring airflow. The higher the CFM, the more air will flow through the system. 
CFM Requirements of Plasma Cutter
Small plasma cutter
The small units will be used for lighter works, so there is a need for less CFM. The small plasma cutters are portable and do not have built-in air compressors. We recommend using a 2-4 CFM compressor. 
Medium plasma cutter
You can choose a compressor with 5-8 CFM for a medium working plasma cutter, which will easily handle working. 
Large plasma cutter
The large plasma is used in industrial usage. So they need to be heavy-duty, and to work, they need a maximum of 15 CFM. 
Also, it depends on the air compressor you are using. If you use the compressor with a 60-gallon tank, it will have high CFM. 
PSI
PSI stands for pounds per square. It is a pressure-measuring unit. The maximum PSI of the plasma cutter compressor should be 150-200; then, it will be enough for working; otherwise, you will waste a lot of time waiting for your compressor to recover.
Air Compressor Tank size
In compressors, tanks are used to store air. Other than that, they do not have any other importance. The motor and pump should be big for the compressors to produce more air and store it in the tank.
The tank with 6 gallons will be okay for minor working, but for professional usage, you need more than 20-40 Gallons to ensure you have much air stored. 
Motor
HP motors are ideal for power as they make the work more efficient. Compressors should have a good motor as it helps produce much air to store in the tank or use. 
The maximum HP you need should be 1-3 for heavy working. 
The motor works to provide power to the head of the compressor. After it, the compressor compresses the air, stores it in the tank, or directs it to the airline. You can say that the motor is like the heart of the compressors. 
Voltages
Typically, compressors have a voltage of around 160-260 Volts at 50 Hz. If you have 220 volts, the compressor range must be re-adjusted to 140-220 volts. 
For example, if you have 110 volts, the range needs to be 90-140. 
The voltages usually depend on the size of the compressor. Small compressors have 110V. And the larger compressors come with the choice of 110-460 volts. The plasma cutter needs air and electricity to work.
Noise
The Noise level consideration of the compressors depends on the user and their circumstances. You must choose a quieter compressor if you are in a quiet location. 
The compressor, with less than 70-80 decibels, won't make much noise. You should consider them as mentioned above in the article; almost all have lower noise levels. 
If you do not have any noise issues, you can choose any compressor without considering noise. However, you should still consider it. Otherwise, you will find it difficult to tolerate the noise.
Portability
Portability means easy to carry or easy to transfer. Therefore, the compressor should be lightweight and easily portable in this scenario. The moveable compressors make our work easy.
However, most plasma cutter purpose compressors are extremely heavy or at least heavy; they can never be lightweight or have enough weight to be carried by one person. 
How to use an air compressor with a Plasma Cutter?
Conclusion
Selecting the right and best air compressor for a plasma cutter is a crucial part. It is because the cutter requires an air compressor to function correctly. Many brands have the ideal compressors for the plasma cutter, but it also depends on the work you will do with it.
Compressors should have a larger tank size if the user needs plasma for heavy-duty work. In addition to storing and producing more pressure, the large tank size of the compressor will simplify the job. The size of the plasma cutter also defines the compressor you should choose.
There are many factors the user needs to consider while buying the compressor for the plasma cutter, portability, noise level, voltages according to their location, motor that helps to make the compressor work easily.
Amazon and the Amazon logo are trademarks of Amazon.com, Inc, or its affiliates.