Best Air Compressor for Nail Gun – Top 10 Tested
TheToolGeeks.com is a participant in the Amazon Services LLC Associates Program and other affiliate advertising programs.   We may earn from qualifying purchases.  (Learn More).
When it comes to nail guns, getting a suitable air compressor can be a confusing task. You see, every pneumatic air tool has different requirements regarding airflow (CFM), Pressure (PSI), and Tank size (gallons). That's why you need a complete review and guide that will help you get the best air compressor for a nail gun.
Well, we've got you covered, as our team has compiled a list of air compressors after testing each of them on 2-3 nail guns. 
Also, we'll highlight some factors and features you should consider in an air compressor if you plan on using it with a nail gun. 
If you already have a nail gun and are familiar with air compressors, then see our recommended list of air compressors for nail guns below.  If you would like more information on our chosen air compressors and why we recommended them for pneumatic nail guns, keep reading.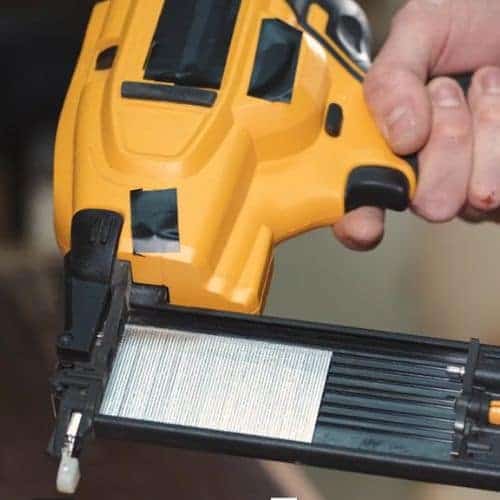 Best Air Compressor for Nail Gun – Quick Features Comparison
Why Do You Need an Air Compressor with a Nail Gun?
Nail guns are tools designed to quickly and efficiently drive nails into wood, metal, or concrete. To drive nails, nail guns require pressure and airflow, and that's where you need an air compressor. 
Various nail gun types are available, each of which works differently based on its power source. One of the most common types of nail guns is the pneumatic nail gun, which operates using compressed air from a compressor. This type of nail gun is typically more powerful than others and can be used for heavy-duty applications.
Using nail guns without an air compressor is possible, but you'll need an alternative power source. Nail guns that are battery-powered, gas-powered, electric, powder-actuated, combustion-powered, and solenoid-powered are all nail guns that don't require an air compressor.
Best Air Compressors for Nail Guns – Reviewed by The Tool Geeks Team
So, our team decided to test some air compressors on nail guns to see if they were worth buying and then compiled a list for you. 
Luckily, we had nail guns and some air compressors in our workshop that we use almost daily. But we had to buy 2-3 air compressors that most people use with nail guns because we wanted to test them before adding them to this article. 
1. BOSTITCH Pancake Air Compressor for a Nail Gun
More detailed review ↴
Bostitch is our first and favorite air compressor for a nail gun because we use it for multiple tasks including drilling, spraying, and nailing.  
We love its lightweight (29 lbs) and 17 x 17 x 19.25 inches dimensions, so you can easily carry it around. So, if you want mobility, this air compressor is best for you. However, we don't usually need to move this air compressor because of the 25 feet-long hose, which allows us to reach all the areas in our workshop.. 
Regarding other compressor features, it's also an oil-free compressor that does not need much maintenance, and the pump can work even without it. 
This is a 6-Gallon compressor that has a maximum pressure of 150 PSI. Also, the 22.7L tank allows continuous working and quick recovery time. 
Another thing we really liked while testing was the compressor motor, which still works in cold weather without much issue, but we noticed that the compressor motor gets hot quickly. 
The sound level of this air compressor is rated at 78.5 decibels, which according to the company, is very quiet. But, according to us, it's not very loud or quiet, but in between.
Additionally, it comes with a high-flow regulator, which helps ensure the pressure is balanced. The coupler is ideal for maximizing the tool performance being two in amount, allowing two users to use it. 
---
2. Makita MAC2400 – Best Air Compressor for Framing Nail Gun
Roll-cage construction provides complete protection
Pump is oil-lubricated for cooler running temperatures and reduced wear
4 Pole motor produces 4.2 CFM at 90 PSI  
More detailed review ↴
The next on our list was this Makita 4.2 Gallon compressor, a powerful and big bore air compressor (which means it can pull in and out air quickly). This compressor has a quick recovery system that also improves its performance. 
After testing, we can confirm that it can produce 4.2 CFM at 90 PSI ( two nailers) and 4.8 at 40 PSI while its 4-Pole motor increases productivity.
This compressor is oi-lubricated, which means it needs oil for excellent running and to minimize wear. However, it still does not make much noise compared to other oil-lubricated compressors, as it only produces 79 decibels of sound level which is neither high nor low, which happens because of the low RPM of 1730.
We managed to get max 130 PSI from this air compressor which is quite good for running a nailer. 
The roll-cage construction provides protection and allows it to be used for heavy work. Also, the unit has low amp draws, which helps prevent breakers from tripping at the start-up. 
This corded electric power (120v) compressor has around 75-80 pounds of weight, which means it is not portable but has roll bar handles that help move this air compressor easily. 
Additionally, it comes with a tank drain valve (which helps in cleaning the air compressor tank), oil drain, oil glass (which allows easy seeing oil level), and a finned discharge tube for heat dissipation. 
---
3. CRAFTSMAN Air Compressor
More detailed review ↴
The CRAFTSMAN air compressor is also a portable unit because of its 32.5 pounds weight, so carrying it to other places is easier. We tried to take it to different places in the workshop, and everyone could move it without burning a sweat. 
This is a 6-Gallon air compressor having 150 PSI maximum pressure, making it suitable for nail guns.
This compressor is a non-maintenance needs unit. Why? This is because it is already oiled, which makes it an oil-free pump compressor and reduces maintenance costs and time. Being oil-free, it has a long life too. 
This 0.2 HP motor working compressor works on 2.6 SCFM at 90 PSI, increasing its performance and faster recovery time. Also, the hose length is great, making it suitable for nailing at different places and setting your air compressor in one place.  
If we talk about the noise, its sound level is 86 decibels (according to the manual), so we tested it using a decibel meter, and we got 112 db. We've always been skeptical of its claimed noise level, and our doubt was valid. 
It also comes with an air hose, couplers, and a tire chuck—the blowgun plug, tire gauges, rubber tips, and nozzle. But this accessory kit is of low quality, and we recommend buying high-quality accessories if you want to use it long-term.
---
4. PORTER-CABLE Air Compressor
More detailed review ↴
Porter cable is another portable air compressor that comes in handy whenever and where you need it. We've used this air compressor for years in our workshop for many purposes, like drilling and spraying, other than for nail guns.
We personally recommend this air compressor, and you can use it without hesitation. This is a 120V working compressor that has a 0.2 HP motor that can produce 2.6 SCFM at 90 PSI. 
The high SCFM allows the compressor to recover quickly, while the 150  maximum PSI enables the tank to work efficiently and provides a long running time. 
This portable compressor has a 6-Gallon tank capacity, while its pancake style makes it more stable and offers portability because of its 30 lbs. weight and 17 x 17 x 18.38 inches dimension.
It also has a water drain valve, making cleaning easier, and rubber feet that reduce vibration. It can also be used in cold weather and won't need to be serviced before use. 
The unit comes with handles and console covers that provide protection and prevent any damage while carrying the compressor. It comes with regulators and air couplers too.  
---
5. DEWALT Pancake Air Compressor (6 gallons)
165 max PSI
6.0-gallon tank (22.7 L)
Long life oil-free pump for maintenance-free operation
30 lb weight makes the unit easy to carry/store
More detailed review ↴
DeWalt air compressors are popular because they have various options for air compressors. We also have this 6-gallon air compressor in our workshop, so we tested it with nail guns. 
This is a maximum of 165 PSI compressors with a 6-Gallon tank, which means approximately 22.7 L tank capacity.  The compressor delivers the same SCFM OF 2.6 at 90 PSI as before, increasing its life and allowing it to recover quickly. 
This portable compressor is 30-pound (easy to carry) and has a 0.2 HP motor. This high-efficiency working motor, even though it can work in cold weather or with long extension cords.
If we talk about the noise, it's not that noisy (75.5 decibels of sound level), but if you use it for hours, you may get some sound irritation. 
Its design of a high-flow regulator and two universal couplers allows it to work efficiently and maximize the performance of the attached tools.  
This model  is oil-free, making it a maintenance-free compressor, and the console covers provide protection and prevent it from getting damaged by any accident. 
Additionally, the compressor comes with a ball drain valve that allows quick and proper cleaning and an outlet tube that helps avoid catch points. 
---
6. DEWALT Air Compressor (1 gallon)
More detailed review ↴
This is another DeWalt air compressor we tested with nail guns, which seem great for nailing and are recommended by many users.
It's less noisy than the previous one (68 decibels), so we can say it's a quiet air compressor for technicians who have the habit of working in a noisy environment. But, if you live in a quiet place, you may find it slightly noisy. 
This 1-Gallon roll cage protective compressor protects the unit against any accident. Like if you drop it, it may withstand the jerk.
We could use the compressor for a long time as it has a maximum of 135 PSI, which is quite reasonable to use on many nailers. This pressure also enhanced the compressor's performance, although we were not expecting much.
This is also oil-free, making it a maintenance-free compressor and durable for the long run ( no headache of regular maintenance). We won't recommend using it for heavy work. However, its 2.6 amp motor is suitable for medium nail gun projects. 
This 120V working compressor is a 24-pound weight unit and study, which was quite handy, and we did not even feel any burden while using it or carrying it. 
We did not like that the compressor does not come with the hose, which is a necessity and must be included. Additionally, the SCFM of the compressor is too low to be working for heavy or long-time projects continuously. 
---
7. DEWALT Air Compressor (4.5 gallons)
More detailed review ↴
This DeWalt model is one of the heaviest and high-pressure compressors on our list of air compressors. These compressors are primarily used for workshops or large woodworking shops instead of households. 
So you can imagine getting a hold of this one was not an easy task to do. So instead, we decided to interview our friend who is currently using this compressor for multi-purposes. He said yes, we can use this compressor for nail guns. 
He told our testing team that this compressor would be ideal for nail guns for heavy-duty work or continuous work applications. 
With maximum high pressure of 225 PSI, you do not have to wait long to let your compressor recover. This one compressor has 80% more usable air than another industry compressor. 
This 120V compressor comes with 5 SCFM, which allows the compressor to work at 90 PSI and recover quickly. It is oil-free, which makes it a maintenance-free compressor. 
We personally liked the handle and stand feature in this compressor as they said the compressor has a collapsible grip which ensures that it won't take up much space, but still it is heavy ( 80 pounds of weight), so in case you have to carry it: it is not easy. Also, handles and stands allow the compressor to be stored vertically.
This 4.5 Gallon compressor has a 1.6 HP motor which is also higher than other listed compressors, which means it is pretty powerful but still won't make that much sound with its 78 decibels of sound rating. This noise is nothing for this heavy-duty air compressor. 
The regulators and couplers allow the anil guns to work efficiently, and the console panels provide display while protecting the gauges (easy-to-read surface), couplers, and regulators. 
---
8. California Air Tools 8010 – Best Air Compressor for a Nail Gun
Product dimensions – 26″ L x 14″ W x 23" H
Max Pressure – 120 PSI 
Oil-Free Pump for Less Maintenance & Costs 
More detailed review ↴
California Air Tools is a famous brand for their excellent compressors and quality products. We had to buy this air compressor to use with nail guns. 
In the box: This very compressor also comes with a complete wheel kit and air filter (but does not come with any hose) and works amazingly for nail guns. 
This compressor is a 120 PSI and 110v working compressor, which means it needs approx 2500 watts per min running while the 1 HP motor of this compressor does not draw many amps but only 8.5. The running time of the motor is 30-60 min, which is quite good for medium-scale working.
This compressor has a capacity of 8 gallons which is quite a lot, and you can efficiently perform your tasks for a long time and continuously (you do not have to wait long until it recovers). 
However, even after much work and 8 Gallons of tank capacity, the compressor does not make much noise but has a standard level of 60 decibels.
This is an oil-free compressor, which means you don't have to worry about regular maintenance. Although it has a large tank, it still can be portable because of its 48 lbs weight).
The compressor also comes with two pressure control gauges and one quick universal connector of 1/4-inch. While having a thermal overload protector, the compressor prevents damage or any other incidents. 
The compressor can deliver 2.20 CFM at 90 PSI and 3.10 CFM at 40 PSI which is excellent for any compressor to be used with nail guns: as it will work efficiently. 
---
9. California Air Tools CAT-1P1060S
Oil-Free pump for less maintenance & costs
Lightweight for easy transporting – 29 lbs
1.0-gallon steel tank
1.20 CFM @ 90 PSI
More detailed review ↴
Another compressor from California Air Tools is this 1-Gallon compressor that is small yet amazing. Our testing team was quite happy after testing it, as they were not expecting it to be this amazing. 
First, it was smooth for our ears, as this is an ultra-quiet series of compressors with only 56 decibels of sound level.
This steel tank Gallon has good quality construction, but still, it does not weigh a lot and has only 29 lbs which allows us to easily carry it around without having to take extra help on using too much energy.
This is an oil-free pump compressor that does not require any maintenance costs. At the same time, the 0.6 HP motor running of this compressor works on 1.20 CFM at 90 PSI and 1.60 CFM at 40 PSI. However, the maximum pressure of this compressor is 120 (best for a nail gun), which works on 110 volts. 
The unit delivers extremely low amps of only 4.5 while the two pressure control gauges allow easy working and efficient reading. The compressor comes with one quick universal connector of 1/4, and another fantastic feature is that it dissipates less heat and makes it more efficient.  
Additionally, the compressor comes with a thermal overload protector, which provides protection, and the durable construction enables it to prevent any accidental damage to the unit. 
Another thing we really liked and experienced was that the tank could fill up within 50 seconds (No need to wait for recovery time).
---
10. Makita MAC210Q Quiet Air Compressor Series
Oil-free dual-piston pump designed for maintenance-free operation
Lightweight design (only 44 lbs.) for increased job site portability
More detailed review ↴
This is another Makita air compressor that works well. It has a smaller tank size yet produces sufficient power for using a nail gun.
As the name suggests, this air compressor is designed to produce only 60 decibels of sound level. This ultra-quiet series compressor is an ideal indoor option as it has less noise.
The weight of the compressor is like a cherry on top, making it the perfect choice; with only 44 lbs weight, you can carry it around without issue. 
This compressor's low amps running motor uses only 1750 RPM, which increases the pump life and the motors. The compressor's construction is roll-cage, meaning high-quality construction protects your air compressor from damage. 
Besides providing protection, the compressor can withstand extreme job sites and environments. As this is an oil-free and dual-piston pump-designed compressor, we never did anything to maintain it as it works smoothly even without maintenance.  
The compressor works on 1 HP, having 2 Gallons which makes it quite powerful. The compressor has an induction motor that provides up to 135 PSI maximum, which is high, and we were able to use a nail gun quite easily and for a long time. 
We didn't like that It does not come with any accessory kit or hose and you have to buy it separately, making it even more expensive. 
---
What are the Factors to Consider While Buying The Best Air Compressor for a Nail Gun?
Single Stage or Two-Stage
The single-stage compressors have one or more cylinders, each connected directly to the tanks. However, in two-stage, two or more cylinders are not connected directly to the cylinder. It passes from one to another and then in the tank.
In two stages, the air moves at 90 PSI from the first cylinder and then in the second at 175 PSI. You must choose the best PSI to ensure you get your desired work. 
Weight & Portability
When selecting the compressor, consider its portability. The modern compressor is portable and lightweight. 
Depending on your location, you can get a fixed or portable one. The portable is easy to carry, and you can move it from one spot to another. It is recommended to use a lightweight compressor because it will be easier to move it around. 
Mostly you should consider the under 50 lbs weight of the compressor in case of nail gun use as you will need to move the compressor around. 
Hose length 
The length of a hose: either it comes with the compressor, or you will need to buy it separately, but ensure to use a long hose with a nail gun and compressor. It helps you move around easily without taking the compressor with you. 
Long hoses are primarily between 20-25 feet and more based on the compressor size and the working needs. 
CFM
It is helpful in compressors as it tells you how much airflow your compressor can handle. The compressor CFM needs to be more than 2-3 to ensure you get continuous working. 
The CFM does not work alone but needs to be combined with good PSI to ensure smooth and efficient working. 
You should check the CFM of your air compressor according to the requirements of your nail gun. Mostly, nail guns need a flow rate of 2.5 cubic feet per minute (CFM) at 90 pounds per square inch (PSI). This means that a compressor with a capacity of 4.0 CFM @ 90 PSI should be sufficient.
Tank size
The size of the tank needs to be medium enough that it can handle enough capacity of air stored in the tank to be used continuously. We personally recommend using 4-6 Gallon compressors so that you won't have to waste your time waiting for the recovery. 
PSI
This is a significant factor while using any nail gun. Actually, you need a specific pressure to be applied on the nail to ensure it properly gets fixed into the object. To ensure this, you need high PSI as you won't be working with one nail only but needs to do regular nailing. 
We recommend choosing an air compressor with pressure between 120 to 200 PSI or more, according to your working needs. 
Price
You should choose a compressor with an affordable price but with all features. Never select an expensive compressor when you can still find an alternative option with good capacity and other requirements.  
If you want to use your air compressor for commercial purposes, there is no harm in spending some money on your compressors. Always go for something that aligns with your requirements. 
Oiled or Oil-Less
Choosing an oil-free or lubricated compressor is primarily up to your preferences. Mostly the oil-free compressor does not last longer than the oiled compressor as they are internally oiled, but the advantage is that it helps avoid maintenance costs or regular maintenance work. Usually, heavy-duty air compressors are generally lubricated, but this is not a general rule. 
We've enlisted oiled and oil-free air compressors and their features; now it's up to you to choose the best one. 
How Does a Compressor Power Up a Nail Gun?
Knowing how to use an air compressor is helpful but experience with a nail gun will make a nailing project even easier. You can do much work by yourself and will not need anyone else.
By knowing these two tools, you will install or replace moldings and wainscoting or even build your frames.  You can do anything with it, from building pictures or cabinets. Nail guns can reach areas that are difficult to access, such as the back of cabinets or the corners of ceilings. They also make your work safer.
Combining each air compressor and the nail gun makes for the best air compressor and nail gun combo, which will do wonders for your work. Nail guns are still the most affordable, efficient tool for framers, floor installers, and roofers.  If the air compressor packs enough pressure, it can power tools to do almost anything.
Choosing the Appropriate Nail Gun
You must carefully search for the most appropriate nail gun for your project. You need to choose the proper size of the nail gun because it will determine what type of nails you can use and ultimately decide what kind of job you can do with them.
The nail gun for house use is affordable and durable. You can save a lot of money by picking a battery-powered nail gun. The finish nailers are flexible tools.
Select the Appropriate Size of Air Compressor for the Nail Gun
After choosing the nail gun, you need to decide on the right size of air compressor which will power the nail gun. Nail guns usually do not need CFM or even smaller portable air.
The portable compressors with 2 CFM powered by 1 HP can do 15 nails per minute. The air compressor you need should have a two-horsepower motor if you frequently use nail guns. It can keep up with you as you experience it.
Prepare your Compressor
Did you buy a new air compressor? Now you need to prepare to make it work with your nail gun.
To secure your house from leaks, you should tape it with Teflon. It mostly comes ready to be attached. If you need to connect, add two couplers on each end.
Switch On the Compressor
After preparing the gun, connect it to the outlet and turn it on. Check the pressure gauge to see if it is at zero PSI before pressure builds up in the tanks.
Attach NPT to the compressor coupler and then attach the other coupler to the nail gun. Now turn on the pressure regulator knob to send air to the outlet. Until it reaches the PSI of your nail machine, keep it on.
Operate Nail Gun
Use some personal protection when using your nail gun. Eye protection ensures you keep the tip of the nail gun away from yourself. Follow the instructions in the manual. The nails should be in their correct positions.
Release All the Air After the Use
Switch off the compressor after using the nail gun, and release any remaining pressure from the tank. Otherwise, moisture can build up and cause rust. Simply open the drain valve and let it drain.
FAQs
Will a 6-gallon air compressor run a nail gun?
A pneumatic nail gun is a powerful tool but does not require a regular air supply. There needs to be a small burst of pressurized air to drive nails into the woods. You need a portable air compressor with at least 2 CFM and a 2-6 gallon tank capacity.
So, sure, you can run your nail gun with the 6-gallon air compressor.
Can I use a portable air compressor with a nail gun?
Yes, nearly all portable compressors have sufficient efficiency to drive staplers, pin nailers, and brand nail guns. You can use a 4 CFM air compressor with a 6-Gallon tank for the framing nailers.
Amazon and the Amazon logo are trademarks of Amazon.com, Inc, or its affiliates.