Best Air Compressor for Sanding (Top 8 Picks Reviewed)
TheToolGeeks.com is a participant in the Amazon Services LLC Associates Program and other affiliate advertising programs.   We may earn from qualifying purchases.  (Learn More).
Sanders is used to cleaning any surface from any particle, dust, rust, or oil. This process needs a sander with a heavy-duty working capacity air compressor. But how to know which compressor is suitable for sanding?
Getting an air compressor for your project is not like ordering an ordinary gadget online. For choosing a suitable air compressor for optimal performance in your sanding projects, you need to know certain factors. For you people, we've enlisted some of the air compressors so that you can choose the best air compressor for sanding.
There are many Best Air Compressors for Sanding with unique features available in the market, which we have shortlisted for you in this article. We've also highlighted some factors you need to consider, such as CFM, PSI, Tank size, etc. While selecting a compressor, keep in mind, "buy it for life."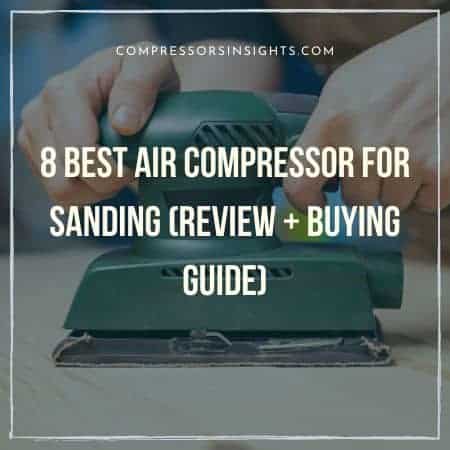 Best Air Compressor for Sanding (Top 8)
IMAGE
PRODUCT
DETAILS
 

10-Gallon Air Tank
Running Time: 30-60 mins
70 dBA Noise

15.2 CFM @175 PSI
147-175PSI
5 Horsepower

 

Best According to Customers

6-Gallon Air Compressor
Max 150PSI
78.5 dBA Noise

1-Gallon Air Tank
Max 135PSI
69 dBA Noise

1 Gallo Air Tank

Oil-Free

56 dBA Noise

5.2 Gallon Air Tank

Oil-Lubricated

Cast-Iron Cylinder

The maximum PSI is 225
4.5-gallon tank
PSI of 90 on 5 SCFM

4-Gallon tank
155 PSI

Oil-Free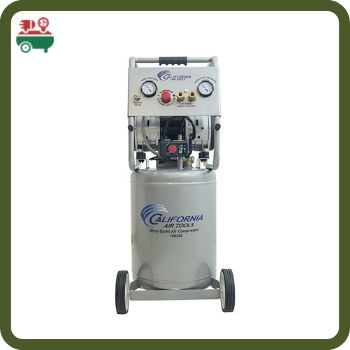 Looking for a quiet yet powerful air compressor? California Air tools are an ideal choice for it because of its 70dBA noise level with a 2 HP motor. The motor works at 1680 RPM, making less noise and minor wear.
This series was designed to be able to work more and continuously.
The durable and high performance of the compressor is because of oil-free dual-piston pumps. A working capacity of 300 plus hours with the ability to work in any temperature makes it an ideal compressor.
The easy-start load feature of the compressor is excellent because it realizes some air when the compressor starts, and the motor spins efficiently. Having wheels allows them to move around in the workplace.
Specification
The California air compressor has the following specification
It is a quiet compressor with 70 dBA.
It is an oil-free compressor and needs less maintenance.
It has a powerful motor of 2 HP with a 7.0 amp.
It is a 10-gallon air tank.
It comes with a wheel and a 125 PSI rating.
It has 6.40 CFM at 40 PSI and 5.30 CFM at 90 PSI.
Continuous running time of 30-60 minutes with 5500 watts.
Quincy splash oil-lubricated compressor is designed to make it last longer, heavy-duty. Having low operating costs is highly efficient, and it produces more compressed air than many others at low HP.
A 30,000-hour pump life with a 1-year warranty. It is ideal for sanding and other heavy-working projects. It runs on 23 amps with a manual drain system having CFM 15.2 at 175 PSI. It works great in cold weather. It is bought for a life compressor.
Specification
Quincy air compressor has the following specification
It is made with Baldor motors.
Motor starts with built-in thermal overload.
4-5 PPM oil blows out.
5 HP.
At 175 PSI, it has 15.2 CFM.
It has a 30,000-hour pump life.
It has worked pressure of from 147-175
The RPM of the pump is 1310.
The Bostitch air compressor is one of the most sold portable air compressors. It is a heavy-duty air compressor with a large air tank compressor. This portable compressor design is ideal, which makes it maintenance-free. Convenient usage, portable, compact with high efficiency is because its 2.6 SCFM at 90-PSI.
A long-running compressor, with 150 PSI max in any weather, even with extension cords, making only 78. dBA sounds. What else could anyone ask? This compressor has two universal couplers for two users and a high flow regulator to maximize compressor performance.
Specification.
Bostitch air compressor comes with the following specifications:
It is an oil-free, maintenance-free compressor.
The portable compressor has 6 Gallon air tanks.
It works on 150 max PSI.
At 90 PSI, it delivers 2.6 SCFM.
The noise level of the compressor is 78.5 dBA.
The compact compressor has a 29lbs weight.
It comes with two couplers.
Although it has a 1-gallon air tank, Dewalt is still capable of heavy working because of its good maximum air pressure. This compressor is great for job sites and can work for 15-20 minutes. Otherwise, it will get overheated.
This compact design, quiet, and lightweight compressor is ideal for carpenters, woodworkers, and furniture. It is an easy to carry and transport compressor.
Specification
Dewalt air compressor has the following specification
It is a heavy 1 Gallon, with a roll cage.
Max Air Pressure is 135PSI
Oil-free pump with 2.6 low amps motor.
69 dBA
Works on 120V.
The compressor is 9 inches wide and 24 pounds in weight.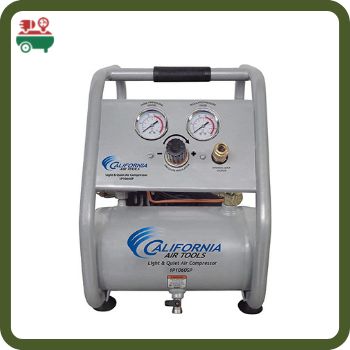 California air compressors are quiet place compressors. They are considered ideal for quiet and small places because of their compact, portable, and 56 dBA noise levels. California has designed the compressor to be the most silent compressor, to make it easy to use indoors and in libraries, etc.
One of the reasons for its being a quiet compressor is its 1.2 HPmotor which runs on 1680 RPM and is the reason for less noise and minor wear. This durable and oil-free compressor has a single-piston pump with a 1-Gallon air tank which makes it great for sanding but will need rest from time to time.
Being able to work for more than 3000 hours can work in any temperature. Its 1.2CFM makes it ideal for nail guns, finish nail guns, airbrushes, blowguns, staple guns, brad nails, cleaning, and inflating: tires, beds, toys, and balls.
Specification
California air compressor has the following specification:
It is an ultra-quiet series with 56 dBA.
It is an oil-free compressor and needs less maintenance.
Compact and lightweight with 29 lbs
The compressor has 1 Gallon air tank.
It has a 1.2 HP motor, with 0.6 HP running.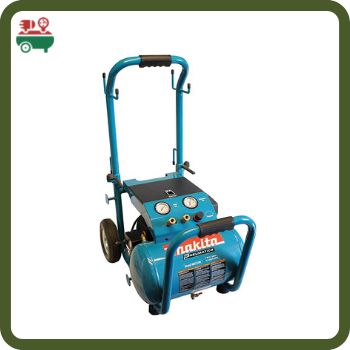 The Makita air compressor offers a big bore with a 3 HP pump cylinder and piston for two nailers. This less noise-making compressor is great for job sites, and heavy working is a durable and compact compressor.
Having wheels and foldable handles is a feature for transporting the compressor. The 3HP motor has a built-in thermal overload for protection, and the oil-lubricated feature makes it a long-lasting and fast recovery compressor.
Specification.
Makita air compressors have the following features:
It is a 5.2 Gallon air tank.
Works on the corded electric source.
It comes with a folding handle.
It has a cast-iron cylinder.
Oil-Lubricated Pump.
Works on a 3HP motor.
It has 6.5 CFM with 90 PSI max.
Dewalt air compressor coming in vertical stand feature with foldable handles makes the users comfortable using this compressor. It is easy to transport the compressor and place it in a standing position.
It'sIt's the 5( SCFM) standard cubic feet per minute of the compressor which makes it capable of handling heavy work. Working at SCFM of 5 at 90 PSI, it is the most efficient and fast recovery compressor.
The oil-free, maintenance-free, high-performing, less noise level, and efficient compressor are great for sanding cars because of their heavy-duty handling capabilities. A metal console protects gauges, couples, and regulators in the compressor.
Specification.
Dewalt has the following specification:
It has a 4.5 Gallon tank,
The power source of the compressor is 120V.
It is 78 decibels of operational noise.
Has 1.6HP working
It comes with a vertical stand and foldable handles,
It has 5.0 standard cubic feet per minute at 90 PSI.
High flow couplers with 2-gauges.
Has tool length of 33.5,
It is a portable compressor with 80 pounds of weight.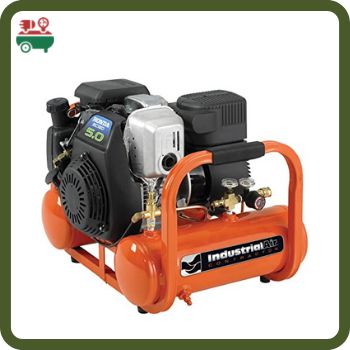 Industrial air contractors offer a portable and compact compressor with low maintenance features. Working on a 5HP gas engine with an overhead start, and it is an amazing compressor.
The overhead provides easy starting and efficient engine performance.
The compressor has low fuel consumption and less emission with throttle cylinder and pilot and check valves. The industrial air compressor comes with a 2-piece cooling system to reduce overheating chances and make the compressor efficient. A tank with a pontoon design is great for job sites.
Specification.
Industrial air contractors have the following features.
It is an oil-free compressor, which makes it maintenance-free.
It has a two-piece cooling system
It works on a 5-HP gas engine.
The maximum pressure of the compressor is 155PSI.
It is a 4-Gallon tank with a pontoon tank design.
At 90 PSI, the CFM is 90.
What Size Air Compressor For Sander?
Sander needs high capacity and heavy-working compressors for which compressor should at least have these features:
The compressor at least needs 8-9 CFM at a maximum of 90 PSI for sanders and at least 15-18 CFM for the heavy working sander.
At least having 150-170 PSI with working of 90 PSI max is an ideal compressor for sanders.
A gallon of 8-10 and 20-30 Gallon of air tank for heavy working is required.
The Horsepower of the motor is crucial. It should be at least 5-10 for good finishing.
Da Sander Air Consumption
The compressor's air pressure usually does not matter if the CFM is high. Da sanders need at least 11-13 CFM at 90 PSI to work at good pressure. They are great for metalworking and woodworking, and Da sanders are dual-action sanders.
How to Select The Best Air Compressor For Sanding?
Portable or Stationary
The portable compressor is best because you can take it with you anywhere; they are transferable because they have handles and wheels. However, if you are professional and do not need to transport a compressor, then a stationary one will be an ideal choice.
CFM Requirements
CFM of the compressor is a deciding factor, and it tells how much air the compressor is capable of producing. Sanding the car requires a compressor with at least 15-20 CFM, and then it can do sanding efficiently.
Tank Size
The tank size of the compressor tells how much air is available to you while you do the sanding of a car. Sanding of a vehicle required an 8-10 Gallon air tank. If you need a compressor continuously, you need at least a 20-30 Gallon air tank.
Durable
Durable air compressors are steel and cast iron-made compressors. Always look for piston pumps, cast iron, and steel-made body compressors. They provide protection and safety.
PSI
The PSI of the compressor allows you to use the compressor at maximum pressure. Most of the sanders need a max of 90 PSI. Choose your compressor with at least 120-150 PSI. Never choose a compressor and sander with the same PSI rate.
RPM
The lower the RPM, the less noise it will make. Most compressors run on 1680 RPM, which causes less noise and minor wear.
Oil or Oil-Free
Sanding is heavy-duty work, and most heavy-duty compressors are oil-lubricated. However, most of the new compressors are designed oil-free, and they are heavy-duty at the same time. But the oil-lubricated compressor mostly lasts longer. Decide according to your need, and the oil-free compressor needs less maintenance.
Noise
Nowadays, most oil-free compressors are designed to be quiet, and they work on less RPM, making them less noisy compressors. The noise of the compressor matters the most when you are going to use it indoors or in a quiet place. Furthermore, while choosing compressors for sandblasting, consider heavy-duty compressors with a maximum noise level of 60-80 dBA.
Duty Cycle
The duty cycle of the compressor decides how long your compressor will work. It is represented in percentage and mostly has 50%, which means if your compressor has a 1-hour working life, then it will work for 30 minutes and will need to rest for 30 minutes,
Extension Cord And Hose Length
A portable air compressor may not require extension cords since it can be transported anywhere. While for stationary compressors, use extension cords or a long hose. Extension cords usually reduce the efficiency of the compressor.
Price
Always choose a compressor with an affordable price and features. Never opt for the compressor, which has fewer features and has a high price. Always do research and buy for the place where it is available at great prices.
Amazon User Reviews
When you decide to buy a compressor, always do some research for reviews on the compressor. It does not matter where you are purchasing the compressor. You check the reviews and comments of different users and even communicate with them and get the honest and most unfiltered reviews, which are helpful.
What Is Sanding?
Sanding is the process of smoothing and cleaning with sandpaper. It is used on surfaces like metal and wood. In this process, you rub your sandpaper on your wood gently. The raw woods have rough edges, and they have particles that cause hindrance while getting fine wood.
What is sanding done? Sanding is done to remove impurities from the object. Wooden surfaces become dry while coating, and dust and soil particles settle on them. These irregularities cause defective finish and adhesion issues.
What is Pneumatic Sander?
A pneumatic sander is a device that uses compressed air to power drums, belts, and orbital discs. It works by pressing or triggering a button on sanders. It is excellent for removing old paint and rust and smoothing welded joints.
What is Orbital Sander?
It is a tool used for sanding that can smooth rough surfaces of metal, wood, or plastic. The orbital sander can also help remove paint and rust from the surface. Hold the sander by pressing it across the surface.
Why are orbital sanders better? It has flexibility and works great for corners, and it can work on corners efficiently, so it is better for heavy work.
What is a Disc Sander?
A disc sander is a device that has one or more than one circular disks to smooth wood surfaces. It is placed on a circular plate made with abrasive paper, and it is ideal for grain work, shaping, trimming, and rounding corners.
It is the best sander because one can use it for edge working, fitting joints, and truing curves. While sanding holds your object firmly, sand it downward of the disc. Upward sanding can get you in accidents.
What is an Air Belt Sander?
An air belt sander is a device used to give smoothness and contour to the corners of wood, metal, and other materials. It can have interior or exterior corners. Sander is also used for trimming, sanding hard surfaces, rounding, and giving shape.
When looking for a belt sander, measure the width and length of the belt. Its speed of removing materials and dust collection. While using it, avoid using it without an exhaust system or dust collector. Do not put pressure on the moving sander, using only heavy enough stock which stays in its place. Air sander compressor requirements are high CFM and PSI.
Conclusion
Sanding is a great way to clean the surface from any particles, either dust or oil. For sanding, you need a sander with the best capacity compressor. For the best air compressor for sanding, you need to consider the CFM, PSI, HP, and tank size of the compressor.
We've reviewed some of the best air compressors for sanding jobs so that you may choose the one according to your requirements.
Sanders for sanding cars are pneumatic, orbital, disc, and air belt. Although all are good, the orbital is ideal for heavy sanding work. Choose according to your requirements and needs.
FAQs
How much air does a DA sander need?
The minimum air pressure to run a sander you require is 90 PSI. If you use only one machine with a compressor, 90-100 PSI is ideal. The sanders are great for woodwork and metalworking. Dual sanders require 11-13 CFM at 90 PSI.
What size air compressor do I need for sandblasting?
Sandblasters make large and tough jobs of sandblasting easy. They are used for cleaning rust and paint from metals. You'll need a good compressor with it to get good results. The compressor should be at least 10-20 CFM with 100 PSI for that purpose.
Does tank size matter to air compressors?
Tanks are used to store air 4-6 Gallon air tanks are great if you do not need continuous air for a long time, such as sandblasting and nailing. An oversized pump and a good motor are more important as they produce air.
Related Posts:
10 Best Air Compressor for Heavy Duty Trucks (Detailed Review+Guide)

Best Air Compressor For Sandblasting (Top 10 Reviewed)

10 Best Air Compressor For Automotive Painting – Buying Guide Ahead!
Amazon and the Amazon logo are trademarks of Amazon.com, Inc, or its affiliates.