10 Best Air Compressor for Painting – With Buying Guide!
TheToolGeeks.com is a participant in the Amazon Services LLC Associates Program and other affiliate advertising programs.   We may earn from qualifying purchases.  (Learn More).
Compressors are an excellent choice for painting because they make the work efficient and easy, and in addition, they speed up the process of painting. When selecting a compressor: CFM and HP are qualities one must consider for the best air compressor for painting.
But, still, there are very other factors that one should look for when getting a suitable air compressor. No doubt, it's a complicated thing to do; after all, your money and your work are at stake. But for you, we've compiled a list of the best air compressors for spraying paint.
Many compressors have great features to make your painting easier and quicker. You can select any compressor: pancake, hotdog, and pontoon.
Selecting the air compressor's size is different for car, HVLP, LVLP, home, and furniture painting; Select accordingly.
Do You Need an Air Compressor for a Paint Sprayer?
For spray paints, you need an air compressor capable of painting heavy-duty work. If you need to spray paint a car, you need a large capacity compressor with which you can quickly and continuously paint your vehicle.
Compressors make work easier and more efficient. You can smoothly and efficiently complete your painting work with an air compressor. Why and how much compressor size do you need? The painting car needs at least a 40-60 Gallon compressor capacity, so you can easily paint continuously with it. You need at least 15-20 CFM and 10 HP.
10 Best Air Compressor For Painting (Detailed Review)
 
 
 
 
 

Fast recovery time
Quiet operation
Oil-free

California Air Tools 8010

Ideal Size
Less Noise
Oil-Free

PORTER-CABLE Air Compressor

Less Noise
Oil-Lubricated
Long Running Time

Fast recovery
Best In Cold Weather
Oil-Free

Best for Winter
Oil-Free
Light-Weight (Portable)

BOSTITCH Air Compressor BTFP0201

Quiet Machine
Automatic Shutt off
Oil-free

78.5 dBA Noise Level
165 PSI Max
6-Gallon
Fast Recovery Time

DEWALT Pancake Air Compressor

Durable Cast Iron
Less-Noisy
Oil-Lubricated

Makita Air Compressor MAC700

Ideal for Quiet Places
10-Gallon
Ultra-Quiet Series

California Air Tools 10020C

150 Max PSI
10-Gallon
2 Year Warranty

WEN 2289 Vertical Air Compressor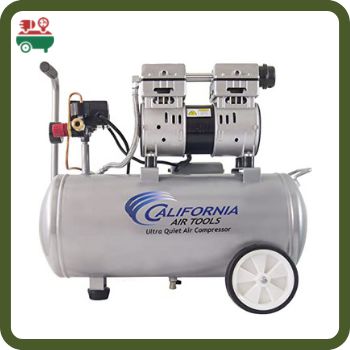 Specification:
Comes with a complete kit and air filters.
Maximum PSI of 120 and 110V/60Hz working.
Fewer noise levels with 60 dBA.
Can work for 30-60 mins at low amps 8.5.
Oil-free and maintenance-free compressor.
1-2 HP motor with 8 Gallon compressor.
Lightweight and easy to handle.
The California air compressor is ideal because of its hoses, air filters, and universal and quick couplers, which allow it to attach hoses easily. Working at 120 maximum and 110V with a minimum of 2500 watts allows excellent and efficient working.
It is an indoor compressor with its quiet noise at 60 dBA and makes it easier for users to use it quickly and comfortably. This compressor can work for 30-60 min, and its less than 8.5 amps make it less wear.
It is an oil-free and powerful compressor running at 1 HP, and the motor is 2HP. There is no need for regular maintenance. The large-capacity compressor with 8 Gallon allows heavy-duty working and is easy to transport with less weight at 48 lbs.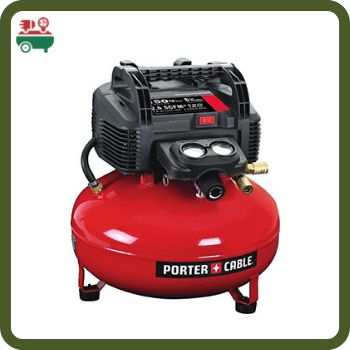 Specification:
6 Gallon tank with 150 PSI.
One of the best portable air compressors with longer running time.
Works on 2.6 SCFM at 90 PSI.
Low amps with 120V motor.
Oil-free compressor with no maintenance.
Handle and console to protect the compressor.
Comes with two regulators and air couplers.
Portable-cable air compressors provide high capacity and outstanding performance and efficiency. A high-capacity tank with its 6 Gallon allows the portable compressor to run longer and more stable.
Providing 150 PSI maximum and 2.6 SCFM at 90 PSI allows quick recovery time. This electric compressor is compact and reliable. It is made especially for stability and comes with an easier excess water drain valve and rubber feet.
Rubber feet allow vibration and less noise with its low-running amp motor. It works on a 120V motor and easily starts in cold weather or even with an extension cord. Oil-free makes it maintenance-free and shroud, handle, console, cover, and carry.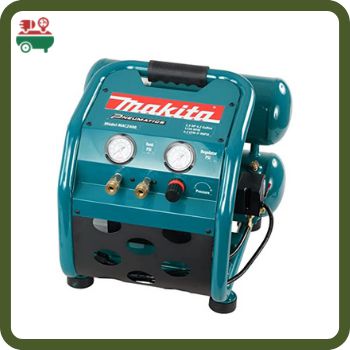 Specification:
Cast iron with big bore cylinder and piston.
Fast recovery time.
2.5 HP with the 4-pole motor.
Delivers 4.2 CFM at 90 PSI.
Fewer noise levels.
Roll-cage with complete protection and low amps.
Oil-lubricated compressor.
Makita's offers superb and good-quality air compressors. The compressor has a great working capacity and allows users long running times. It comes with a big bore cylinder, piston, and cast iron pump, which improves its performance.
Having a powerful motor of 2.5 Hp with delivering 4.2 CFM increases its productivity and allows for less noise. Working at 90 PSI and roll-cage construction prevents it from any extreme environment in job sites or shops.
Roll-cage and low amps allow it less chance of tripping breakers. This compressor is oil-lubricated, which means it needs maintenance. But it is long-lasting. Oil lubrication minimizes its wear and allows it to run at a cooler running pump.
Specification:
Portable compressor.
6-Gallon capacity compressor
Oil-free and maintenance-free compressor.
Maximum PSI of 150
Works on 2.6 SCFM with quick recovery time.
Craftsman is one the best brands offering air compressors with their unlimited ranges of compressors and their capacity. This portable air compressor is ideal for painting because of its efficient working and high PSI, making it easier to use it longer.
This compact and portable air compressor is ideal for efficiency and maintenance factors. The oil-free feature makes site maintenance less stressful for users to keep maintaining.
Offering 6 Gallon tanks with 150 PSI and 2.6 SCFM allows for quick recovery. It is ideal for DIY projects and other hobbies like painting. You can easily paint anything with this compressor, even a car, but it will need 2-3 rounds to complete it.
Specification:
Portable compressor
An oil-free and maintenance-free compressor.
With a 6 Gallon compressor, it has a maximum of 150 PSI.
Working on 2.6 SCFM with a 90 PSI pump runs a long time.
Easy startup in cold weather.
Quiet compressors work on 78.5 dBA.
Lightweight and compact with 29 lb.
High flow regulator with two universal couplers.
Bostitch has been manufacturing air compressors for a long time now, and they know what is best for their users and what works great for them. They know they need to make a compact, efficient and less maintenance compressor to make it easier for users.
This Bostitch air compressor keeps users' needs in mind, making its maintenance easier by making it oil-free, which means it does not require a lot of care. They made it convenient, compact, and efficient.
Offering 6 Gallon with 2.6 SCFM at 90 PSI makes it run running, and an efficient motor makes it easy to use in cold weather. The compressor has a quick recovery time and is ideal for indoors and great for quiet places.
Specification
1/5 HP with single-piston and high-efficiency performance.
Delivers 0.7 CFM with 25liter/min airflow.
The quiet compressor works on 59 dBA.
Gauge and water trap filters give precise air adjustments.
Portable, lightweight, built-in handle and compact compressor.
Oil-free with maintenance-free compressor.
Automatic shutoff provides protection.
It is an air-demand compressor.
The Master airbrush is an ideal compressor for painting because it has airbrushes and can provide exceptionally efficient working. Comes with â…" oz airbrushes with 0.3mm fluid capacity, and it is precisely a great compressor.
Compressor offers â…• HP high-performance power with filtered water trap, pressure regulator, and airbrush holder for at least 2-brushes. Being user-friendly and versatile makes it ideal for crafts, auto graphics, tattoos, and decoration: Fine art and nail art.
One of the best things this compressor offers is a starter kit for beginners, advanced artists, and students. Manuals make it easier for users to use it with explained instructions and guides. You can buy it with complete confidence because it is a great and satisfying compressor.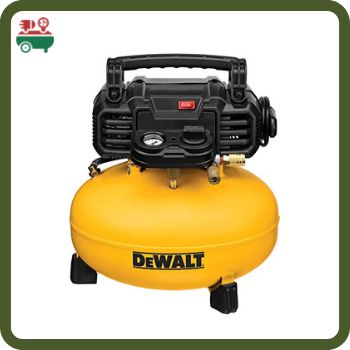 Specification:
A 6-Gallon air compressor.
The capacity of working on 2.6SCFM at 90 PSI.
Portable compressor with quick recovery time.
Maximum working is 165 PSI.
The motor can work in cold weather with extension cords.
Quiet series with 78.5 dBA noise level.
High flow regulators and couplers.
Oil-free and maintenance-free compressor.
Console cover to protect and outlet tube rerouted.
Dewalt offers exceptionally good and superb air compressors for their users. This compressor helps in providing enough power to use pneumatic tools with it without any other problems. This small Gallon compressor which offers a 6 Gallon compressor with 165 PSI, is excellent for small DIY painting projects at home.
The compressor is excellent and has a fast recovery time with high efficiency and efficient work. Dewalt has made it easier for its customers by manufacturing this portable compressor to transfer and handle without any trouble.
You can use any extension cord or hose and use it in any quiet place or indoors. It will not affect your work by its only 78.5 dBA noise levels. The great thing is you do not need to buy a hose and regulator separately because it comes with it. The console cover protects the compressor from any damage and automatic shut off in any case of short-circuiting.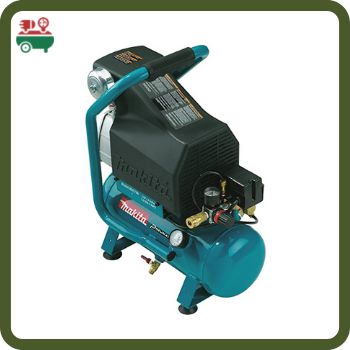 Specification:
Cast iron with a big bore cylinder and piston.
Less noise with a 1720 RPM pump
oil-lubricated, last longer.
Working on 2HP.
Being equipped with a big bore pump cylinder and piston and working on 2HP allows the compressor to work great for many jobs. It is ideal for job sites and quiet places, and it provides durability for heavy working job sites.
Makita provides excellent and long-lasting compressors with less noise and great power. It has a copper discharge tube for heat dissipation and reduced water. This compressor has a roll-bar handle for additional protection and portability.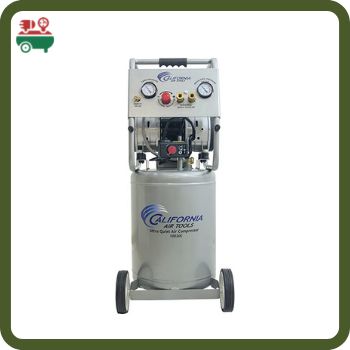 Specification:
Ultra-quiet series ( 70 decibels).
No maintenance ( oil-free).
Works on 2HP with only 7-amps.
6.40 CFM at 40 PSI with 5.30 CFM at 90 PSI working.
10-Gallon tank capacity.
Provides: an ultra-quiet series with an oil-free feature to make it easier for the compressor to use without maintaining it. It is excellent as it works on 2HP with 70 decibels, and working on 1680 RPM allows it less wear and more duty cycle.
This high durability and performance compressor with a dual-piston has a life cycle of at least 3000 plus hours. This dual-piston allows it more work with a 5000 hours compressor, allowing it to work in cold weather and easier startup with fewer amps.
Generating less air allows a load on the motor to spin. The fewer amps will enable it to start in cold weather, and a 10-Gallon tank with wheels makes it portable and transferable. It is great for job sites, garages, painting, and shops.
Specification:
10-Gallon tank with a maximum of 150 PSI.
4.0 CFM at 90 PSI and 5.0 CFM at 40 PSI.
Oil-free pump compressor.
Drain valve, coupler, and two pressure gauges.
Rubber gripped the handle with 7-inch flat wheels.
Automatic shutdown.
Providing at least a 2-year warranty with skilled technicians to make your WEN experience the best. Wen 10-Gallon compressor is ideal for garages, on sites, and workshops. This large capacity compressor is perfect for nailers, staplers, spray guns, woodworking, painting, and other pneumatic tools.
You can easily transport this compressor with its rubber handles and wheels. Making this compressor portable and quick, and accessible. The manufacturers are making it ideal for everyone. Having a 15A motor and steel tank (reinforced) with 150 Max PSI makes the compressor work best and last longer.
After reaching its max PSI, the compressor turns off. So, it makes it easier for users because they do not have to supervise it during pressure build-up. This compressor has an easily approachable drain valve and works at 4 CFM at 90 PSI and 5 CFM at 40 PSI.
How to choose an air compressor for spray painting?
Air Compressor Tank Size.
The tank size of the compressor is the most important, and it helps you in working continuously. You need at least a 5-10 Gallon compressor for painting purposes. Although, this much gallon compressor is only suitable for a small painting.
The type of project determines the amount of tank you need. You need at least a 60 Gallon compressor for painting a car, and for small projects, 4-8 tanks are enough.
PSI (Air Pressure)
It depends on the type of spray gun you are using LVLP needs less volume and less pressure, which means if you have less PIS compressor still, it is ok. Select according to the spray gun.
CFM
A spray gun needs a high CFM rating to function correctly. You need at least 12-15 CFM because most spray guns have a 10 CFM rating.
Horsepower
Paint sprayers need at least 6 CFM with 1-2 HP motors. Non-industrial compressors need less HP, and two HP compressors are great for small projects with 8CFM.
Weight
The weight of the compressor is necessary to consider, and it helps in managing the compressor. You need a lightweight compressor so that you can carry it around easily. Select a portable and compact compressor unless you buy it for an industrial purpose.
Noise Level.
The noise level of the compressor is very important to consider because if you are using it indoors, then a loud compressor will be a hell for people in the house. Always choose a lower decibel compressor. Compressors 40-75 are considered less noisy, and above are loud.
Safety.
Always select a compressor that has good quality and safety features. Your compressor must have a console feature that prevents incidents. In case of any accident provides protection.
Oil-Less or Oil-Lubricated
Whether you choose an oil-free air compressor or oil-lubricated, it's up to you. Oil-free air compressors are maintenance-free. While oil-lubricated, one needs oil maintenance, and however, they last longer.
Price and Reviews.
Always do research on price and reviews of the compressor before selecting. In this article, we have given some compressors with pros and cons. Like that, always consider its features and advantages and disadvantages before buying. Prices of the compressor depending on the brands investing one-time money for a good compressor.
Types of Air Compressor for Painting
Pancake Compressor
Pancake air compressors are oil-free and maintenance-free compressors with no belts and need no maintenance. They can fill bicycle tires and sports balls but still have less power to deliver large CFM output, and Pancake air compressors are not enough for a paint gun.
Hot Dog Air Compressor.
While performing the basic function of the pancake, it can also operate a small pneumatic tool and can inflate items. Hot dogs have different shapes: longer and skinnier. Mostly they are small and can have Gallon up to 8-10. They come with wheels and handles, which do not come with a pancake to make transport easier.
Pontoon Air Compressor.
How does Air Compressor work with a Paint Sprayer?
Select an air compressor with a higher tank capacity, high CFM, and HP. That is because it helps work an air compressor with a paint sprayer. Connect it to a hose and let it build the pressure required to the level until it reaches.
After building up the pressure, the compressor is ready to use. You can use it without having trouble. This compressor has a trigger that you need to push, and it helps in painting.
What size of air compressor for painting?
For Car
Compressors for cars need a few features to help spray guns work smoothly and efficiently. At least 30 PSI and 10 HP compressors are needed for this purpose. Why? Because a spray gun will need less PSI hp and CFM is what matters and helps in generating: air and helps in working smoothly.
The tank size of the compressor needs to be a maximum of 50-60 Gallon to work easily and continuously. If you want to complete your task in one go, then make sure the compressors complete the whole car. Along with 60 Gallon, at least 15-20 CFM is required for the compressors.
LVLP.
An LVLP spray gun needs low volume and low pressure to work and not only saves you money but allows easy DIY painting projects and small paint jobs. It atomizes better, gives better finishing, and sprays fast while using less CFM.
This spray gun needs more pressure, requiring at least 90-120 PSI with less CFM, which can be 10-12. In addition to that, it needs at least 4-6 HP to work better.
HVLP.
HVLP spray guns need high volume and less pressure, which means it delivers high CFM and less pressure, and it gives a soft spray. You need a high-capacity compressor with at least 3 HP to work with this. You need a big capacity compressor with at least 20 CFM and at least 20 Gallon compressor.
Home.
A compressor for normal home working needs normal working features. For a compressor, you need a minimum of 200 liters with at least 7-8 CFM. The compressor should be working on at least 40 PSI with a max of 120 PSI.
Furniture.
For your furniture painting, you need a high-capacity compressor with 60-Gallon and 15-20 CFM working. Although you can also use a small capacity compressor, it will be time-consuming.
How to Use a Spray Gun with an Air Compressor?
Using a spray gun with a compressor allows the regular coating to be great and efficient.
Choose good quality paint.
Good quality paint thinner. ( good solvent will allow more color to come).
Remove the imperfection and dust particles from the surface ( sanding).
For miniature painting, choose the siphon gun or the gravity gun.
Connect your gun with a hose to your compressor ( ensure all plugs are connected to the correct hose).
Initiate the trigger lock by pressing it.
Adjust PSI at the correct pressure
Before starting to check the paint of the sheet,
Always do the painting in one direction.
Conclusion:
Choosing the best air compressor for painting needs your consideration of the following factors of the compressor: CFM rating, which needs to be more than the spray gun. HP provides power and helps in functioning, weight, PSI, noise, safety, and prices.
Choose from the three types of the compressor according to your needs:
Pancake for small projects
Hotdog for small and semi-industrial projects
Pontoon for heavy-duty working
Also, choose according to the working requirements.
FAQ's
What kind of air compressor do I need for a paint gun?
Small compressors can handle paint guns; however, your compressor must rate 100% of CFM to work with a paint gun. While painting a car, you need at least 150-200% working, which means you need a 15-20 CFM compressor.
Can you paint with a 20-gallon air compressor?
A 20-Gallon compressor is considered small and will require two or three cycles to complete a car painting. However, you can paint on a small scale with this compressor capacity.
Can you Paint with a 30 Gallon Air Compressor?
A 30-Gallon air compressor can handle a car, and you can paint a car with a 30-Gallon capacity compressor. However, a full-size car needs at least 60 Gallon compressor to paint the whole car.
Amazon and the Amazon logo are trademarks of Amazon.com, Inc, or its affiliates.